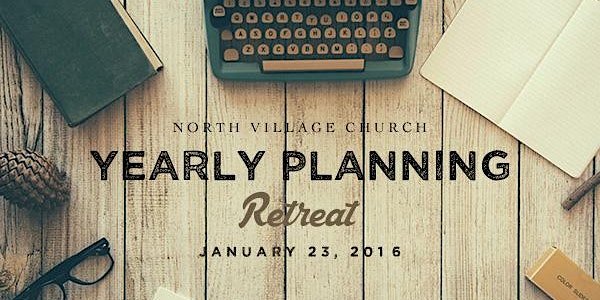 Yearly Planning Retreat hosted by North Village Church
When and where
Location
Westover Church 8332 Mesa Dr Austin, TX 78759
Description
Join NVC's Yearly Planning Retreat!
Saturday, Jan 23, 2016 from 9:00am – 3:30pm
REGISTRATION IS CLOSED FOR THIS EVENT.
The event will be held at Westover Church
If North Village Church doesn't have your email please send it to michael@northvillagechurch.com with Yearly Retreat in the subject.
About the Retreat: We all see areas where we need to grow, or areas where we are deficient, but we don't know how to improve those areas. A "Yearly Planning Retreat" is to help you with the, "How?"
In John 5, Jesus explains that He knew exactly what He came to do and He was working toward that end. We all know it is important to work, but we end up working in our life instead of on our life. We end up spending our week working really hard on mowing the yard, making dinner, cleaning clothes, but we don't take time to work on our life where we reflect, pray, plan, and work on our life.
This retreat is going to be vital to help us thrive in this new life we have been given in Jesus. Ecclesiastes 10:10 says, "If the axe is dull and he does not sharpen its edge, then he must exert more strength." Therefore, we want to use this time to "sharpen our edges" so that we can enjoy the full life we have been freely given in Jesus.
Check out the video about the retreat: https://www.youtube.com/watch?v=Ed2EQs1k64g
Note about Child-care: CHILD CARE REGISTRATION IS CLOSED.