Year of the Snake Chinese New Year Celebration

Sunday, February 10, 2013 at 4:00 PM (EST)
Event Details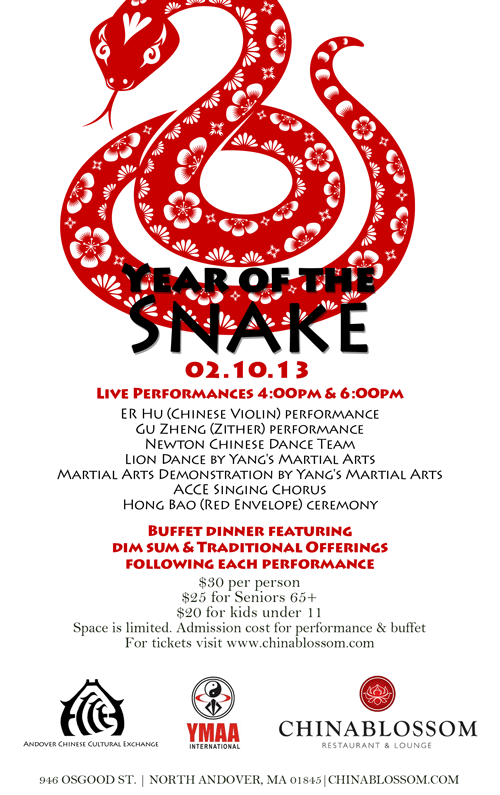 China Blossom Restaurant & Lounge Hosts Chinese New Year Festival to Benefit the Andover Chinese Cultural Exchange

 
On Sunday, February 10th, 2013, China Blossom Restaurant and Lounge, located in North Andover, MA, and the Andover Chinese Cultural Exchange (ACCE) will celebrate the Chinese New Year with a festival sponsored by Yang's Martial Arts. The Chinese New Year celebration is centuries old and the most important of the traditional Chinese holidays. More than anything, the Chinese New Year is a time to bring family together for feasting and celebration, and China Blossom will highlight this with authentic cuisine as well as various Asian traditions. Due to the tremendous success of last year's event with a sold-out crowd, a second seating has been added this year, and guests will have the choice of attending a 4:00PM or 6:00PM performance, with each show followed by dinner.

Guests will enjoy butt-kicking gong fu (kung fu) and lion dance demonstrations, as well as traditional Chinese dances from the Newton Chinese Dance Team and live cultural music. World-renowned player Zhan-tao Lin will wow the crowd with the Er-hu, which is similar to a violin with an exception of two strings. Lin is a professional musician from China who has won many competitions and performs in the New England area, including at the Museum of Fine Arts in Boston, MA. In addition, celebrated musician Shin-Yi Yang is sure to please with the Gu-zheng, an ancient Chinese instrument that has strings that are plucked like a guitar's. Yang is the founder of the Boston Guzheng Ensemble and the two-time winner of the Traditional Arts Apprenticeship given by the Massachusetts Cultural Council's Folk Arts and Heritage Program. Guests will also have the chance to increase their luck and ward off evil spirits in the New Year with the Hong Bao (Red Envelope) ceremony. During this traditional ceremony, red envelopes containing "lucky money" are typically given by the married to the unmarried, usually children.

After guests have taken in all of the festivities, guests will be invited to indulge in a dim sum buffet featuring China Blossom favorites as well as traditional Chinese New Year offerings. Tickets are $30 per person (Senior and children pricing is available: Seniors, $25, Under 11, $20), and can be purchased online here or by calling China Blossom at (978) 682-2242. Seating is limited and reservations are required. Proceeds will benefit the ACCE, a non-profit community group dedicated to introducing Chinese culture. ACCE provides educational opportunities and support for charitable causes in the Merrimack Valley.

Don't miss this great opportunity to celebrate the Year of the Snake and gain perspective on Chinese art, cuisine and culture!
REGISTER EARLY. LAST YEAR'S NEW YEARS CELEBRATION WAS SOLD OUT.

ONGOING EVENTS AND LIVE PERFORMANCES:       

 Er Hu (Chinese Violin) performance

 Gu Zheng (Zither) performance

 Newton Chinese Dance Team

 Lion Dance by Yang's Martial Arts

 Martial Arts Demonstration by Yang's Martial Arts

 ACCE Singing Chorus

 Hong Bao (Red Envelope)
RESERVATIONS: 
Please note before purchasing: All ticket sales are final. Refunds will not be permitted unless a state of emergency is declared by the Commonwealth of Massachusetts.
There are two identical performances at two different times to choose from. Please select one of the two following times when purchasing your tickets:
- Early Group:
  4:00PM - 4:45PM Performance
  4:45PM - 6:00PM Dinner
- Late Group:
  6:00PM - 6:45PM Performance
  6:45PM - 7:00PM Dinner
There will be shared seating during dinner. Any parties less than four will necessarily share tables with others. While this is primarily due to capacity constraints, your cooperation will be in the spirit of Chinese New Year and a celebration of friends and family!
When & Where

China Blossom Restaurant
946 Osgood Street
North Andover, MA 01845


Sunday, February 10, 2013 at 4:00 PM (EST)
Add to my calendar
Organizer
China Blossom Restaurant & Lounge is a legendary family run restaurant located on Route 125- North Andover, MA.  Established in 1960, China Blossom has become a local landmark serving the freshest, highest quality Asian cuisine and premium drinks in the Merrimack Valley. China Blossom's cuisine is influenced by the varied regions of Eastern Asia, featuring items such as Cantonese style noodles, Japanese hand-rolled sushi, or Thai style ribs available buffet style or à la carte.  China Blossom has a full bar and showcases live entertainment every Friday & Saturday night.  Perfect for dining with family and friends, China Blossom also features two private dining rooms available for various events of all sizes and occasions. Takeout and delivery services are available daily.  Reservations and walk-ins are welcome. 
Year of the Snake Chinese New Year Celebration