Description
Year-End Meetings & Luncheon to Honor Congresswoman Capps
Our year-end meetings have been scheduled for December 8-10 at the Hyatt Santa Barabara. The Executive Committee will meet on Thursday afternoon, followed by a full day of committee meetings on Friday. On Saturday morning, the Board of Commissioners will meet to review committee reports and recommendations and approve the 2017 budget.
The annual meetings will conclude with a special luncheon honoring Congresswoman Lois Capps for her leadership and service to California's cut flower farmers. During her tenure in Congress, Congresswoman Capps helped to increase awareness of California's cut flower farmers and the issues they face. She advocated for the support needed to remain competitive. In 2014, she helped launch the Congressional Cut Flower Caucus to help increaes the voice for all of America's flower farmers. Congresswoman Capps is retiring at the end of this year. All committee members, Commissioners and alternates are encouraged to attend this special luncheon, recognizing the Congresswoman.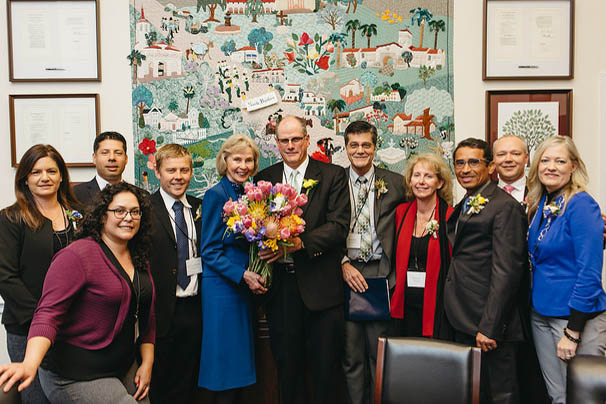 This year has been marked by significant challenges and some remarkable accomplishements. As we look forward to the plans ahead for CCFC and our farms, your presence and input are needed. Working together we can navigate through an uncertain future and identify opporutunities and solutions that can sustain success for our farms.
To confirm your attendance, please click on the "TICKETS" button above. There you will be able to RSVP for the Board of Commissioners meeting, the various committee meetings and the luncheon for Congresswoman Capps. You will also be given an opportunity to confirm hotel accommodations as needed.
For your reference, below you will find the draft schedule for Dec 8-10.*
Please make sure you register, mark your calendars and we'll see you in Santa Barbara!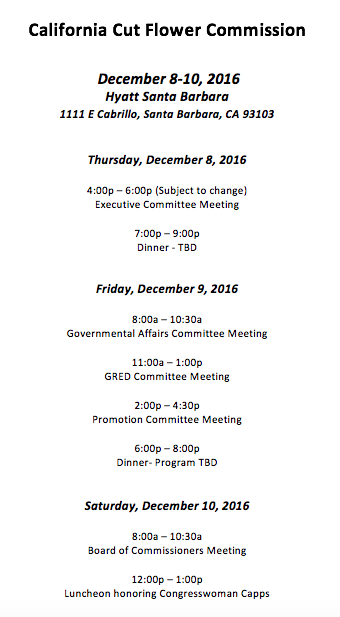 * This schedule is subject to change.