Description
Join us for a ONCE IN A LIFETIME TOTAL SOLAR ECLIPSE viewing party at the Greenville-Pickens Speedway--the perfect place to catch 100% totality.
---
The event includes live music from DJ Craz-e Crane, food trucks, beverages, slides, inflatables, ZoomBall, a balloon artist, face painting, a huge shade tent, PLUS the first 1,500 people through the gate get a FREE pair of solar eclipse certified viewing glasses!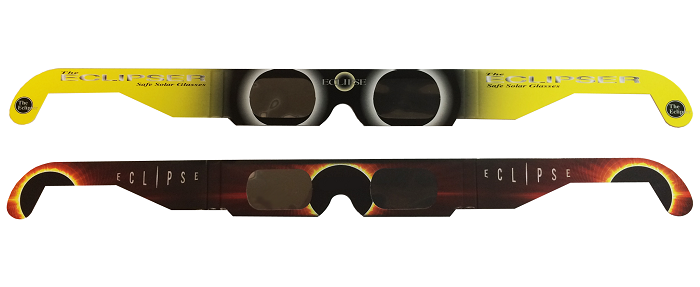 ---
On August 21, 2017, millions of people across the US will see one of nature's most amazing spectacles - a total eclipse of the Sun. It is going to be beautiful sight to see; the Moon completely blocking the Sun, daytime becoming a deep twilight, and the Sun's corona glowing in the darkened sky.
---
Gates open at 10AM with all the fun starting at 11AM. Get ready to experience what EVERYONE'S talking about at YEAH THAT BLACKOUT on August 21st!
---
Tickets are $5 for children 12 and under and $10 for adults. Parking is FREE for event attendees only!
---
CHECK OUT OUR LIMITED EDITION YEAH THAT BLACKOUT T-SHIRTS

HERE

! AVAILABLE FOR PRE-PURCHASE AND AT THE EVENT (WHILE SUPPLIES LAST)!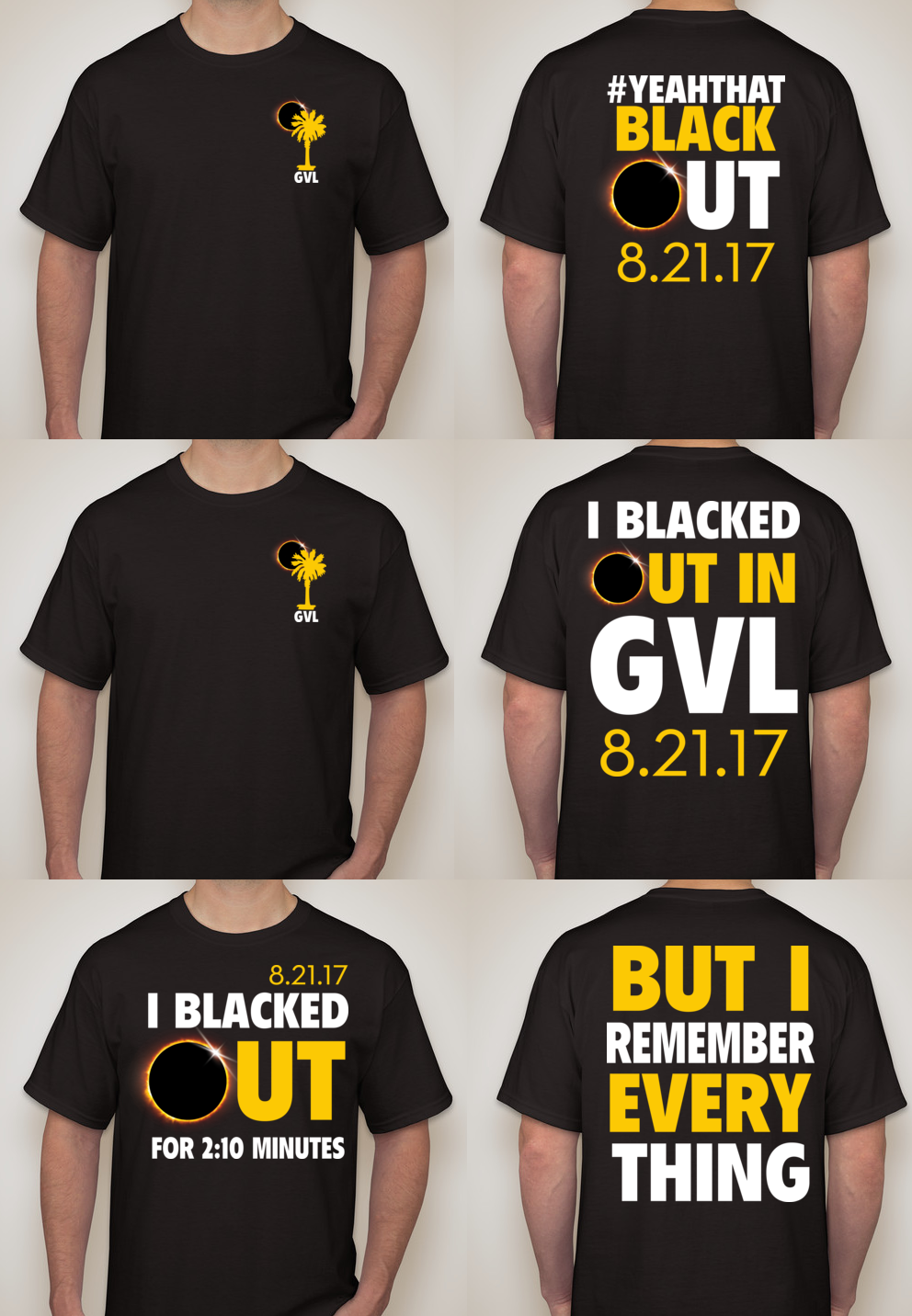 ---
Join us for Yeah That! Blackout! Solar Eclipse Viewing Party on Monday, August 21st at Greenville-Pickens Speedway! Everything you need for this once in a life time occasion!
---
SO MUCH TO DO FOR YOUR FAMILY!
FREE PARKING!

FREE CERTIFIED VIEWING GLASSES!

FREE CHILD'S TICKET (12 AND UNDER) TO THE UPPER STATE SC FAIR (OPENS AUGUST 24TH)!

MY FAIR LADY FOOD TRUCK WILL BE SELLING CHICKEN NACHOS, HOTDOGS, AND MORE!

NEELY'S BBQ FOOD TRUCK WILL BE SELLING BBQ PLATES!

BAKING SWEETSCENTS SELLING ECLIPSE CUPCAKES AND COOKIES!

EXCEPTIONAL EDIBLES SELLING GALAZY CANDY APPLES!

BALLOONS, DECOR AND MORE PROVIDING BALLOON ANIMALS & MORE!

SILLY BOB'S INFLATBLES ON-SITE WITH OBSTABLE COURCES, BOUNCE HOUSE, AND 15 FOOT INFLATABLE SLIDE!

ZOOMBALL ON-SITE WITH 20X20 POOL AND WATER BALLS!

FACE PAINTING BY COLOR ME HAPPY!

FAMILY-FRIENDLY!

MUSIC FROM DJ CRAZ-E CRANE!
Note: Some attractions may charge for entry, use, or services. This includes face painting, ZoomBall, and balloonist services.
---
ZOOMBALL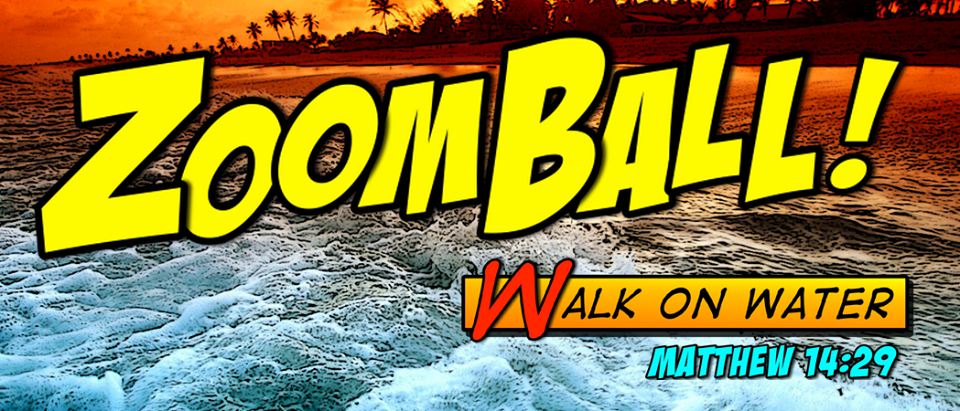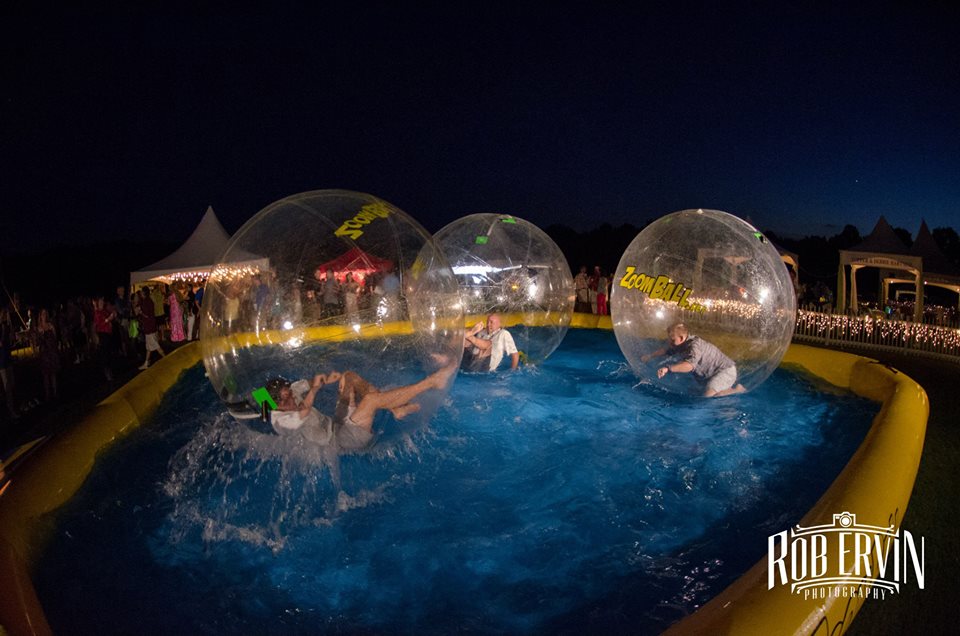 ---
SILLY BOB'S INFLATABLES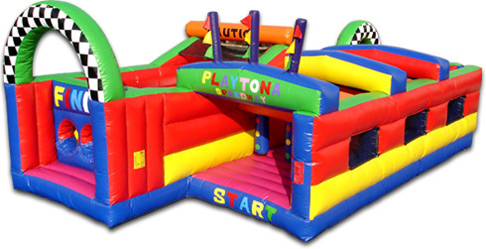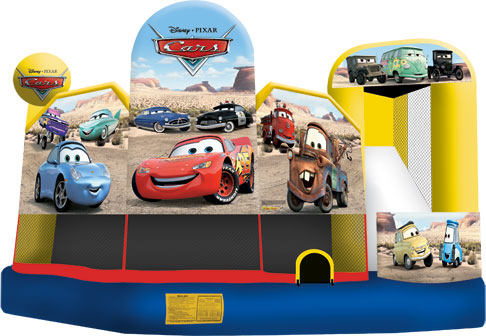 ---












COLOR ME HAPPY

---


ABOUT THE ECLIPSE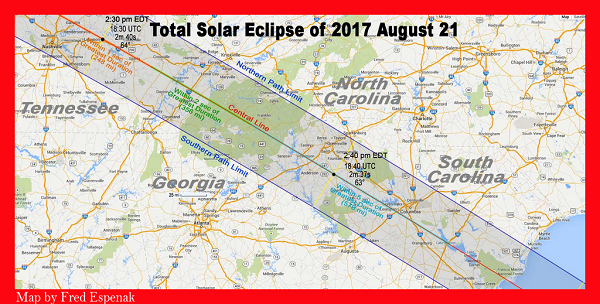 A total solar eclipse will take place on Monday, August 21, 2017. A solar eclipse occurs when the Moon passes between Earth and the Sun, thereby totally or partly obscuring the image of the Sun for a viewer on Earth. A total solar eclipse occurs when the Moon's apparent diameter is larger than the Sun, blocking all direct sunlight, turning day into darkness. Totality occurs in a narrow path across the surface of the Earth, while a partial solar eclipse will be visible over a region thousands of miles wide.
The eclipse will have a magnitude of 1.0306 and will be visible from a narrow corridor through the United States (see the map above). The longest duration of totality will be 2 minutes 44.3 seconds just south of Carbondale, Illinois.
Why does any of this matter? Let's get you excited about how amazing this moment will be:
This will be the first American eclipse to occur since February 26, 1979. Unfortunately, not many people saw it because it only touched five states in the Northwest and the weather for the most part was not great. Before that one, you have to go back to March 7, 1970.

Everyone in the continental U.S. will see at least a partial eclipse. In fact, if you have clear skies on eclipse day, the Moon will cover close to 50 percent of the Sun's surface.

Astronomy specialists are claiming that this eclipse will be the most-viewed ever! This is based on four factors: 1) the attention it will get from the media; 2) the superb coverage of the highway system in the US; 3) the typical weather on that date; and 4) the vast number of people who will have access to it from nearby large cities.

It's estimated that close to 100 MILLION people in the United States will see the sun covered by at least 90%. That is absolutely mind blowing!

Totality will be safe to look at. During the time the Moon's disk covers that of the Sun, it's safe to look at the eclipse. In fact, to experience the awesomeness of the event, you must look at the Sun without a filter during totality. You MUST! For the rest of the eclipse, glasses please!

All you will need is Eclipse Glasses- no telescope needed! One of the great things about the total phase of a solar eclipse is that it looks best to naked eyes. The sight of the corona surrounding the Moon's black disk in a darkened sky is something you will not forget.

Nature can be so cool! Depending on your surroundings, (as totality nears) you will experience strange things. Look around. You'll notice a resemblance to the onset of night, though not exactly. Areas much lighter than the sky near the Sun lie all around the horizon. Shadows look different. Listen. Usually, any breeze will dissipate and birds (many of whom will come in to roost) will stop chirping. It is quiet. Feel. A 10°–15° F drop in temperature is not unusual. Can't wait!
Now the real question, where will you be on August 21, 2017?
---
FAQs
Are there ID or minimum age requirements to enter the event?
This event is family-friendly. Children tickets are for attendees 12 and under.
What are my transportation/parking options for getting to and from the event?
Parking for this event is free with the purchase of your admission. To enter the event, you the Highway 124 entrance off of 123.
What is a total solar eclipse and will it hurt my eyes?
A total solar eclipse occurs when the Moon comes between the Sun and the Earth and casts the darkest part of its shadow (the umbra) on Earth. During totality you can look right at it without protective eyewear! It won't hurt your eyes, but it will be awesome. Solar glasses will be provided onsite for the waxing and waning from totality!
Are your glasses safe to view the eclipse?
Yes. Keep in mind that normal sunglasses will not protect from the intense rays when the moon passes over the sun. Our glasses are ISO and CE certified eclipse glasses and some of the safest on the market.
What can I bring into the event?
Where we will have a 40x40 shade tent on-site complete with 8 tables and 80 chairs. It is recommended that you bring lawn chairs and blankets to the event.
Do I really receive a free Upper State SC Fair child's ticket with the purchase of a child's ticket to YEAH THAT BLACKOUT?

Yes. Each child's ticket purchase will include a child's ticket voucher good for any day during the 2017 season at the Upper State SC Fair. The voucher will be given at the gate the day-of the event.
Does it cost to participate in any of the attractions at the event?
Yes, some attractions like face painting, balloonist services, ZoomBall and foodtrucks will be charging to participate. The bounce houses and slides are free admission.
How can I contact the organizer with any questions?
All questions can be directed to Roy Hummers, roy.hummers@entercom.com.
What's the refund policy?
All sales are final. No refunds or exchanges will be offered. The event will take place rain or shine.
Do I have to bring my printed ticket to the event?
It is recommended that you print your ticket and present it at the gate. There will be a purchase list at the gate if an attendee does not have their ticket printed.
Is it ok if the name on my ticket or registration doesn't match the person who attends?
Yes. The ticket can only be scanned once.
How much cash should I bring?
Enough for your family to enjoy some of the paid activities (face painting, food trucks, ZoomBall, etc.). Some vendors may accept credit cards. ATMs will not be available onsite.
I want to be a vendor at your event. Is this possible?
Yes, email Roy Hummers for details at roy.hummers@entercom.com.
Date and Time
Location
Refund Policy