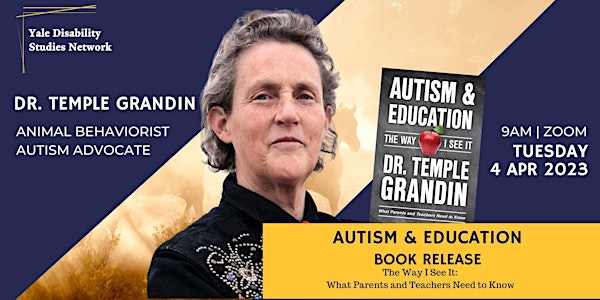 YDSN | Dr. Temple Grandin: Autism & Education, New Book Release
Dr. Temple Grandin: Autism and Education, book release speech at Yale Disability Studies Network
By Yale Disability Studies Network
Date and time
Tuesday, April 4 · 6 - 7am PDT
Refund Policy
Contact the organizer to request a refund.
Eventbrite's fee is nonrefundable.
About this event
Dr. Grandin is the world's most sought-after speaker on autism and animal behavior. Using her autistic abilities, she transformed the livestock slaughter industry in the US for humane treatment. She is the author of more than 60 scientific papers on animal behavior. Today she is a professor of Animal Science at Colorado State University.
She has been featured on National Public Radio and a BBC Special – "The Woman Who Thinks Like a Cow." Her life story was made into an HBO original and Emmy Award-winning movie, "Temple Grandin."
Dr. Grandin was inducted into the American Academy of Arts and Sciences in 2016.
Dr. Temple Grandin has been an advocate for Autistic people and written many books to share her experience and thoughts.
On April 4, 2023, Yale Disability Studies Network will have the honor to host Dr. Temple Grandin's talk on Autism and Education on her book release day.
Please join us and enjoy a thought-provoking, truth-telling, and possibly mind-blowing morning with Dr. Temple Grandin.
Her other published books about Autism include:
Visual Thinking
Navigating Autism: 9 Mindsets For Helping Kids on the Spectrum
The Outdoor Scientist - The Wonder of Observing the Natural World
Calling All Minds - How to Think and Create like an Inventor
The Way I See It
Thinking in Pictures
The Autistic Brain - (Helping Different Kinds of Minds Succeed)
Developing Talents - (Careers for Individuals with Asperger's Syndrome and High-functioning Autism)
Unwritten Rules of Social Relationships - (Decoding Social Mysteries Through the Unique Perspectives of Autism )
Different ... Not Less - (Inspiring Stories of Achievement and Successful Employment from Adults with Autism)
The Loving Push - (How Parents and Professionalscan help Spectrum Kids become Successful Adults)
Emergence: Labeled Autistic
Temple Did It, I Can, Too!
About the organizer
Inspire academic research & innovations with the critical lens of disabilities at Yale