About this Event
Yarn
You might expect a band that calls itself Yarn to, naturally, tend to spin a yarn or two. "that's what we do, we tell stories, live and in the studio, truth and fiction" singer/songwriter Blake Christiana insists. "We don't always opt for consistency. There's a different vibe onstage from what comes through in our recordings. There's a difference in every show as well, you never know what you're going to get."
It was with that in mind that Yarn released a series of singles that were digitally released on the 13th of every month beginning in January 2018 and continuing throughout the year. Each "single" included an "A side", a "B side" and an exclusive alternate version of one of the songs. Naturally, there's no better name for the project than "Lucky 13." 24 of those tracks are now available on the albums, Lucky 13 Vol. 1 and Lucky 13 Vol. 2, just released on June 13, 2019.
"These are essentially road stories," Christiana says. "There's an overriding theme that links these songs in a very broad sort of way, but again, the stories are not to be taken literally. The intention was to share the feeling of what it's like to spend time travelling from city to city, with all the unlikely experiences that can be encountered along the way.
"People always ask us to tell them road stories," singer guitarist Rod Hohl adds. "While this batch of songs aren't exactly literal road stories, most deal with some degree of adventure and adversity as inspired by our tours and treks around the country. Yet like any good story, there's an imaginative element to it as well. That's why we've decided to release alternate versions of some of the tracks, to provide a glance at the oddities that exist just beyond sight..."
The titles of these tracks summarize the stories at a glance. Hohl describes "Sioux City," "Road Less Traveled" and "Hurricane" as adventure stories as seen from the perspective of the road. "Too Young" re-imagines that road as an analogy, the highway of life. "Weary," as title implies, describes the toll taken by that seemingly endless journey. However, there's also hope on the horizon; "Heaven in You" suggests that there is an oasis out there somewhere. "Promised Land" and "American Dream" offer reason why one might choose to embark upon that sojourn in the first place.
Yarn have never been content to simply ride a wave and see where it takes them. Their last album, This Is the Year, was celebratory in tone and boldly optimistic. A seamless blend of vibrant, inspired, back porch melodies and narrative, descriptive lyrics, it detailed the challenges one faces when life is jolted off its bearings and, in reevaluating relationships, tough choices must be made that sometimes skirting the rules. It was recorded in the aftermath of real life challenges that left the band splintered and unsure of their forward trajectory.
"We were dealing with real life issues," Christiana said at the time. "Broken relationships, a sense of having to regroup and put some things -- and people -- behind us.
That's what I was
writing about lyrically in the new songs and it became kind of a catharsis. Nothing was contrived. We didn't have to relate to it in the third person. We were living these circumstances, and that gave us the impetus and inspiration to share our sentiments. Ultimately those setbacks and difficulties led to new opportunities and allowed a little light to shine through."
Yarn's ability to persevere ought to come as no great surprise, especially for a band that spent two years honing their chops during a Monday night residency at the famed Kenny's Castaway in New York's Greenwich Village. In effect, it allowed them to rehearse onstage, mostly in front of audiences that often ranged in size from five to a hundred people on any given night. Five studio albums followed -- Yarn (2007), Empty Pockets (2008), Come On In (2010), Almost Home (2012) and Shine the Light On (2013). The band then took to the road, playing upwards of 170 shows a year and sharing stages with such superstars as Dwight Yoakam, Charlie Daniels, Marty Stuart, Allison Krauss, Leon Russell, Jim Lauderdale and The Lumineers. They performed at any number of prestigious venues -- Mountain Stage, Daytrotter, the Orange Peel in Asheville, the Fox Theater in Boulder, the 9:30 Club in D.C, South by Southwest, the Strawberry Festival, Rhythm and Roots, Meadowgrass, Floydfest and more, eventually surpassing 1,000 shows, half a million miles and performances in nearly every state. They've driven nonstop, made countless radio station appearances, driven broken-down RVs and watched as their van caught fire. They've paid their dues and then some, looking forward even as they were forced to glance behind.
Indeed, the accolades piled up quickly along the way. They have landed on the Grammy ballot 4 times, garnered nods from the Americana Music Association, placed top five on both Radio and Records and the AMA album charts, garnered airplay on Sirius FM, iTunes, Pandora, CNN, and CMT, and also accorded the "Download of the Day" from Rolling Stone. Shine the Light On found shared song writing credits with John Oates (the Oates of Hall & Oates fame), and when audiences expressed their admiration, it brought the band a populist following of diehard devotees, popularly known as "the Yarmy."
As odd as that might seem, it's proof positive that the Brooklyn and Raleigh based band - - which is currently comprised of Blake Christiana, Rod Hohl, bassist Rick Bugel, and drummer Robert Bonhomme -- have made their mark, and in dealing with their emotions, scars and circumstances, they find themselves in a position to share those experiences with others who have juggled similar sentiments.
Then again, one needn't take them at their word. When one unravels Yarn, it's best to add one's own interpretations.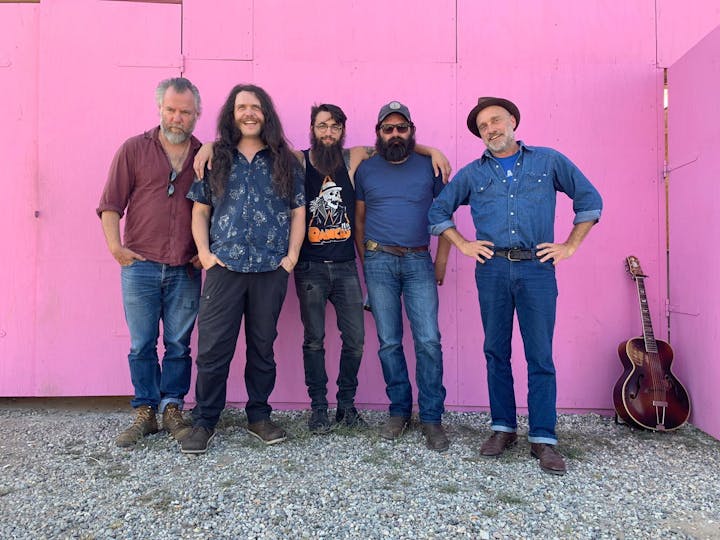 Hackensaw Boys
For touring musicians, the road is a harsh mistress. It takes an iron will to survive and a hard-headed love for music so deeply ingrained that the mere thought of a missed gig makes you nauseous. For 17 years, the Hackensaw Boys have plowed the asphalt, bringing their raw, gritty version of American roots music to the venues and streets that originally inspired them. Born in Virginia, along the same routes as fellow road warriors/street buskers Old Crow Medicine Show, the Hackensaw Boys have at times operated more as a collective than a band, sometimes boasting up to twenty members. What's kept them together is a burning hot vision of American roots music brought kicking and screaming into a new age, fueled as much by a rowdy punk spirit as by the traditional masters that first inspired them. Now with their new album, Charismo (April 15, 2016 on Free Dirt Records)–their first studio album in almost a decade–the Hackensaw Boys have a new lineup and a new lease on life. Led by founding member, guitarist and songwriter David Sickmen, they're back on the road with new songs, determined to get their fans back on the dancefloors they remember so well.
Thorp Jenson
Richmond, Va.-based guitarist Thorp Jenson creates the kind of music that makes you want to spend all night in a Southern dive bar and wake up the next morning just to drive across the country—and his songs are at home in either scenario. Jenson's self-produced debut, Odessa, encapsulates the free-spirited heartland-rock ethos of Tom Petty with a healthy dose of storytelling and singer/songwriter introspection. The record features Jenson's rich, soul-warming vocals and bright lead guitar supported by musicians and co-writers who have worked and toured alongside artists like Foxygen, Matthew E. White, Natalie Prass and more.​
"I wrote a lot of these songs thinking about characters," Jenson says of Odessa. "It always ends up including a part of me—you can't get away from that—but if you're only telling your own story, you're kind of pigeonholing yourself."
This character embodiment is apparent throughout the album, no more so than in the title track—a vivid, rollicking tune in which Jenson imagines himself a soldier returning from war to a small-town home that doesn't quite fit the one in his memory. Along with opening track "Oklahoma," "Odessa" helps set the overarching rock & roll aesthetic of the album, which Jenson says was influenced by The Rolling Stones, whose catalog was in heavy rotation leading up to the sessions. Jenson also surrounded himself with noticeably simpatico backing musicians. "I needed to bring in the right drummer to do what I wanted to do," he says. "Somebody who had listened to Charlie Watts at some point in their life." That drummer was Dusty Ray Simmons, the band rounded out by bassist/keyboardist Andrew Randazzo, guitarists Charles Arthur and Andrew Rapisarda and saxophonist/backup-singer Suzi Fischer. "It helps to have some of your best friends be some of the best musicians you know," Jenson says. "They really brought it."
Jenson channels Ryan Adams at his most apocalyptic on Odessa's dark yet ultimately hopeful "All We Have Is Time," and shows off his songwriting chops on "The Garden/2nd Season," a two-part track punctuated by a "Layla"-inspired outro, and featuring lyrics co-written with Foxygen/Matthew E. White bassist Cameron Ralston. The album's lone cover, Jenson's take on Modern English's "I Melt With You" was a bold addition, he admits, but despite his childhood disdain for the track ("I hated that song growing up"), playing it at a wedding gig helped him see past the blinding '80s sheen to the solid framework underneath, which he's transformed into a spacey, comfortingly languid love ballad.
Growing up 25 miles south of Richmond in Chester, Va., Jenson, the son of a loving but frequently on the road truck-driver father, received much of his young education from his older brother. "I was maybe what you'd consider a 'bad kid,'" Jenson recalls. "We were bouncing around on our bicycles, smoking pot. Small-town America—there's nothing to do. In some ways, it's kind of sad; but in another way, it's poetic."
As an early music fan who "hit the ground running" with '90s grunge, Jenson also found inspiration from his dad's record collection, which included '70s staples like the Grateful Dead and Derek and the Dominos. But, above all else, he was moved by Tom Petty's Wildflowers, which came out when he was in seventh grade. "It's just one of those albums," Jenson says. "That record, to me—it's just perfect."
With Odessa, Jenson offers up a collection of spirited and energetic compositions, setting fire to his lyrics with incendiary lead guitar tightly woven with soaring keyboards, arresting harmonies and a pulsing heartbeat of a rhythm section. After years of building a name for himself as a side-man guitarist in the Richmond music scene, Jenson is now poised to break out as a vibrant songwriter and dynamic frontman with his own story to tell.
Venue Information:
Parking is available in side lot (by Exxon)
No Smoking/Vaping permitted anywhere inside venue
Bags/purses will be checked at the door.
Must have ID for entry
If you do not have access to a printer, we can scan ticket from your cell phone. Be sure to have your brightness turned all the way up at the door.
Children under 3 years old are Free.
Kitchen is open during all hours of operation.
Appropriate clothing required at all times (tops and bottoms covered).
Performers
Date and Time
Location
Refund Policy