Yapı Kredi - FikriMobil 2016, Mobil Uygulamalarda Kullanıcı Deneyimi Tasarımı ve Kullanılabilirlik Atölyesi

Tuesday, February 9, 2016 from 9:00 AM to 6:00 PM (EET)
Event Details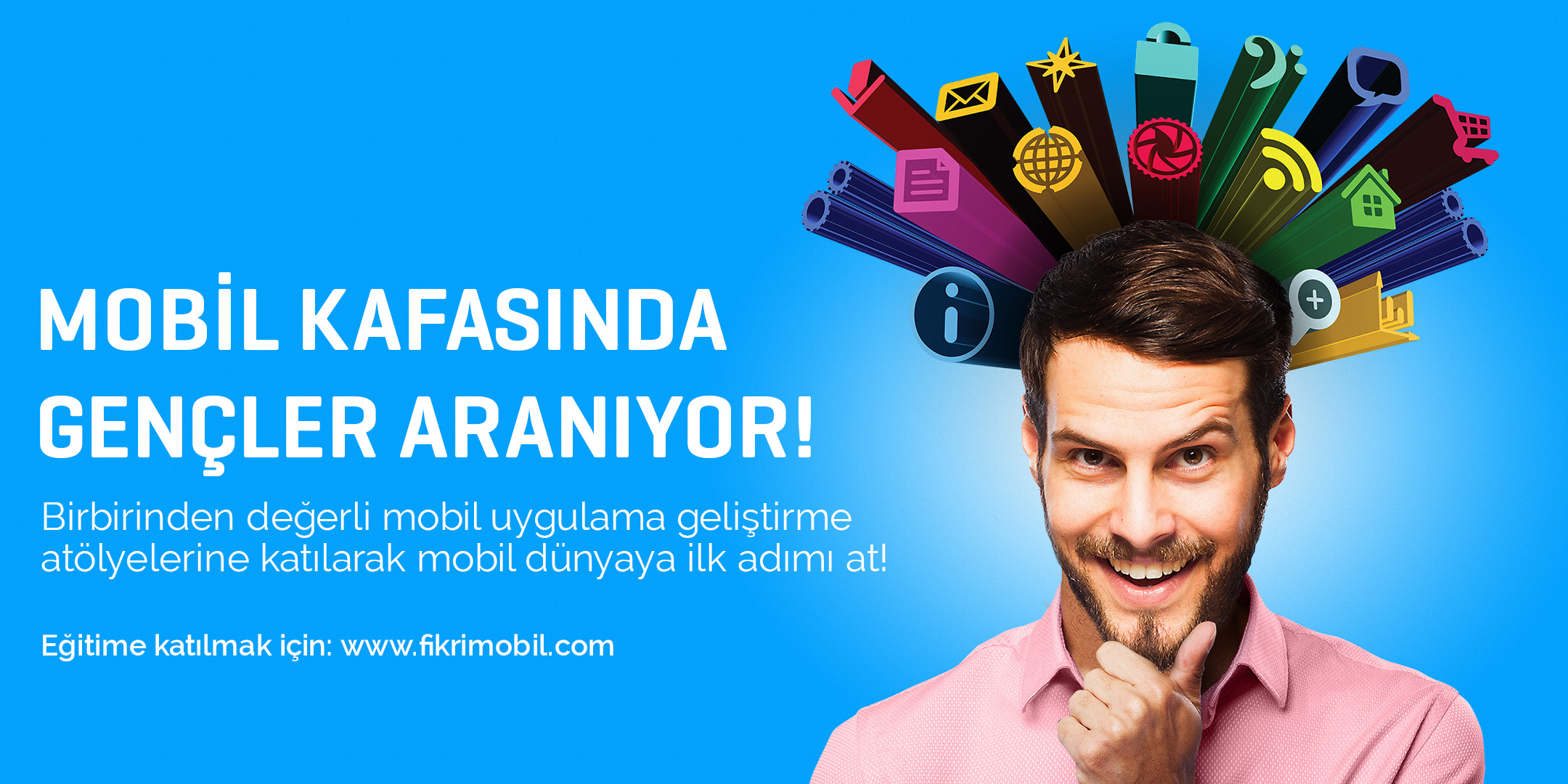 Mobil Uygulamalarda Kullanıcı Deneyimi Tasarımı ve Kullanılabilirlik Atölyesi
Teknolojiyle birlikte gelişmenin önemine inanan ve sektöre yenilikçi yaklaşımlarıyla öncülük eden Yapı Kredi'nin üniversite öğrencileri için düzenlediği FikriMobil başvuruları başladı! 
Eğitimlere katılacak üniversite öğrencileri, mobil uygulama geliştirmeye yönelik yetkinliklerini arttırmakla birlikte tanışacakları yeni kişiler ile takımlarını da kurabilme şansı bulacaklardır.
Mobil Uygulamalarda Kullanıcı Deneyimi Tasarımı ve Kullanılabilirlik Atölyesi UXservices firmasından Barış Sarıalioğlu ve Özge Sevindir'in desteği ile gerçekleştirilecektir.
Etkinlik Programı :
---
Yalın Mobil UX Tasarım Atölyesi
Mobil platformda iyi kullanıcı deneyimi nasıl yaratılır? Bu workshopta katılımcılar, Mobile First tasarım prensibiyle hareket ederek iteratif Kullanıcı Deneyimi Tasarımı methodları, iyi UX/UI tasarım patternleri  ve stratejilerini öğrenecek. Katılımcılar, persona tanımlama, kullanıcı senaryosu, kullanılabilirlik testi gibi kullanıcı merkezli tasarım tekniklerini uygulayacaklar.
 Atölye İçeriği
Her platform için en iyi tasarım stratejisini seç

Storyboard kullanarak kullanım senaryoları ve personaları belirle

Kullanışlı ve etkili mobil form ve akışları tasarla

Mobil platformun yeniliklerini kullanmaktan kaçınma (NFC, sensorler, v.b.)

Prototipler geliştir ve gerçek kullanıcıların geri bildirimlerini al

İteratif test yöntemini tasarım sürecinin bir parçasını yap

 
---
Atölye çalışmalarında katılımcılara sürpriz hediyeler dağıtılacak 
Hatırlatmalar :
Sınırlı sayıda kontejan bulunmaktadır.

Lab çalışmaları için katılımcıların Pc'lerini yanlarında getirmeleri gerekmektedir

Etkinlik boyunca, aperatifler, sınırsız çay / kahve ve kurabiye ikramları bulunmaktadır
Detaylı bilgi için www.fikrimobil.com adresini ziyaret edilebilirsiniz.
fikrimobil@yapikredi.com.tr adresine e-poste gönderebilirsiniz.
Have questions about Yapı Kredi - FikriMobil 2016, Mobil Uygulamalarda Kullanıcı Deneyimi Tasarımı ve Kullanılabilirlik Atölyesi?
Contact Yapı Kredi, FikriMobil
When & Where

Koç Üniversitesi Kuluçka Merkezi
Golden Plaza
19 Mayıs Cad. Kat:1 Şişli
İstanbul , 34360
Turkey

Tuesday, February 9, 2016 from 9:00 AM to 6:00 PM (EET)
Add to my calendar
Organizer
Yapı Kredi, FikriMobil
FikriMobil, üniversite öğrencilerinin yaratıcı fikirlerini ortaya çıkarmak ve mentörler öncülüğünde fikirlerini olgunlaştırarak mobil teknoloji altyapıları ile prototip üretebilmelerini sağlamak için oluşturulmuş yarışma ortamıdır.
FikriMobil periyodik olarak düzenlenmektedir. Yarışma süresince yapılan inovasyon etkinlikleri ile girişimci öğrencilerin buluştuğu etkileşimli ve faydalı bir ortam sağlanması hedeflenmiştir.
Yapı Kredi - FikriMobil 2016, Mobil Uygulamalarda Kullanıcı Deneyimi Tasarımı ve Kullanılabilirlik Atölyesi