Event Information
Refund Policy
Refunds up to 1 day before event
Description

LIMITED SPACES AVAILABLE!

Discover Yantra Yoga: The Union of the Sun and Moon

Yantra Yoga is an ancient system of Tibetan yoga based on the text, Trulkor Nyida Kajor: "The Union of the Sun and Moon," written in the 8th century by the great master Vairocana. One of the oldest recorded systems of yoga that exists in the world, for centuries Yantra Yoga was a closely guarded secret reserved for advanced yogic practitioners. Understanding the immense benefit it holds for everyone, Yantra Yoga was first introduced to the West in the 1970s by one of the foremost Dzogchen masters of our time, Chögyal Namkhai Norbu Rinpoche.

Yantra Yoga offers a unique series of yoga movements for optimal health, relaxation, and harmony. Synchronizing every movement with conscious breathing, we find ourselves in a perfectly relaxed state. Each yoga sequence performed in Yantra Yoga aims to guide the breath into a natural harmony with the mind and body. Designed to harmonize and expand our breathing capacity, loosen our joints, and optimize our energy channels, Yantra Yoga helps to reawaken our natural state of balance. For more information, visit http://www.yantrayoga.net/

This open-level workshop will focus on the 8 Movements for Purifying the Prana, the 9 Breathings for Exhaling the Stale Air and Rhythmic Breathing. These are perfect take-home practices for physical and mental well-being, and serve as a support for mindfulness in everyday life.

Date: Saturday, October 28, 2017
Time: 1st Session: 9:30am-12:00pm; 2nd Session: 2:30-5pm
Location: Dondrubling, 2748 Adeline Street, Suite D, Berkeley (above Crixa Cakes)

This is a Benefit for Dondrubling, home of the Dzogchen Community West Coast! (dzogchencommunitywest.org)

Cost: By Generous Donation.
(Suggested Minimum: $50/day or $30/single session.)
Full day recommended for newcomers to Yantra Yoga.
For Eventbrite tickets: please print receipt, or show ticket on phone. Thank you!
For more info, photos and videos, visit and share our Facebook Event Page:
http://www.facebook.com/events/140591506676999

About Jillian Patricia, Yantra Yoga Instructor

Jillian Patricia is a 1st Level Instructor of Yantra Yoga as taught by Tibetan Dzogchen Master Chögyal Namkhai Norbu Rinpoche, authentic lineage holder of Vairocana's Trulkor Nyida Kajor. Jillian is also certified to teach Harmonious Breathing by Fabio Andrico, and Hatha Yoga by the USA Yoga Alliance. She has been practicing yoga and meditation since 2001.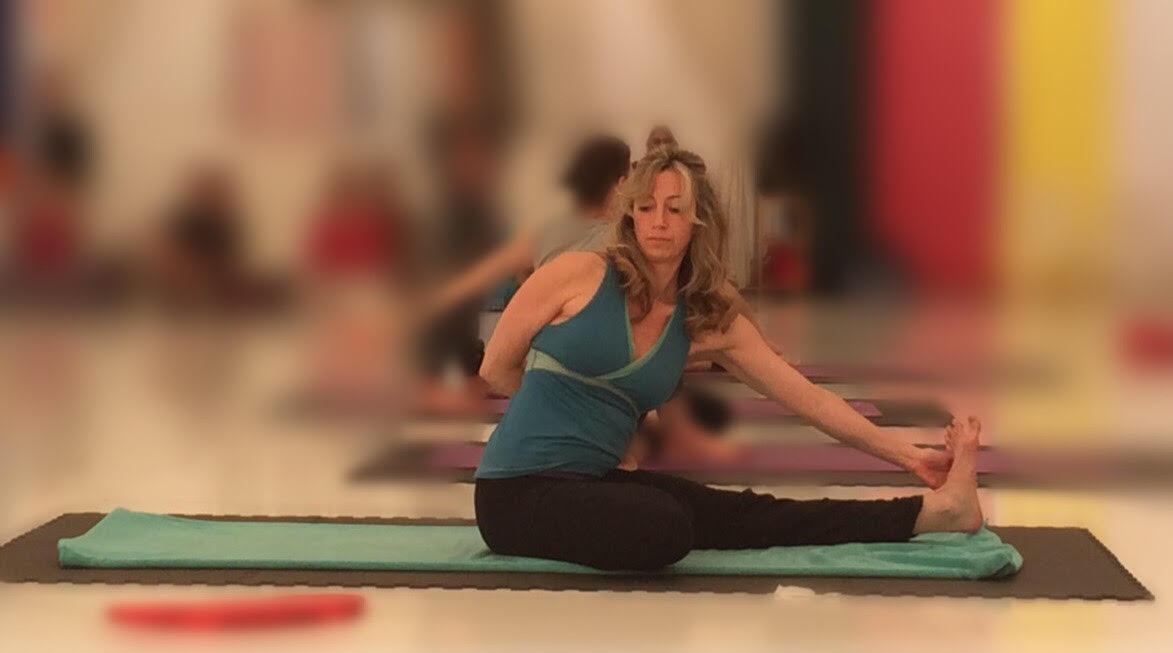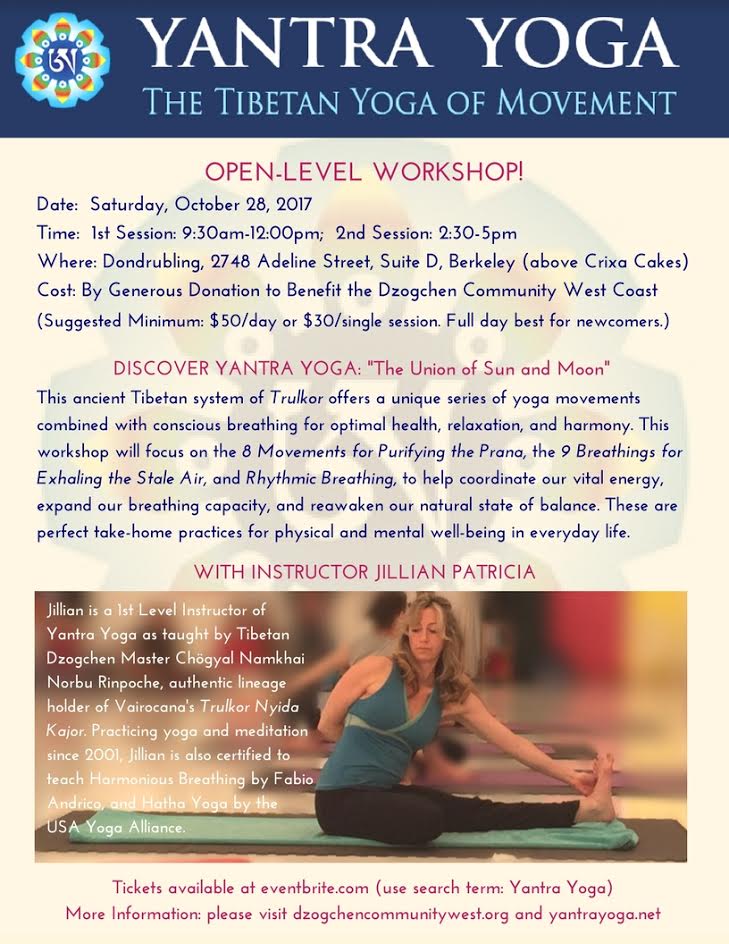 Date and Time
Location
Dondrubling
2748 Adeline Street
Suite D (Side Door, Second Floor, above Crixa Cakes)
Berkeley, CA 94703
Refund Policy
Refunds up to 1 day before event