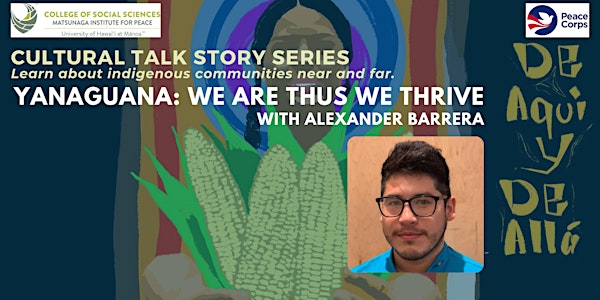 Yanaguana
CTSS "Yanaguana: We Are Thus We Thrive with Alexander Barrera"
About this event
Cultural Talk Story Series
"Yanaguana: We Are Thus We Thrive"
with Alexander Barrera
Learn about indigenous communities near and far.
The Story
Join us for a conversation that speaks to the resilience of indigenous people and the growing influence of indigenous knowledge to the contemporary world. Why expressing our existence and sharing thought provoking ideas about life are imperative to our community.
Peace Corps
The Peace Corps is a service opportunity for motivated changemakers to immerse themselves in a community abroad, working side by side with local leaders to tackle the most pressing challenges of our generation. Learn more about the Peace Corps at https://www.peacecorps.gov.
About Alexander Barrera
Alexander Barrera is an indigenous Coahuiltec American and entrepreneur. He is currently the Peace Corps Recruiter for central California, and Hawai'i. Alex is a Returned Peace Corps Volunteer that served in Dominican Republic were he helped his community improve waste-collection strategies.
Co-Sponsors:
Matsunaga Institute for Peace
Peace Corps