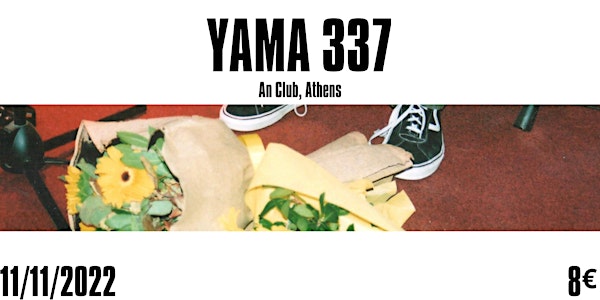 Yama Live Athens, An Club
Έχεις δει αυτά τα λουλούδια? Yama live στην Αθήνα, 11 Νοεμβρίου στο An Club <3
When and where
Location
An Club 13 Σολωμοῦ 106 83 Αθήνα Greece
Refund Policy
Contact the organizer to request a refund.
Eventbrite's fee is nonrefundable.
About this event
Οι Yama έρχονται στο An Club για το μεγαλύτερο τους live! Μετά από τα sold out shows τους σε Αθήνα και Θεσσαλονίκη, επιστρέφουν στην πόλη τους για αφήσουν την ψυχή τους στην σκηνή και να μοιραστούν τα λουλούδια τους.
Η inde pop μπάντα συνδυάζει γλυκές και ρυθμικές κιθάρες με δυνατά drums, catchy μπασογραμμές και στίχους που γεμίζουν εικόνες τον ακροατή. Οι μεγαλυτερες τους επιρροές είναι καλλιτέχνες όπως ο Dominic Fike, η BENEE, ο Mac Demarco, ο Φοίβος Δεληβοριάς και ο Tyler the Creator.
Η πρώτη τους γνωριμία με τον κόσμο έγινε το καλοκαίρι του 2021, όπου κάνανε release 3 singles, το "Τι να κάνω?", το "Δεν Πειράζει" και το "10 Ταχύτητες". Το τελευταιο βρήκε μεγάλη επιτυχία στο TikTok, καθώς και έφτασε μέχρι το νούμερο 3 στην λίστα Viral 50 του Spotify.
Τα τρία αυτά κομμάτια πλαισίωσαν τον πρώτο τους δίσκο τον Νοέμβριο του ίδιου χρόνου, με τα streams να έχουν φτάσει πλέον περισσότερα από 1.000.000.
Εκτός από τα αποκλειστικά τους live, οι Yama έχουν εμφανιστεί στο Μιχάλης Κακογιάννης, το Schoolwave Festival αλλά και σε καλοκαιρινό tour στην Αμοργό και στην Αστυπάλαια.