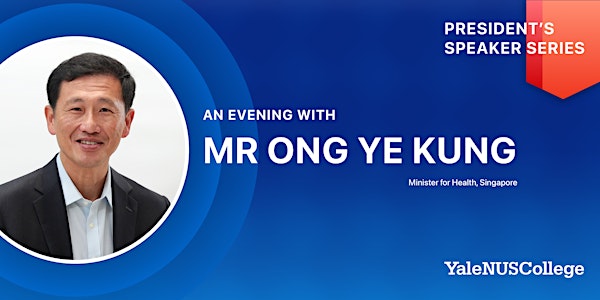 Yale-NUS College President's Speaker Series: An evening with Mr Ong Ye Kung
Join us for "An evening with Mr Ong Ye Kung" featuring a wide range of health-related topics with Singapore's Minister for Health.
When and where
Location
Yale-NUS College Performance Hall 16 College Avenue West Singapore, 138527 Singapore
About this event
Join us for "An evening with Mr Ong Ye Kung" featuring a wide range of health-related topics with Singapore's Minister for Health that will touch on public health strategies, population ageing and sustainability of care, and mental health.
The session will be moderated by Jean Liu, Assistant Professor of Social Sciences (Psychology) at Yale-NUS College.
Please arrive at the Performance Hall at 6:15pm and all guests must be seated by 6:45pm.
Zoom Webinar: If you are unable to attend physically, join us online by registering here.
About the speaker
Ong Ye Kung is the Minister for Health, Singapore. He was elected Member of Parliament for Sembawang Group Representation Constituency (GRC) in September 2015, and was re-elected in July 2020 in Sembawang GRC.
He had held the positions of Minister for Transport, Minister for Education, Second Minister for Defence and board member of the Monetary Authority of Singapore. He is also the Chairman of the Chinese Development Assistance Council.
Prior to joining politics, he held various positions in Government, including Chief Executive Officer of the Singapore Workforce Development Agency, and Deputy Chief Negotiator for the US-Singapore Free Trade Agreement. He served several years in the Labour Movement, as the Deputy Secretary-General of the National Trades Union Congress, and spent some time in the private sector, as the Director of Group Strategy at Keppel Corporation.
Mr Ong graduated from the London School of Economics and Political Science (UK) and the Institute of Management Development, Lausanne, Switzerland. He is married with two children.
About the moderator
Jean Liu is a Psychology faculty at Yale-NUS College. At Yale-NUS, she was the Head of Studies of Psychology in 2019, and served as a Residential Fellow from 2018-2020.
In her research portfolio, Asst Prof Liu documents how technological advances influence health, well-being, and social outcomes. This comprises two themes: (i) the impact of digital technology and the internet (focusing on smartphone use, phone applications, and social media) and (ii) how advances in medical technology interact with the broader psychosocial context. Within this remit, her research group addresses both basic science and translational topics, incorporating data from randomised controlled trials, epidemiological surveys, experience sampling, behavioural paradigms, psychophysiology, digital phenotyping, and large datasets.
In her teaching capacity, Asst Prof Liu's focus area is behavioural insights ('nudge theory') – how an understanding of psychology can optimise public policy and product design. To this end, she regularly partners with the government, NGOs, and the private sector to supervise student consultancy projects. She also teaches a flagship course where students conduct randomised controlled trials to solve real-life policy challenges.
In Asst Prof Liu's public capacity, she sits on government advisory committees pertaining to health, speaks at various public forums, and has been widely featured in the media.