Description
The Yale Innovation Summit is a day-long event tailored to Yale innovators to encourage the sharing of new discoveries and technologies with market potential with the broader investment community.
Held at Yale School of Management, and presented by the Office of Cooperative Research and the Yale Entrepreneurial Institute, last year's event featured more than 350 attendees including faculty members, local industry executives, students and post-docs. Additionally, over 50 venture capital investors were represented from over 25 firms that in aggregate had over $40 billion under management. This was the most significant gathering of venture investors ever on Yale's campus.
HIGHLIGHTS:
• Two Tracks – Biotech and Tech
• Panels and Keynotes featuring leading Biotech and Tech Investors
• A Biotech Pitchoff and Tech Pitchoff featuring top Yale Faculty & Student Innovators
• An Awards Ceremony for Yale Biotech & Tech Innovator Prize Winners
• An Outdoor Poster Session with 50+ posters displaying cutting-edge, Yale-based discoveries
• Breakfast & Lunch and Closing Reception
• Networking opportunities
*NEW THIS YEAR*
• Blavatnik Fund for Innovation at Yale award announcements
• Closing remarks by Yale President Peter Salovey
CONFIRMED 2017 VC FIRMS:
5AM Ventures, Atlas Venture, Elm Street Ventures, F-Prime Capital Partners, Nyca Partners, OrbiMed, Polaris Partners, New Enterprise Associates, Oak HC/FT, New Leaf Venture Partners, Samsung Ventures, Polaris Partners, Sanofi-Genzyme BioVentures, Johnson & Johnson, Novartis Venture Funds, Evolution Life Science Partners, Lockheed Martin Ventures & Morningside Group
CONFIRMED 2017 PANELISTS & SPEAKERS:
Rob Bettigole, Managing Partner, Elm Street Ventures
Kevin Bitterman, Partner, Polaris Partners
Christine Brennan, Principal, Novartis Venture Funds
Gerald Chan, Cofounder, Morningside Group
Christopher J. Denn, Partner, Goodwin
Jason Hafler, Senior Director of Investments, Sanofi-Genzyme BioVentures
Roy Herbst, Associate Director for Translational Research, Yale Cancer Center
Paul Hermes, Entrepreneur-in-Residence, Medtronic
Paul Hughes, Partner, Wiggin & Dana
Jim Hornthal, Chairman, M34 Capital, Zignal Labs
Hyuk Jeen-Suh, Head of Samsung Ventures East Coast
Ken Kaufmann, VP Marketing, Hamamatsu
Patricia Kemp, General Partner, Oak HC/FT
Chau Khuong, Private Equity Partner, OrbiMed
Stephen Knight, President and Managing Partner, F-Prime Capital Partners
Kathleen McGroddy-Goetz, VP, Partnerships & Solutions, IBM Watson Health
Chris McLeod, Managing Partner, Elm Street Ventures
Chris Moran, VP & GM at Lockheed Martin Ventures
Sara Nayeem, Partner, New Enterprise Associates
Lili Portilla, Director of Office Strategic Alliances, NCATS
Liam Ratcliffe, Managing Director, New Leaf Venture Partners
Jeffrey Reitman, Principal, Nyca Partners
Jason Rhodes, Partner, Atlas Venture
Helge Seetzen, General Partner, Tandem Launch
Stephen Squinto, Venture Partner, OrbiMed
Mary Tanner, Senior Managing Director, Evolution Life Science Partners
Lou Tartaglia, Executive-in-Residence, 5AM Ventures
James Tobin, Vice President, Cardiovascular and Metabolism Scientific Innovation, Johnson & Johnson
Jarrod Yuster, CEO, Pico Quantitative Trading
---
We are grateful for the generous support of our sponsors: Alexion, Biohaven Pharmaceuticals, Bulldog Innovation Group, Canaan Partners, Celldex Therapeutics, Charles River, Connecticut Innovations, Elm Street Ventures, Evotec, Goodwin, Hamamatsu, Murtha Cullina, Pfizer, Pierre-Fabre, Spring Mountain Capital, Wiggin & Dana, Yale School of Management, Yale New Haven Hospital.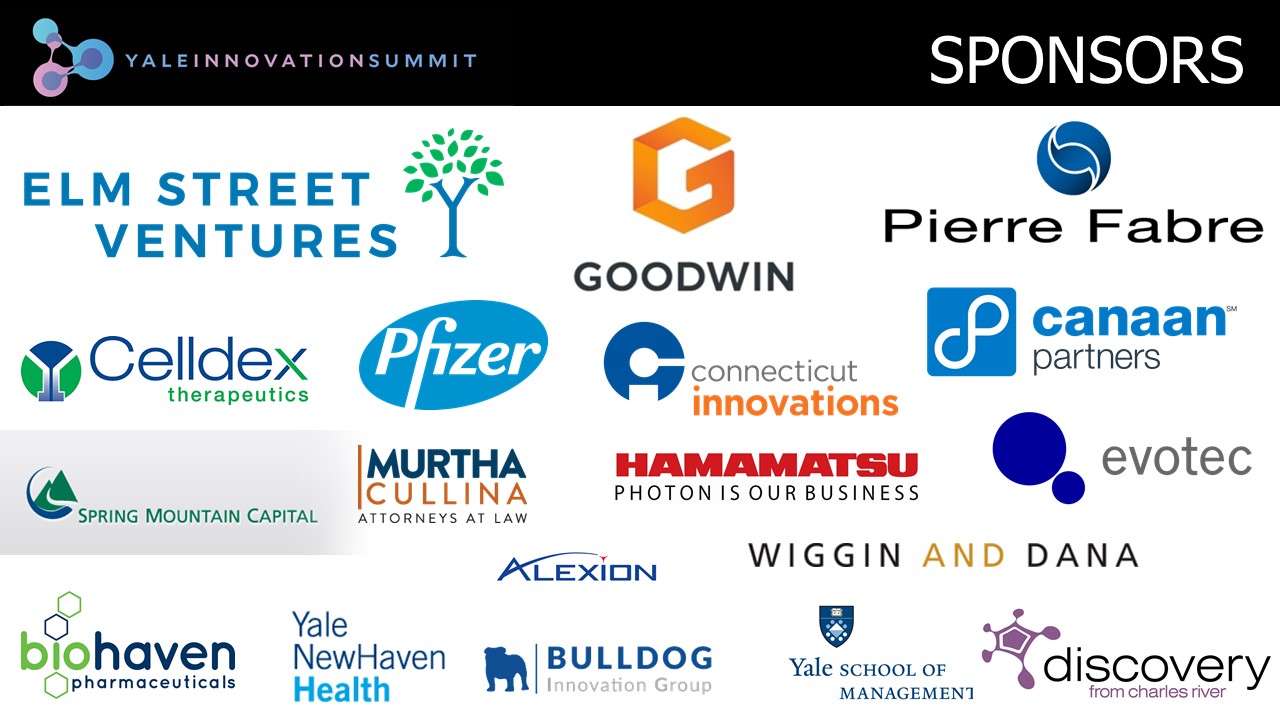 Interested in becoming a sponsor? Contact Tim Opstrup, timothy.opstrup@yale.edu