Yale AIDS Memorial Project Website Launch
When and where
Location
Christie's 20 Rockefeller Plaza New York, NY 10020
Refund Policy
Contact the organizer to request a refund.
Description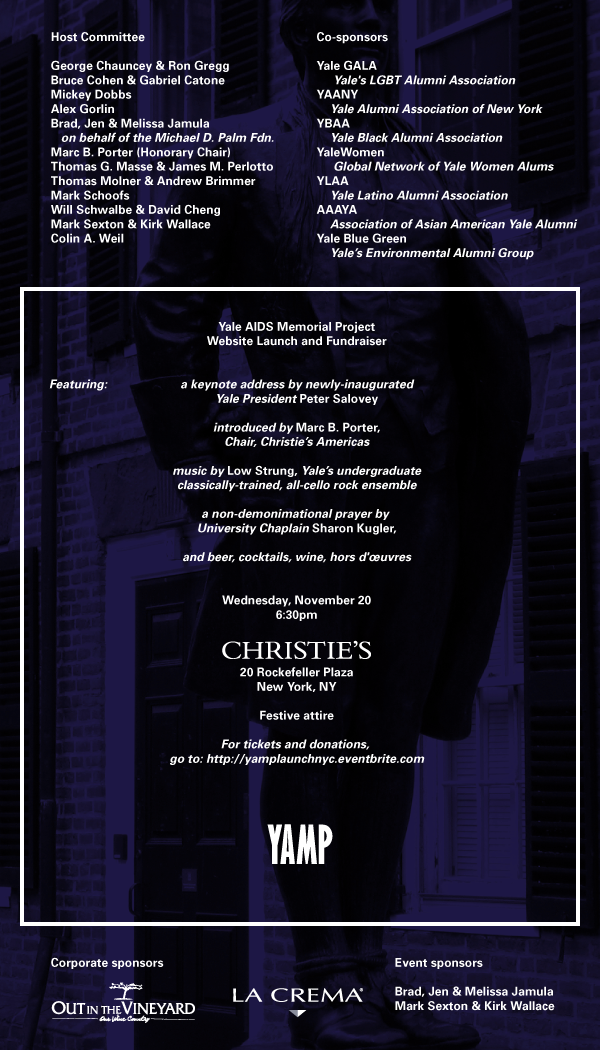 Since its inception in 2011, YAMP has worked to tell the story of AIDS through the lens of a single institution, honoring the lives of those lost to the disease while making effects of the epidemic palpable for a younger generation and helping stimulate an AIDS memory boom. Since publishing its first Journal of 8 profiles (click here for excerpts), YAMP has engaged the support of the Michael Palm Foundation and recruited design studio Linked By Air to develop and design the memorial website as an interactive platform.
The website is the cornerstone of YAMP's vision and a radical reimagining of the memorial space; the website's design emphasizes the interconnections of individuals through their networks of friendships, shared interests, and professions. YAMP has also partnered with the Yale Alumni Association of New York (YAANY), the Yale LGBTQ Co-Op, the Global Health Justice Partnership, the Yale Film Studies Program, the Yale Women's Center, and Yale Pride to co-host several events to foster dialogue about HIV/AIDS, gained the attention of outlets from the Yale Daily News to the New York Times. YAMP's efforts are the first of its kind to memorialize, archive, and educate its visitors about the impact of AIDS in comprehensive detail and stories, and it will serve as a model other institutions can emulate in creating their own memorials.
Thanks to the generosity of our event sponsors, Mark Sexton & Kirk Wallace and Brad, Jen & Melissa Jamula, the total amount of your ticket price goes to support YAMP. However, IRS regulations require us to subtract the fair market value of the ticket price in determining the tax deductibility of your ticket. Funds raised will be used by YAMP to achieve self-sustainability as a 501(c)3 non-profit organization, build volunteer capacity and expand the web-based memorial, work to establish a physical on-campus memorial, and expand the model to universities and institutions beyond Yale.
Yale GALA: Yale's LGBT Alumni Association, a 501(c)3 organization is proud to be the fiscal sponsor for YAMP. Yale GALA is also a co-sponsor of the event along with YAANY: Yale Alumni Association of New York YBAA: Yale Black Alumni Association. Special thanks to Colin Weil, Marc B. Porter, Mickey Dobbs and Christie's for their extreme generosity and help organizing the event.
If you would prefer to pay by check, please contact us and we will be happy to help arrange this.
Editions available for Sustainer-level donations and above (thanks to Yale School of Art alumni Rory and Matt for donating their time and beautiful work):