Yale AIDS Colloquium Series (YACS) - Thomas Quinn

Friday, December 5, 2014 from 12:00 PM to 1:00 PM (EST)
Event Details
TALK DESCRIPTION:
Biomedical Prevention of HIV - Translating Research into Action
SPEAKER: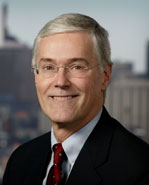 Dr. Thomas Quinn is Professor of Medicine and Pathology in the Johns Hopkins School of Medicine and Professor of International Health, Epidemiology, and Molecular Microbiology and Immunology in The Johns Hopkins School of Public Health, and Professor of Nursing in the Johns Hopkins School of Nursing. In 2006 he was appointed founding Director of the Johns Hopkins University Center for Global Health. He serves as advisor/consultant on HIV and STDs to the World Health Organization, Office of the Global AIDS Coordinator (PEPFAR), UNAIDS, and the FDA. He serves as Associate Director for International Research at the National Institute of Allergy and Infectious Diseases. He is a member of the Institute of Medicine of the National Academy of Sciences, and is a fellow of the American Association for the Advancement of Science. He is a fellow of the Infectious Diseases Society of America and a member of the American Association of Physicians. He is an author of over 900 publications on HIV, STDs, and infectious diseases, and serves on multiple editorial boards.
ABOUT YACS:

Co-sponsored by the Yale School of Public Health, Division of Epidemiology of Microbial Diseases (EMD), the Yale AIDS Colloquium Series (YACS) is an interdisciplinary academic forum which brings together 50-60 faculty, researchers, pre/postdoctoral and international fellows and first year MPH students to discuss topics of HIV/AIDS-related research and policy. 
ABOUT CIRA:
CIRA supports innovative, interdisciplinary research that combines behavioral, social and biomedical approaches, focused on the implementation of HIV prevention and treatment and the elimination of HIV disparities.
When & Where

Yale School of Public Health, Winslow Auditorium (Lower Level)
60 College Street
New Haven, CT 06510


Friday, December 5, 2014 from 12:00 PM to 1:00 PM (EST)
Add to my calendar
Organizer
Center for Interdisciplinary Research on AIDS at Yale University
CIRA is supported by National Institute of Mental Health Grant No. P30MH062294.
Paul D. Cleary, Ph.D., Principal Investigator
Yale AIDS Colloquium Series (YACS) - Thomas Quinn