Yale AIDS Colloquium Series (YACS) - Kenneth Castro

Thursday, March 28, 2013 from 12:00 PM to 1:00 PM (EDT)
Event Details
TALK DESCRIPTION:
"Challenges to TB Elimination in the United States"
This talk will review the need to bridge the implementation, knowledge, and ambition gaps to succeed in the  elimination of TB here and elsewhere.
SPEAKER: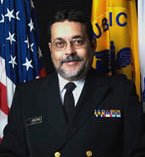 RADM Kenneth G. Castro, M.D. serves as director, Division of Tuberculosis Elimination, National Center for HIV, Viral Hepatitis, STD, and TB Prevention (NCHHSTP), U.S. Centers for Disease Control and Prevention (CDC), and co-Chairs the U.S. Federal Tuberculosis Task Force. He is a founding member of the global Stop TB Partnership and member of its Coordinating and Executive Boards. In recent years he has also served other key leadership roles during temporary assignments, as Acting Chief Health Officer for CDC's Emergency Operations response to the 2009 pandemic Influenza A (H1N1) in May 2009, and as Acting Incident Commander of CDC's Emergency Operations response to the 2010 Haiti Earthquake in late January 2010 – while the Incident Commander traveled to Haiti.

A career officer in the U.S. Public Health Service, he was promoted to the flag rank of Assistant Surgeon General (RADM, O-7) in May 2000, and in September 2008 was designated Commanding Flag Officer of CDC/ATSDR Commissioned Corps to provide oversight and representation for > 900 Commissioned Officers assigned to this agency.

A physician-scientist, Dr. Castro has a specialty in internal medicine and subspecialty in infectious diseases and epidemiology. He received his bachelor's degree in 1974 from the University of Puerto Rico; completed post-graduate biology studies at Northeastern University in Boston in 1976, and his medical doctorate from the State University of New York at Stony Brook School of Medicine in 1980. He completed his internal medicine postgraduate training in 1983 at the residency program in social medicine at the Montefiore Medical Center, Albert Einstein College of Medicine in New York. From 1983 until 1985, he was a member of CDC's Epidemic Intelligence Service (EIS) program. From 1988 until 1989, he completed a fellowship in infectious diseases at the Emory University School of Medicine. In 2008-2009, he completed the National Preparedness Leadership Institute Program at the Harvard School of Public Health and Harvard Kennedy School of Government. Dr. Castro also holds an academic appointment as adjunct clinical faculty member of the Division of Infectious Diseases, Department of Medicine, Emory School of Medicine, and has hospital privileges at the infectious diseases clinic at Grady Health System in Atlanta.


An award-winning author of more than 130 scholarly publications, Dr. Castro serves as a peer reviewer for numerous scientific journals and is an associate editor for the journals International Journal of Tuberculosis and Lung Disease and Emerging infectious Diseases. He also maintains memberships in the leading scientific societies in his field. A native Puerto Rican, Castro speaks fluent Spanish, and has frequently served as advisor to the Puerto Rico Department of Health, the Pan American Health Organization, World Health Organization, and several Ministries of Health in countries where TB and HIV constitute major public health problems. In 2008 Dr. Castro was recognized by the Hispanic Officers Advisory Committee, U.S. Public Health Service Commissioned Corps with the prestigious Juan Carlos Finlay award.
ABOUT YACS:

Sponsored by CIRA, the Yale School of Public Health's Department of Epidemiology of Microbial Diseases, and Yale's Institution for Social and Policy Studies, the Yale AIDS Colloquium Series is an interdisciplinary academic forum for discussion of HIV/AIDS-related research and policy. CIRA's mission is to support the conduct of interdisciplinary research focused on the prevention of HIV infection and the reduction of negative consequences of HIV disease in vulnerable and underserved populations nationally and abroad.
When & Where

Yale School of Public Health, Winslow Auditorium
60 College Street
New Haven, CT 06510


Thursday, March 28, 2013 from 12:00 PM to 1:00 PM (EDT)
Add to my calendar
Organizer
Center for Interdisciplinary Research on AIDS at Yale University
CIRA is supported by National Institute of Mental Health Grant No. P30MH062294.
Paul D. Cleary, Ph.D., Principal Investigator
Yale AIDS Colloquium Series (YACS) - Kenneth Castro