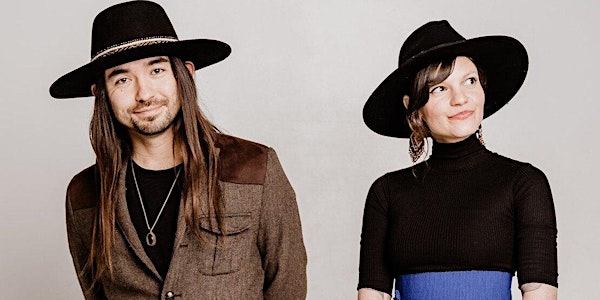 Yaima: MoonGate Tour @ WASHINGTON HALL
Abbey Arts presents Yaima: MoonGate Tour live at Washington Hall
Location
Washington Hall 153 14th Avenue Seattle, WA 98122
Refund Policy
Refunds up to 7 days before event
About this event
MOONGATE CONCERT & CEREMONY
We are pleased to invite to you a sacred container - one of reverence, deep awareness, breathwork , ceremony, community, listening and heart-centered musings. In Honor of our ten year anniversary making music & co-creating, we are feeling inspired to offer an evening of some of our favorite frequencies. Over the years, we have gotten to share these songs and musings in different ways- refining and designing the most resonant experience for you- our fans, family & beloved friends!
Moongate is not just another tour, or album, or video, or song, or story- it is a concept- a Threshold.. After gathering wisdom, intention, prayers and thoughtforms throughout the last ten years we are so excited to share these new frequencies and revisions of our familiar songs and new music with you!
We will be offering two experiences- A Breathwork Ceremony and A Dance- however we will create space for participants to attend just the Concert & Dance portion of the evening.
THE CEREMONY
Tickets to the Breathwork Ceremony will be limited due to the nature of the event and so each participant has enough space to create their own cozy & reclined nest/space on the floor- We will ask you each to bring your own pillows, blankets, yoga mats etc. so that you are most comfortable!
Once everyone has arrived into stillness, we will begin with a gentle breathwork ceremony and coalescing musings- we will cocreate a field by tapping into our collective energy and tuning deeper into the muse of Presence.
At the end of the breathwork ceremony we will invite participants to begin to clear their spaces for the movement portion of the evening.
THE DANCE
The invitation is for participants to explore their own movement, at their own pace, tapping into their inherent flow, starting slow, stretching, emerging from the inner realms, opening into communal shared space, consensual dance, ecstatic efflorescence of Presence.
The beauty and simplicity of "Being".
"The Yaima Music Project is a Cascadian Folktronic Duo based in Seattle WA (2014-Present).
Featuring Multi-Instrumentalist & Producer Masaru Higasa and Vocalist Pepper Proud has often been described as timeless and unmistakable, offering a balanced synergy of both the masculine and feminine expression. Their melodious soundscapes showcase instruments from all over the world.
Inspired by the Majesty of Nature their musings encompass the listener with driving and revitalizing organic rhythms, transcendent electronic production, warm soothing female vocals and heartened lyricism.
Their intention is to create a bridge between Nature and Humankind, an expansive experience that encourages growth and graceful passage for the hearts and minds of their listeners.
The name YAIMA emerges from two sources one from the Mapudungun language meaning "that which water runs through" and the other from the culturally preserved Yaeyama District of Okinawa Japan- Over the last 5 years YAIMAs music has been reaching the ears and hearts of listeners from all around the world."
- Artist Bio
Event Details:
@ Washington Hall
5:00p doors for Breathwork Ceremony
Combo Ticket required for breathwork portion of event, please select carefully
5:40 Breathwork Ceremony begins
7:30p doors for Concert / Dance
8:00p Concert
153 14th Ave, Seattle, WA 98122
All ages, some seating available
Limited reduced capacity to allow space to move
ABBEY ARTS EVENT INFO:
Please silence (and no vibrate) all phones and devices
No photos or video during breathwork please
Please limit photos/video during the dance/concert so as to not distract other attendees from the experience.
Abbey Arts events are all ages unless noted. Kids 10 & under are free but do require a ticket due to capacity reasons. Please inquire if considering bringing young kids to the breath work ceremony portion as it will be very quiet.
Entering the venue indicates agreement to adhere to the Abbey Respect Policy found at www.abbeypresents.org/respect. All are welcome.
ABBEY ARTS, SEATTLE | NONPROFIT 501C3, NON-RELIGIOUS, EST. 2005
Presenting welcoming music, arts & cultural experiences for people of all ages & incomes.
Home Venue: Fremont Abbey, 4272 Fremont Ave North, Seattle, WA 98103 / 206-414-8325
Note: All ticket sales are final unless noted. Lineup and performers are subject to change, no refunds for change of support acts.
About the organizer
Public Health Info:
Be sure to check your events ticketing page for any special requirements per event.
That being said, we still strongly encourage people attending to follow all safety protocols shown below and per King County Public Health.
Attendees are welcome to wear masks at their discretion, all are welcome. Please don't discriminate based on mask or no mask. Some people may opt to wear a N95 for their own protection.
Please check your specific event details before purchasing a ticket.
THESE GUIDELINES MAY CHANGE AT ANY TIME DUE TO PUBLIC HEALTH GUIDELINES
-----------MORE INFO--------------
All Abbey Arts employees & volunteers are vaccinated.
We are operating at full capacity and do not have any capacity restrictions unless otherwise noted in the event description.
We have added hand sanitizing stations and air filtration systems around our venues. We encourage you to regularly sanitize and fully wash hands when you use the restroom.
****
By entering the Venue, you and the members of your group voluntarily assume the risks of contracting COVID-19 and agree to release, waive, discharge and covenant not to sue any Artist performing or Abbey employee or company (including their owners, officers, employees, volunteers, agents and the City of Seattle), and hold these entities and persons harmless from liability regarding any and all claims relating to COVID-19 and indirectly or directly arising out of or relating to the Venue or event.
****
Individual events may have additional safety measures in place, see Ticketing pages for details.
-----------------------
ABBEY ARTS, SEATTLE:
NONPROFIT 501C3, NON-RELIGIOUS, EST. 2005
Fremont Abbey | Ballard Homestead | South Park Hall | St Mark's Capitol Hill | The Auditorium @ UHeights |  & more
Independent nonprofit, non-religious, all ages/incomes. 
Low Fee Tickets! No hidden high fees like Ticktmstr. :-)
[ Click here to subscribe to our optional text messages. ]
[The views and opinions expressed at events are those of the artists and performers and do not necessarily reflect Abbey Arts. About Page | Respect Policy.]
Refunds may be available per event settings.
No refunds due to support act changes.
Tickets for rental events may be via their website. 
Note: Entry requirements are subject to change. By purchasing tickets to this event you agree to abide by entry requirements in effect at the time of the event. Check the venue website leading up to your event for the latest protocols.