Description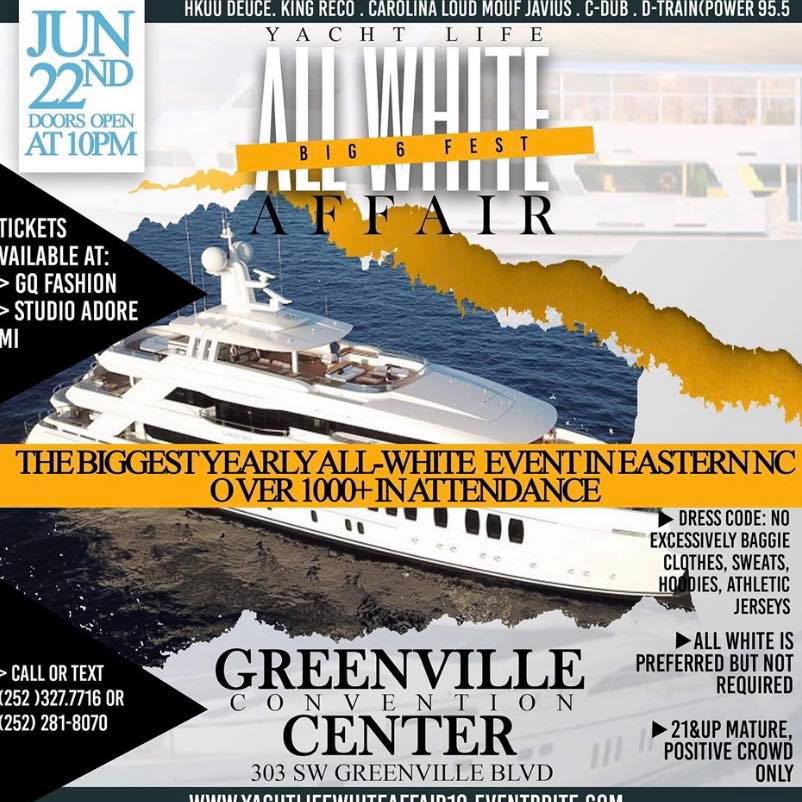 Yacht Life All White Affair(10th Annual Big 6 Fest)
Saturday, June 22, 2019
Presented to you by:
HKUU Deuce. KING Reco . Carolina Loud Mouf Javius . C-Dub . D-Train(Power 95.5)
Its the biggest & best yearly all white event in eastern NC! Over 1,000 people in attendance: Greenville, Rocky Mount, Farmville, Wilson, Tarboro, Washington, Bertie, Ahoskie, New Bern, Jacksonville, and 21&Up alumni from all area high schools.......the whole 252 will be there. You don't wanna miss it, grab your crew, outfits, and tickets now!
All white is preferred but not required. This is for the mature, positive 21&Up adults that are looking to have good time.
Dress code: no excessively baggie clothes, sweats, hoodies, athletic jerseys
VIP Tables, bottles and birthday packages are available also. For more info text (252)327-7716 or (252)281-8070
Tickets available:
1. online at www.yachtlifewhiteaffair19.com
2. GQ Fashion Or Studio Adore Mi
3. (252)327-7716 or (252)281-8070
ABSOLUTELY NO REFUNDS!! Rain checks only