Description
By INVITATION ONLY: YACHT PARTY!
Saturday, December 16, 2017 / Lincoln Harbor, NJ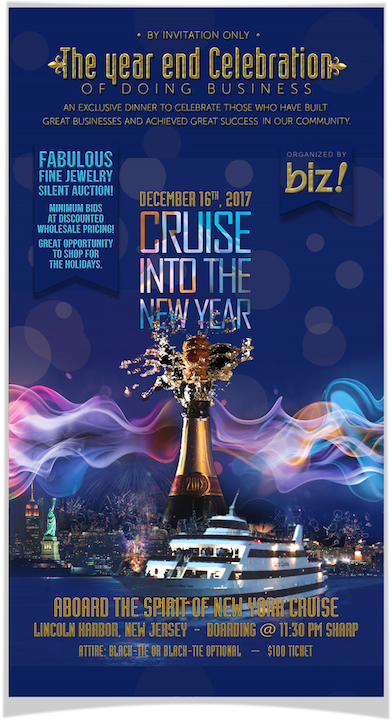 BIZ ! International invites you to the fabulous "THE YEAR END CELEBRATION" of Doing Business,
An exclusive Dinner party, on a Yacht, to celebrate those who have built great businesses and achieved great success in our community.
Excellent opportunity to enjoy a spectacular evening and enhance your business network!"
Live Entertainment. Raffle.
Fabulous fine Jewelry Silent Auction! Minimum bids at discounted wholesale pricing! Great opportunity to shop for the holidays.
Aboard the Spirit of New York Yacht!
Lincoln Harbor, New Jersey - boarding @ 11:30 pm sharp
Conveniently located...only a 5-minute Ferry ride away from Manhattan! NY Waterway http://www.nywaterway.com/
Attire: Black tie or Black-tie Optional
Tickets: $100, includes Dinner Party, Cruise, Live Entertainment, Silent Auction & Raffle!
For Hamptons Social Network members, discount provided:
Discount Code: Hamptons