Event Information
Refund policy
Contact the organizer to request a refund.
Eventbrite's fee is nonrefundable.
Read on for important registration and book order details!
About this event
Join us in celebrating the more frightening side of YA with Tori Bovalino, Courtney Gould, and Sam Schill, in conversation with Allison Saft.
Celebrate free or with a scary new read! As a bonus, copies of The Devil Makes Three and The Dead and the Dark purchased here will come with signed bookplates.
How to Register
Register on this page to receive a Zoom link
Register free, pay what you like, or buy the book to enter the event
If you don't receive a confirmation email after registering, contact us right away
Get Your Books
Books are held for pickup or shipped after ticket sales have closed.
STORE PICKUP- Pick up your book(s) in person at Brookline Booksmith (Click here for directions). You will receive an email alert when your book is ready.
SHIPPING - Have up to four books shipped via USPS priority mail by purchasing a shipping add-on. Shipping is only available in the United States.
IMPORTANT SHIPPING NOTE: unless you select the shipping add-on at checkout, your book(s) will be held for pickup at Brookline Booksmith.
If you have trouble checking out, check the Eventbrite FAQ located here.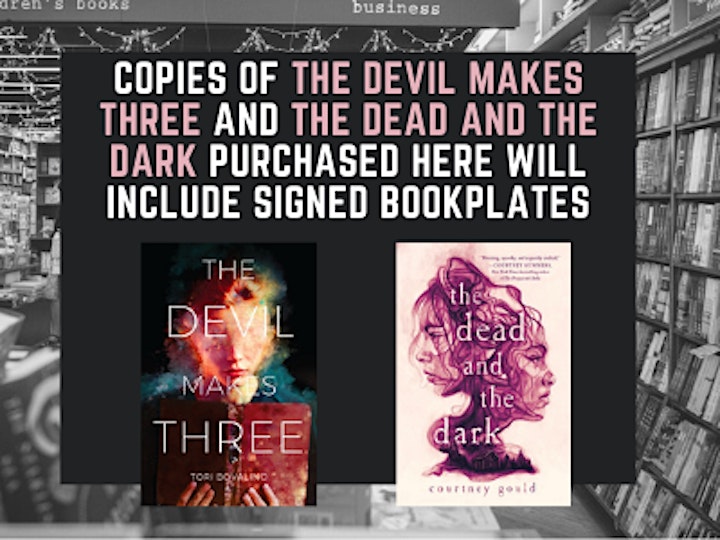 The Devil Makes Three
When Tess and Eliot stumble upon an ancient book hidden in a secret tunnel beneath the school library, they accidentally release a devil from his book-bound prison, and he'll stop at nothing to stay free. He'll manipulate all the ink in the library books to do his bidding, he'll murder in the stacks, and he'll bleed into every inch of Tess's life until his freedom is permanent. Forced to work together, Tess and Eliot have to find a way to re-trap the devil before he kills everyone they know and love, including, increasingly, each other. And compared to what the devil has in store for them, school stress suddenly doesn't seem so bad after all.
Tori Bovalino holds a BA in English and anthropology from the University of Pittsburgh and an MA in Creative Writing from Royal Holloway, University of London. She is currently a student in Royal Holloway's Creative writing and practice-based PhD program. The Devil Makes Three is her debut novel.
The Dead and the Dark
Something is wrong in Snakebite, Oregon. Teenagers are disappearing, some turning up dead, the weather isn't normal, and all fingers point to TV's most popular ghost hunters who have just come to town.
Logan Ortiz-Woodley, daughter of TV's ParaSpectors, has never been to Snakebite before. But the moment she and her dads arrive, she starts to get the feeling that there's more than ghosts plaguing this small town. Ashley Barton's boyfriend was the first teen to go missing, and she's felt his ghost following her ever since. Although everyone shuns the Ortiz-Woodleys, the mysterious Logan may be the only person who can help Ashley get some answers.
When Ashley and Logan team up to figure out who—or what—is haunting Snakebite, their investigation reveals truths about the town, their families, and themselves that neither of them are ready for. As the danger intensifies, they realize that their growing feelings for each other could be a light in the darkness
Courtney Gould writes books about queer girls, ghosts, and things that go bump in the night. She graduated from Pacific Lutheran University in 2016 with a Bachelor's degree in Creative Writing and Publishing. The Dead and the Dark is her debut novel.
Swallow
The students at Roanoke High School have created a soundtrack that runs constantly in Mildred Waco's mind . . .
Change your hair, Mildred.
Change your face, Mildred.
Change your body, Mildred.
Everyone hates you, Mildred.
Are you really going to wear that, Mildred?
The stares, the snickers, the constant teasing—combined with Mildred's own self-doubt and absentee parents—takes its toll. Stumbling upon the Crossroads Magicks shop, Mildred decides she will no longer simply endure the bullying and skeptically buys a revenge curse.
But when she begins to lose control and Roanoke students are found brutally murdered, Mildred realizes that she may have bought more than she bargained for. With time running out, Mildred will have to stop the terrible forces she's unleashed or lose her soul forever.
Sam Schill penned her first story at age nine after telling scary stories as a child. She's had a slew of jobs in retail, housekeeping, and even dabbled in tattooing, but writing has always been the most natural to her. When she isn't reading or writing horror, Sam enjoys art and 90's music karaoke, and she lives in Southeastern Kentucky with her family.
Moderator Allison Saft was born in a Philadelphia blizzard and has been chasing the sun ever since. After receiving her MA in English Literature from Tulane University, she moved from the Gulf Coast to the West Coast, where she spends her time hiking the redwoods and practicing aerial silks. Down Comes the Night is her debut novel.
About Brookline Booksmith
We are one of New England's premier independent bookstores, family-owned and locally run since 1961. We offer an extensive selection of new, used, and bargain books; unique, beautiful gifts; award-winning events series; and specialty foods. Every day, we strive to foster community through the written word, represent a diverse range of voices and histories, and inspire conversations that enrich our lives. Find more at brooklinebooksmith.com!
Barring technical difficulty, auto-transcription is enabled on all Brookline Booksmith Zoom Webinar events.
Date and time
Location
Refund policy
Contact the organizer to request a refund.
Eventbrite's fee is nonrefundable.
Organizer of YA Horror with Tori Bovalino, Courtney Gould, Sam Schill, & Allison Saft!