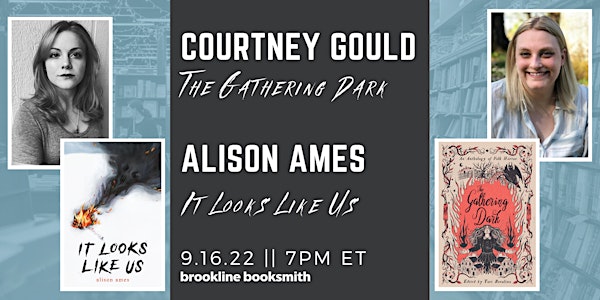 YA Horror: Alison Ames and Courtney Gould
Read on for important registration and book order details for this Brookline Booksmith virtual author event!
Refund Policy
Contact the organizer to request a refund.
Eventbrite's fee is nonrefundable.
About this event
Join us for a conversation between YA horror authors Alison Ames (It Looks Like Us) and Courtney Gould (contributor, The Gathering Dark).
How to Register
Register on this page to receive a Zoom link
Register free, support the store, or buy a book to enter the event
If you don't receive a confirmation email after registering, contact us
Get Your Books
Please note that the publication date for It Looks Like Us has moved to 9/27, and we will hold/ship books for you then.
Books are held for pickup or shipped after ticket sales have closed.
STORE PICKUP- Pick up your book in person at Brookline Booksmith (Click here for directions). You will receive an email alert when your book is ready.
SHIPPING - Have your book shipped via USPS priority mail. Shipping is only available in the United States.
If you have trouble checking out, check the Eventbrite FAQ located here.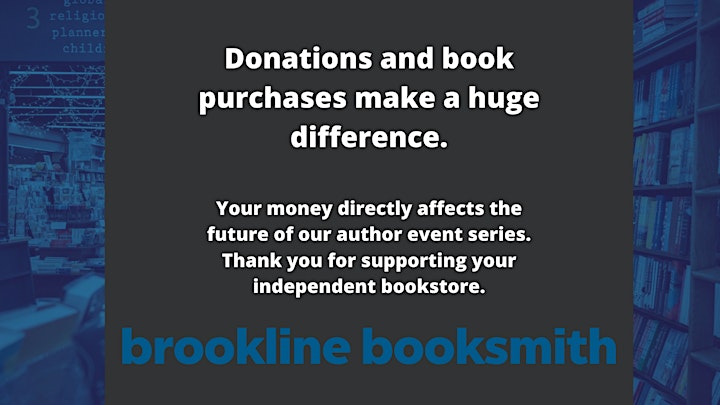 It Looks Like Us
"Eerie, unsettling, and absolutely captivating, It Looks Like Us hooked me on the first page and never let me go. Ames has crafted a chilling eco-horror novel that will keep you reading late into the night, engrossed by its shape-shifting horrors." —Erica Waters, author of The River Has Teeth
Shy high school junior Riley Kowalski is spending her winter break on a research trip to Antarctica, sponsored by one of the world's biggest tech companies. She joins five student volunteers, a company-approved chaperone, and an impartial scientist to prove that environmental plastic pollution has reached all the way to Antarctica, but what they find is something much worse… something that looks human.
Riley has anxiety--ostracized by the kids at school because of panic attacks--so when she starts to feel like something's wrong with their expedition leader, Greta, she writes it off. But when Greta snaps and tries to kill Riley, she can't chalk it up to an overactive imagination anymore. Worse, after watching Greta disintegrate, only to find another student with the same affliction, she realizes they haven't been infected, they've been infiltrated--by something that can change its shape. And if the group isn't careful, that something could quickly replace any of them.
Alison Ames is the author of To Break a Covenant. She lives in Colorado with a lot of animals and her almost-wife.
The Gathering Dark: An Anthology of Folk Horror
Urban legends and folktales are given new life in this collection of 13 spine-tingling stories from a stellar line-up of critically acclaimed authors.
Hauntings, and a variety of horrifying secrets, lurk in the places we once called home. Written by New York Times bestselling, and other critically acclaimed authors, these stories shed a harsh light on the scariest tales we grew up with.
In "Third Burn" by Courtney Gould, there's a legend and a curse in Lafayette, OR. Long after the witch trials of Massachusetts, Lafayette had a trial of its own. Two hundred years later, a new fire may be starting...
Courtney Gould writes books about queer girls, ghosts, and things that go bump in the night. Her debut novel, The Dead and the Dark, came out Summer 2021 from Wednesday Books, and her sophomore novel Where Echoes Die will release in 2023.
About Brookline Booksmith
We are one of New England's premier independent bookstores, family-owned and locally run since 1961. We offer an extensive selection of new, used, and bargain books; unique, beautiful gifts; award-winning events series; and specialty foods. Every day, we strive to foster community through the written word, represent a diverse range of voices and histories, and inspire conversations that enrich our lives. Find more at brooklinebooksmith.com!
EVENT ACCESSIBILITY
Barring technical difficulty, auto-transcription is enabled on all Brookline Booksmith Zoom Webinar events.