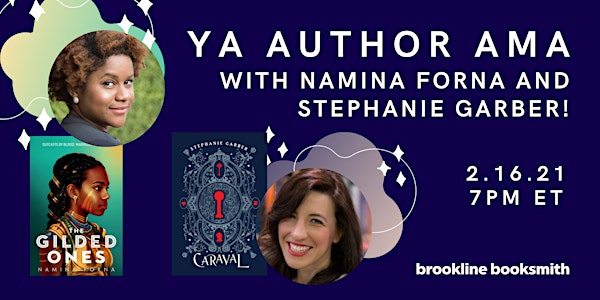 YA AUTHOR AMA Featuring Namina Forna & Friends!
Submit questions & see great YA authors rattle off their answers in a virtual AMA celebrating the release of Namina Forna's THE GILDED ONES!
Refund Policy
Contact the organizer to request a refund.
Eventbrite's fee is nonrefundable.
About this event
Celebrate the release of The Gilded Ones with a virtual AMA* starring Namina Forna and Stephanie Garber.
Buy a copy of The Gilded Ones on this page to receive a signed bookplate!
All registrants will receive a 15% off coupon for other featured titles on brooklinebooksmith.com!**
Submit Questions!
Submit a question during registration and cross your fingers--it may come up during the AMA!
How to Register - Access, Books, and More!
Register on this page to receive a Zoom link
Register free, pay what you like, or buy the book to enter the event
Following the event, you'll receive a 15% coupon for the gorgeous collector's Edition of Stephanie Garber's mesmerizing Caraval!
If you don't receive a confirmation email after registering, contact us right away
Get Books!
Books ordered on this page will be held or shipped following the closure of ticket sales. Each copy of
The Gilded Ones
purchased here will include a signed bookplate.
STORE PICKUP- Pick up your book in person at Brookline Booksmith (Click here for directions). You will receive an email alert when your book is ready.
SHIPPING - Have your book shipped via USPS priority mail. Shipping is only available in the United States.
*Ask! Me! Anything!!
**Discount coupon and terms will be emailed to registrants after the event and will apply to the following book(s): Caraval (Collector's Edition) by Stephanie Garber.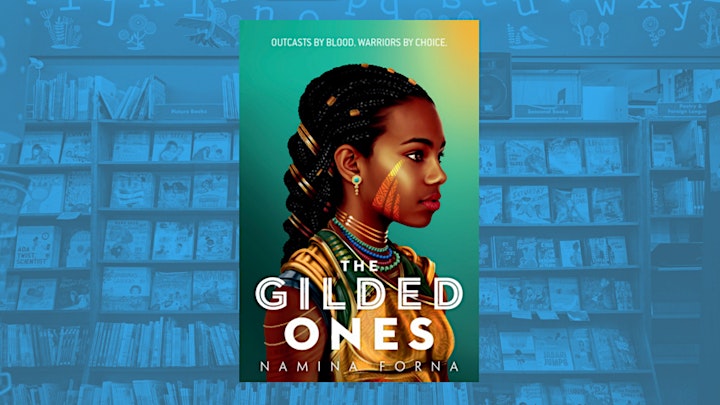 Meet The Gilded Ones - one of the most anticipated YA novels of 2021!
Sixteen-year-old Deka lives in fear and anticipation of the blood ceremony that will determine whether she will become a member of her village. She prays for red blood so she can finally belong.
But on the day of the ceremony, her blood runs gold.
A mysterious woman comes to her with a choice: stay in the village and submit to her fate, or leave to fight for the emperor in an army of girls just like her. They are called alaki: near-immortals with rare gifts. And they are the only ones who can stop the empire's greatest threat.
Namina Forna is a young adult novelist based in Los Angeles, and the author of the epic fantasy YA novel The Gilded Ones. Originally from Sierra Leone, West Africa, she moved to the US when she was nine and has been traveling back and forth ever since. Namina loves building fantastical worlds and telling stories with fierce female leads.
Stephanie Garber #1 New York Times and Sunday Times bestselling author of the Caraval series, which has been translated in over 25 languages. Her newest book, Once Upon a Broken Heart, releases September 28, 2021. When she's not writing, she's usually reading or watching television shows with vampires. Now that her dream of becoming a published author has come true, her new dream is to visit Club 33 at Disneyland.
About Brookline Booksmith
Brookline Booksmith, est. 1961, is a family owned bookstore located in the heart of Brookline, Massachusetts. Through our thoughtful curation, eager and voracious booksellers, and award-winning events series, we strive to be a haven for those who find comfort, enrichment, and joy in books.
Our general event series is all about one thing: bringing people and the stories they value closer together. The series covers an eclectic blend of genres and topics for all ages, serving as a platform for seasoned authors, promising debuts, local launches, large scale national events, and all the places where they intersect. Find more at brooklinebooksmith.com!