About this Event
KGNU Presents
Y La Bamba
with Los Mocochetes, Inaiah Luhan
Sunday Feb 24, 2019
Doors: 7:00 PM
Show: 8:00 PM
21 and over
$14 - $16
Larimer Lounge
2721 Larimer St.
Denver, CO
All sales are final. Review your order carefully, there are no refunds for any reason. No tickets are mailed to you, your name will be on the will call list night of show. Night of show (1) bring a valid government issued ID and (2) be able to show ticket confirmation at the door.
_____________________________________________________________________________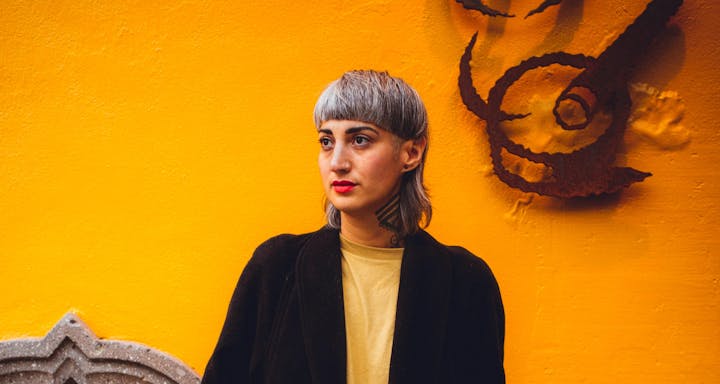 Y La Bamba has been many things, but at the heart of it is singer-songwriter Luz Elena Mendoza's inquisitive sense of self. Their fifth record, Mujeres, carries on the Portland-based band's affinity for spiritual contemplation, but goes a step further in telling a story with a full emotional spectrum. Coming off Ojos Del Sol, one of NPR's Top 50 Albums of 2016, Mujeres exhibits the scope of Mendoza's artistic voice like never before. "Soy como soy," Mendoza says, and that declaration is the bold— even political— statement that positions Mujeres to be Y La Bamba's most unbridled offering yet.
The record exists in the post-2016 landscape of a national identity crisis, and Mendoza explores what it means to be a Mexican American woman by leading us through places we are afraid to go. Mujeres ventures in to the discomfort of the stories we tell ourselves. Those of our past, our futures. We all have these stories somewhere inside of us, but with Y La Bamba, Mendoza forges new narratives from old stories of heritage and family, tracing history while forging modern chicana feminism.
"Music is an extension of everything I have inside. It's how I emote," Mendoza says. The raw honesty of Mujeres is in fact the raw honesty of Mendoza. Armed with the emotionality of traditional música mexicana and the storytelling of American folk, Y La Bamba's artistry is not just their musical ability but Mendoza's search for unadulterated truth. It is in an ancestral, spiritual journey in which Mendoza comes to terms with the influence and limitations of her upbringing. Mendoza's experience of childhood summers in the San Joaquin Valley listening to mariachi, of being raised strict Catholic by immigrant parents, of being a woman having to prove herself to the boys, paints strokes of both melancholy and healing on the tracks. "From the way that my family struggles, to the way they shoot the shit… it's so different from whiteness," Mendoza says. "It's a different dimension."
Y La Bamba exists in the dimension of the Mexican American imagination: somewhere cynical and optimistic at the same time. While there is a celebration of the Mexican creativity that has informed Mendoza's life, there is a darker side to reconcile with. Where do mujeres fit in to the American story? What are the sins for which we are all guilty? How do different generations interact with the world? How can a culture become visible without tokenization? It is no surprise that in Mujeres, Y La Bamba's first record with Mendoza at the helm of production, Mendoza contemplates these questions to tell her story. But it is not just Mendoza's story. Challenging a narrative and dealing with the emotionality of that effort— that is everyone's story.
Mujeres was recorded by Luz Elena Mendoza and Ryan Oxford at Color Therapy Studios and Besitos Fritos Studios in Portland, Oregon. Mixed by Jeff Bond, with Grace Bugbee on bass, John Niekrasz on drums, Margaret Wher Gibson on keys, and Ed Rodriguez and Ryan Oxford on electric guitar.
Bio written by Eliza Cossio
Los Mocochetes are a Xican@ Funk band from Denver, CO. This colorful cast of characters fuses thoughtfully brazen, socio/politically charged song lyrics, groovilicious melodies and high-energy stage antics to create an immersive experience unlike anything you've ever seen before. Much like a machete, which can be used either as a tool to build or a weapon to kill, they have chosen to use their music to inspire and encourage positive social change. Every show is different, but it's always a dance party with a purpose!
Los Mocochetes received the Westword Music Showcase award for Best Latin Band of 2017 and Best Funk Band of 2018. They were named Colorado Standout for NPR's Tiny Desk Contest 2018 and opened for contest winner Naia Izumi on the Denver stop of his national tour. They have opened for a variety of national touring acts such as The Original Wailers, Lil' Wayne, Flor de Toloache, Jessica Hernandez and the Deltas, Dos Santos, The Chamanas and Lil' Jon. They have been featured in festivals including the Westword Music Showcase (local headliner), Denver Post Underground Music Showcase, Colorado Latino Festival, A Taste of Colorado, Mile High 4/20 Festival, Tribal Visions (NM), and have performed at numerous iconic Denver venues such as the Bluebird Theater, Oriental Theater, Su Teatro Cultural and Performing Arts Center, Denver Art Museum, Levitt Pavillion, Cleo Parker Robinson Dance Company, Mercury Cafe, Larimer Lounge, Syntax Physic Opera, Aztlan Theatre, Lost Lake, Hi Dive, 3 Kings Tavern, Herman's Hideaway, Lion's Lair, and a sold out Ophelia's Electric Soap Box. The band has a strong connection to New Mexico, often touring the state playing as far south as Acapulco, MX and as far north as Cheyenne, WY.
The current lineup features artists with a wide variety of influences. They are poets, singers, painters, rappers, actors, musicians, dancers, producers, composers, dreamers, doers, thinkers. They are gente who make music together and enjoy all forms of creativity. The Mocochetes are here to ignite a fire in every audience member to enjoy the moment and then go out and make a difference!
I am a songwriter, producer and visual artist from Pueblo, Colorado.
I write songs, sing and play guitar in a few bands who tour regionally and nationally including; in/PLANES and The Haunted Windchimes. I was born in Colorado but grew up in a small town in Arizona called Ganado, located on the Navajo reservation. Since 2000 I have called Pueblo home and have been active in the Colorado music community, performing and producing a number of recordings for myself and others. As a visual artist (Trulu Design) I have created and collaborated on many projects for artists such as; The Hard Working Americans, Todd Snider, The Band of Heathens and more.
'I'm Alive - 10 Years of Home Recordings - Vol. 1'
My latest solo effort 'I'm Alive - 10 Years of Home Recordings - Vol. 1' is a collections of songs I wrote and produced between 2006 and 2016. Self released on cassette (sold out) and digital (inaiahlujan.bandcamp.com) August 2016. Here is what Josh Johnson of The Denver Post had to say about it, "The songs have the feel of 1950s ballads in a world developed by David Lynch. They are raw, emotive gems deserving of their own space in Inaiah's catalogue" - Read Article
Recent releases for my other projects include, 'in/PLANES - Radio Wave (May 2018),' and 'The Haunted Windchimes - Sleepy Baby EP' scheduled for release November, 24, 2018. I am currently working on a new solo EP as well as mixing songs for a new Mike Clark & The Sugar Sounds record, both of which are scheduled for release sometime in 2019.
"There is a tension to the music, but it's a tension that feels like a release, a cathartic expression." - Josh Johnson, The Denver Post
"One of Colorado's most prolific and talented musicians" - John Bueno, PULP