Dieses Event ist beendet.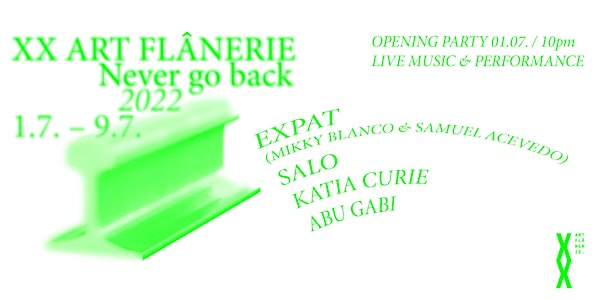 XX Art Flanerie - Opening Party - EXPAT (MIKKY BLANCO & SAMUEL ACEVEDO)
Veranstaltungsort
OPERA CLUB
Mahlerstraße 11
1010 Wien
Austria
Rückerstattungsrichtlinie
The Opening Party of the XX ART FLÂNERIE will have the first show of EXPAT the new Project of MIKKY BLANCO and SAMUEL ACEVEDO in Vienna!
Zu diesem Event
OPENING PARTY LINE UP:
ABU GABI 22:00 - 23:00
SALO 23:00 - 00:00
EXPAT (MIKKY BLANCO & SAMUEL ACEVEDO) 00:00 - 01:00
KATIA CURIE 01:00 - 03:00
Sami Nagasaki (TSU/Funtaxx) 03:00 - open end
LOCATION:
OPERA CLUB
Mahlerstraße 11, 1010 Vienna
Because of some inconvenience with our planed Location we needed to do a change of venue but we are happy to announce that we got the OPERA CLUB in the Center of Vienna for our opening Party! We are looking forward to meet you there!
********************************************
XX ART FLÂNERIE is an 8-day international, decentralized and transdisciplinary art and culture festival in Vienna that promotes projects that focus on contemporary resonance of historical and demographic contexts as well as the examination of current social developments.
It will take place from July 1 to 9, 2022 in various locations in the 15th district, such as Aa Collections, Improper Walls, Hollerei Gallery, Artivive, Bitterer Ernst, Brick 15, Wild im West, Moisturride. This year's theme is "Never go back" and deals with migration and the importance of public transport and trains. A train that keeps returning from terminus to terminus, at the same moment for some passengers with one-way ticket, has a different weight and can represent the way to a new life.
Projects in public, performances, panel discussions, exhibitions, and artist studios are freely accessible. In addition to the program in the main locations, there will be various concerts at Brick 15 and at a secret location.
The cooperation of the regions and countries, Lithuania, Catalonia and Vienna, enables the setting of a local as well as global focus.
More Info >>>