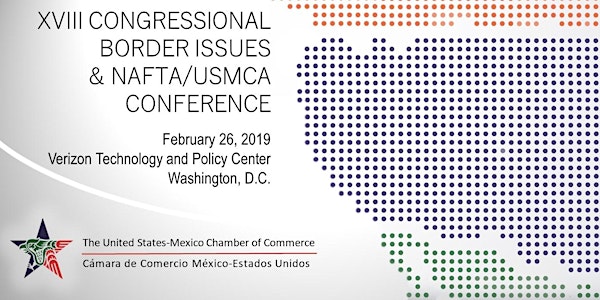 XVIII Congressional Border Issues and NAFTA/USMCA Conference
Location
Verizon Technology and Policy Center
1300 I St. NW
Suite 500 East
Washington, D.C 20005
Description
XVIII U.S. MEXICO CONGRESSIONAL BORDER ISSUES AND NAFTA/USMCA CONFERENCE
FEBRUARY 26, 2019 – WASHINGTON, D.C.
The U.S.-Mexico Border Region must cope with a fast-growing population as well as issues relating to security, environmental concerns, health, water, immigration, transportation and infrastructure.
The United States-Mexico Chamber of Commerce, in conjunction with U.S. Members of the House of Representatives has hosted this conference with a now eighteen-year tradition, to address these concerns. Decision-makers from the two nations' capitals and the border region meet in Washington, D.C. to explore common issues, learn about border programs and review potential new policy approaches.
Panels and moderators are comprised of Members of Congress, representatives from the U.S. and Mexican governments, as well as private sector individuals. The conference aims to provide a venue where there can be an open and timely discussion on current conditions at the border and how these challenges can and should be addressed.
Congressional Co-Conveners:
• Congressman Michael McCaul, Foreign Relations Committee (TX-10)
• Congressman Henry Cuellar (TX-28)
Invited Keynote Speaker:
• Kirstjen Nielsen, U.S. Secretary of Homeland Security
For updates and the full agenda, please visit our website www.usmcoc.org
The U.S.-Mexico Chamber of Commerce appreciates the support of our Binational Board Member and Sponsor: