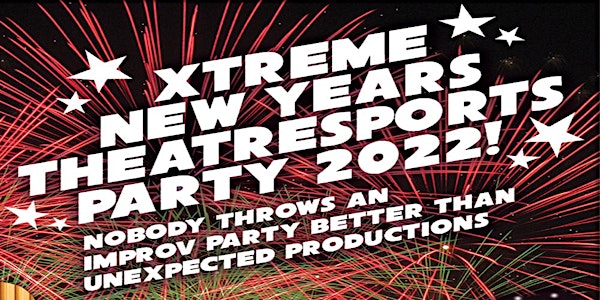 Xtreme Theatresports New Year's Eve Party! 2021
Comedy, camaraderie, and champagne! Laugh your way into the new year with Unexpected Productions.
When and where
Location
Unexpected Productions 1428 Post Alley at the Gum Wall in Pike Place Market Seattle, WA 98101
Refund Policy
Contact the organizer to request a refund.
About this event
Comedy, camaraderie, and champagne! Laugh your way into the new year with Unexpected Productions. We proudly present Seattle's only fast-paced comedy improv battle. 20 hilarious improvisers split up into 4 teams and scored with cards marked 0-5 by the audience. This is an off-the-chart party. We will be giving away all sorts of gifts and provide all the hats, streamers and fun you expect. We careen full speed into the new year with a special champagne toast as the ball drops at midnight.
Xtreme teams will perform from 10 pm to almost midnight when the countdown begins for our New Year's party! Doors open at 9 pm! 
LOVED IT. HILARIOUS. Can't remember the last time I laughed that hard. You can participate if you want but they don't call on anyone who isn't voluntarily raising their own hand (so your jerk friends can't get you into anything against your will!). Tickets are cheap and so are drinks - you get more than you pay for on both counts. Really nice people running it, too. All in all a great  New Year's Party for very little expense. Can't wait to go back!! 
Yelp 5 Stars 1/5/2014
Event price not valid with any other offers or discounts, including two for one passes or Unexpected Productions' VIP passes or free tickets.
Washington is reimposing its indoor mask mandate starting Aug. 23 for all residents regardless of vaccination status as cases of COVID-19 rise in the state. Based on feedback from patrons, artists, and theater staff, Unexpected Productions require proof of COVID-19 vaccination for all audience members or proof of a negative COVID-19 test for exempted persons for all shows starting October 25, 2021.
All ticket sales are final and nonrefundable. There are no refunds, exchanges or transfers. Please confirm your date.
Age restrictions:We describe all of our shows as PG13. While Unexpected Productions always strives to present material that is generally appropriate for teen and adult audience, due to the unpredictable and audience participatory nature of improvisation, it is impossible to guarantee content.
.