Description
Virtual and augmented reality promise to fundamentally alter how we create, learn, and interact with the world around us. During XR in EDU on January 30, 2018, we will explore how best to get beyond "wow this is so cool" to deploying real world XR that has an impact on education, training, and workforce development.
Education stakeholders will demand to see more discussion, demonstration, and proofs of value and ROI from VR and AR in education in the coming year.
We will ask how does the educational community effectively implement XR at scale. We will hear from educators, students, developers, and XR companies who are thinking about how immersive technology can enhance learning in K-12, Higher Ed, and the Enterprise.
How might VR and AR be valuable and/or enhance the learning environment?
What roles do perspective and empathy play in a student's VR and AR experience?
What types of VR and VR content prove useful in an educational setting?
In a classroom setting, what might break the immersive experience for students?
How might VR support Project Based Learning learn-by-doing initiatives?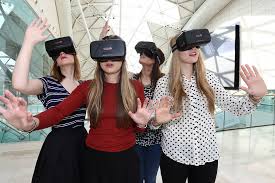 Agenda
9.30 AM
Registration
10.00 AM
Welcome
10.05-10.20
Chris Chin Executive Director of VR Content – HTC
10.20-10.35
Vip Gupta Head of Product Education, Unity Technologies
10.40-11.10
Panel - Challenges to adoption of XR technologies in education
Moderator Amy Peck - CEO EndeavorVR VP Enterprise UploadVR
Terry Walker - Superintendent, Irvine Unified School District
Azine Davoudzadeh - Ed Tech Connect and San Ramon Valley Unified School District
Derek Harmon - Assistant Prof Department of Anatomy UCSF
Jacki Morie - Chief Scientist, All These Worlds
Walter Greenleaf - Stanford Virtual Human Interaction Lab
11.15-11.30
Chad Lonberger, Making the abstract real
Lessons learned from 8000+ hours of building educational XR experiences
11.30-11.40
Marin School of the Arts – High School VR program
11.40-11.50
Academy of Arts University
11.50-12.00
XR in Education - Latest research
12.00-12.30
Brainstorm strategies to accelerate XR adoption in education - Small Group Breakout
Lunch & Demos
Levelup.org
UploadVR
Autodesk
NeuroExplorer VR
Lifeliqe
360 Video
EON Reality
Marin School of The Arts
Academy of Arts University
Tripoint Labs

1.30-1.50
Brian Pene, Director Autodesk Emerging Technologies
VR AR AI in the Enterprise
1.50-2.05
EON Reality – Interactive Digital Centers - Workforce Development
2.05-2.15
UC Berkeley VR and Lucid CAM
2.15-2.25
California State Libraries VR Project
2.25-2.40
Francisco Nieto - Alameda County Office of Education VR Curriculum
2.40-3.00
Final Reflections, Demos, Questions