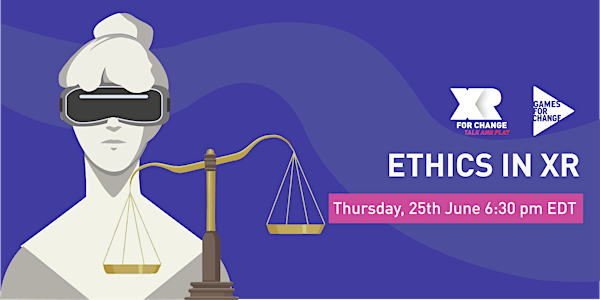 XR for Change Talk and Play: Ethics in XR
This talk addresses the privacy ethics around the fast growing XR industry.
About this event
Please join our next XR for Change Talk and Play on Ethics in XR. In the lead up to the 2020 Games for Change Virtual Festival, this July, the XR4C Talk and Play series will explore cutting-edge work by creators using immersive technologies and critically review their impact for social good. Tune in on Thursday, June 25th from 6:30 to 8:00 pm ET/3.30 to 5.00pm PT as we discuss the ethical and moral concerns about XR.
Talk and Play Ethics in XR
It's impossible to talk about emergent technology without addressing its ethical, moral, and psychological concerns. XR is a novel technology, with far-ranging applications like entertainment, healthcare, and education. It is not far away from being widely adopted by the masses. It, therefore, becomes essential to address and evaluate the risks involved, before such a powerful technology enters every household and institution. In this panel, we will discuss the implementation risks involved and explore the ethical frameworks and regulations required to make XR safer and inclusive.
Our carefully selected panel of experts include-
Kent Bye- Producer, Voices of VR podcast
Kavya Pearlman- Founder, XR Safety Initiative
Galit Ariel- Techtivist | TED Speaker | Author
Em Lazer Walker- Cloud Advocate, Microsoft
Tom Ffiske - Editor, Virtual Perceptions