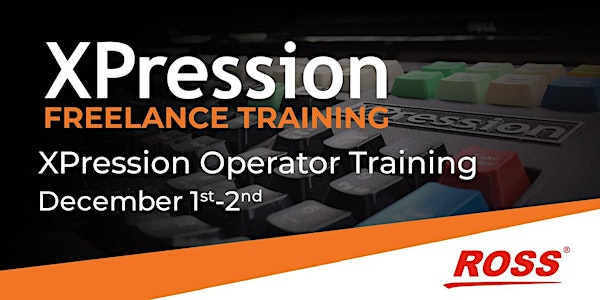 XPression Freelance Operator Training - Ottawa 2022
Join us for XPression Freelance Operator Training in Ottawa.
When and where
Location
Ross Video - Colonnade Facility 80 Colonnade Rd N Ottawa, ON K2E 7L2 Canada
About this event
Join Ross Video and learn the basics of XPression - the broadcast industry's fastest growing real-time motion graphics platform. Over these two days, a Ross trainer will introduce you to the key features and functions of XPression.
XPression Training
• Scene Manager
• Sequencer Operation
> Adding New Scenes, Renaming/Number Scenes
> Controlling using number pad, mouse & cursor keys
> Fast Recall mode
> Preview & Playback functions
> Play States
> Modifying the Keyboard Map to create custom sequencer controls
> Manual / Automated groups
> Editing properties using the Take Inspector
> Modify data manually as well as in DataLinq / Widgets
> Adjust layer & channel assignments
> Exporting sequence as a text list
> Appending your sequence with a take item text file
> Exporting / Importing take items as XML files
> Exporting take items as stills / video / image sequences
> Controlling the sequencer via RossTalk, Ross Switcher, 3rd Party Device
• Project Manager: deploying remote XPression Projects into XPression
• DataLinqTM: introduction to DataLinqTM
Dates / Time
Thursday, December 1st 2022: 10am to 4pm
Friday, December 2nd 2022: 10am to 4pm
Who Can Attend?
Training is free to any freelance graphics operators not currently working for a customer on a full-time basis. Contact Greg Lennon (glennon@rossvideo.com) to confirm further availability.
Don't Forget!
All attendees should bring a personal computer that meets the following requirements (hardware recommendations video here). In general terms, the computer must include the following:
• Windows 7 or 10 required
• Microsoft Office install with Microsoft Excel is recommended
• An nVidia GPU preferred
• 2-3Gb of RAM
In preparation for the training, we encourage you to review the following tutorial videos, which can be found on the Ross Video XPression U site here.
In addition to the training, each student will receive a one year license to a trial edition of XPression Designer, the offline creation edition of XPression. This version is not capable of outputting live video, but it will render graphics to a pixel accurate watermarked virtual output on your VGA screen. This will allow you to work with XPression at home to continue learning XPression after the class is done.
Formation GRATUITE à Ottawa pour pigistes afin de devenir opérateur XPression
Joignez-nous à Ross Video et apprenez les bases de l'opération d'XPression – Le Logiciel qui a la plus grande croissance dans l'industrie du broadcast et des environnements de sport pour la création de contenu graphique en temps réel.
Au cours de ces deux jours, un formateur Ross vous présentera les principales caractéristiques et fonctions dont un opérateur graphique aura besoin pour utiliser XPression.
La formation XPression:
• XPression Sequencer
> Ajouter de nouvelles scènes, renommer/numéroter des scènes
> Contrôle avec le pavé numérique, la souris et les touches du curseur
> Mode de rappel rapide
> Fonctions de Preview & Playback
> Play States
> Modification du Keyboard Map pour créer des commandes de séquenceur personnalisées
> Groupes manuels / automatisés
> Capacités d'édition à l'aide de Take Inspector
> Modifier les données manuellement, ainsi que dans DataLinq / Widgets
> Ajustement des layer et des assignations de canaux
> Exportation d'une séquence sous forme de fichier texte
> Exportation / Importation d'éléments de prise sous forme de fichiers XML
> Exporter des éléments de prise sous forme d'images fixes / vidéo / séquences d'images
> Contrôle du séquenceur via Rosstalk, un Switcher Ross, 3rd Party Device
• Gestionnaire de Scènes, fenêtre de Preview, Sortie Moniteurs, Sorties Virtuelles
• Project Manager: déplacer des projets XPression distants dans XPression
• DatalinqTM: introduction à DatalinqTM
Les dates et les heures:
Jeudi, le 1er décembre 2022: 10h00 à 16h00
Vendredi, le 2 décembre 2022: 10h00 à 16h00
*Le contenu est différents les deux jours.
Lieux:
Ross Video - Colonnade Facility
80 Colonnade Rd N
Nepean, ON K2E 7L2
Qui peut venir?
La formation est gratuite pour tous les opérateurs graphiques indépendants qui ne travaillent pas actuellement pour un client à temps plein. Contactez Greg Lennon (glennon@rossvideo.com) ou Jean-claude Krelic (jckrelic@rossvideo.com) pour confirmer la disponibilité.
N'oubliez pas!
Tous les participants doivent apporter à la formation un ordinateur portable qui a certaines spécifications minimales. Voici une video qui décrit ces spécifications. Essentiellement, il doit avoir les éléments suivants:
• Windows 7 ou 10 requis
• Microsoft Office installé, avec Microsoft Excel est recommandé
• Un nVidia GPU préféré
• 2-3Gb de RAM
En préparation pour la formation, on vous encourage de consulter les vidéos et tutoriels suivants. Elles peuvent être aussi trouvées sur le site web Ross Video XPression U: http://www.rossvideo.com/graphics-system/xpression/xpression-u/index.html
De plus, chaque étudiant recevra une licence d'un an pour une édition d'essai de XPression Designer, l'édition de création hors ligne de XPression. Cette version n'est pas capable de produire de la vidéo en direct, mais elle produira des rendus précis au pixel près des graphiques (avec un filigrane) sur votre sortie virtuelle de votre écran graphique. Cela vous permettra d'apprendre et de travailler avec XPression chez vous après le cours est terminé.