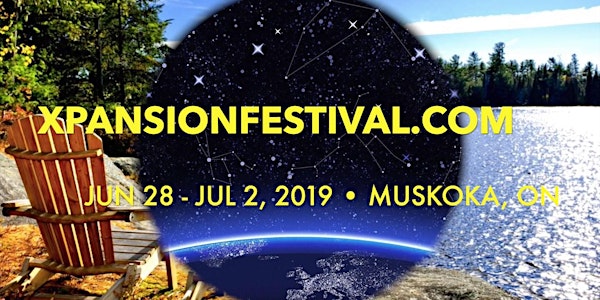 XPANSION FESTIVAL 2019
When and where
Location
Burk's Falls Burk's Falls, ON P0A Canada
Refund Policy
Contact the organizer to request a refund.
Description
FB LINK: https://www.facebook.com/events/424721154951150/
XPANSION FESTIVAL takes place on the shores of beautiful Lake Cecebe by Burks Falls, Ontario.
XPANSION is a gentle festival, designed to heal, refresh and recharge your body, mind and soul. We'll play, sing, dance, swim, do a little yoga, attend workshops, light the fire and have an amaazing time with new and old friends.
We stay on the land from Friday, June 28th to the morning of Tueseday, July 2nd.
It's gonna be real nice and sweet long weekend. A couple of years back we hosted a small group at the same location and super loved it. Once again we have rented the entire Birchwood Camp for the duration of the event. 15 pristine acres on Cecebe Lake. It's gorgeous and healing.
Our group size will be between 20 to 50 pARTicipants. We would like to keep it small enough so we retain the "family vibe", the intimacy and closeness that comed with a small group of friends.
SCHEDULE (flex, do what you like)
Friday - come in, set up, make new friends, have dinner, join at First Fire (bring your instruments)
Sat/Sun/Mo - Morning Routine Routine (gentle wake up with our teachers), Workshops, One on One (optional), Fire Ceremony and Dance!
Tue - Closing Ceremony, goodbyes, return
XPANSION FESTIVAL is plant-based, and free of tobacco and hard drugs.
XPANSION is also free of GLASS. Do not bring any glass containers, bottles or anything made of glass.
You can camp (included with your ticket), or, rent one of the beds in the CABINS (additional fee).
Individuals, groups and families all welcome, all kids under 8 are free and under 18 just $98.
If you require financial assistance, please send us a message through the site.
More info: xpansionfestival.com/
House of Dust FB group: facebook.com/groups/houseofdust/
House of Dust ISTA: instagram.com/houseofdust/
VOLUNTEER: xpansionfestival.com/contact
Lots of love,
The kids @ House of Dust