The 2021 XL Summit will bring relationship-building, in-depth learning, timely problem solving, and more. Choose from two formats below.
About this event
Have you missed the registration cut off? Contact John McCarthy directly at 513-379-8977 to get more details about joining.
We invite you to join At Work On Purpose for the 2021 XL Summit. There are two tracks for the XL Summit on Friday, July 9, 2021:
1. Faith at Work: Join us in person (at Grace Chapel in Mason, Ohio) for the morning session only, on July 9 from 9:00 AM EST to 11:30 AM EST for an experiential XL Summit.
As we acknowledge Christ's mobilization in the marketplace, we will review best practices, learn from key business leaders and change makers, and leave with practical ways to integrate our faith at work. If you want to continue to embrace God's vocational call on your work life, we hope to see you at this session!
2. City Flourishing: Join us in person (at Grace Chapel in Mason, Ohio) for the morning AND afternoon sessions where we'll be digging even deeper into ways to activate your faith at work. This longer session will also allow you to learn even more ways that God is leveraging His marketplace resources for Kingdom impact—plus, you'll have additional time to build relationships within the AWOP community.
This morning and afternoon session on July 9 will take place from 9:00 AM EST to 3:00 PM EST and will include lunch for those registered for this full-day experience. If you are seeking to integrate your faith at work AND transform the city—and if you're looking for great opportunities to connect with likeminded leaders—this whole day XL Summit experience is for you.
Please don't wait to RSVP, as space is limited for this event!
What to Expect
• Relationship-building: we know just how important COMMUNITY is for AWOP, so expect quality time with likeminded Christian leaders who are facing challenges and opportunities similar to you.
• In-depth learning: With interactive sessions and dynamic speakers, we're covering topics aimed at helping you build your witness at work—one choice at a time—throughout the communities where you work and live. Expect to come away energized by guidance to live out a faith-filled life at work.
• Timely problem solving: We know the Church at work is uniquely positioned to address the challenges of our day, bringing a Biblical world view to the public, private and social sectors of society. Come away with greater ability to honor God and seize opportunities (and overcome any obstacles in your way).
Now is the time for today's Church to make brave choices, and XL Summit 2021 will equip you with the tools, resources, and know-how to do just that.
More Details
• We encourage you not to wait to RSVP. Space is limited this year, so please RSVP as early as possible.
• Light, pre-packaged food and beverages will be served at our morning and afternoon in-person sessions.
• We will be adhering to all COVID-19 safety regulations for the XL Summit.
• Save the location: Grace Chapel is located at 406 4th Ave, Mason, Ohio 45040. Parking is available on-site.
Have questions not answered here? If you have any questions, please email us at info@atworkonpurpose.org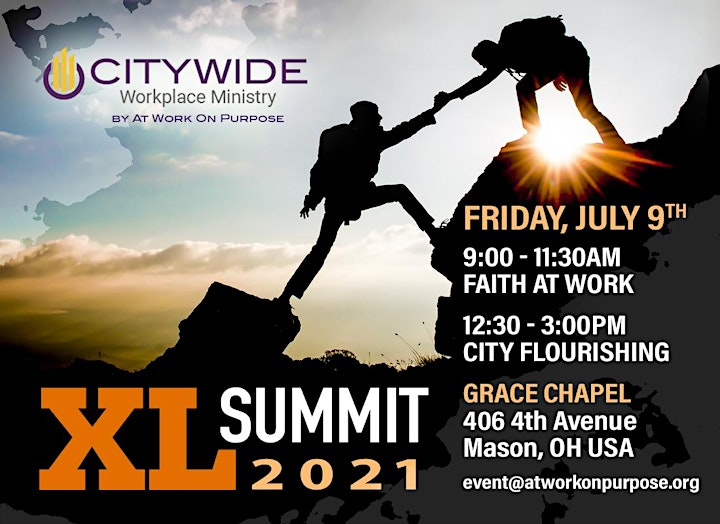 Organizer of XL Summit 2021 by At Work On Purpose (In-Person)