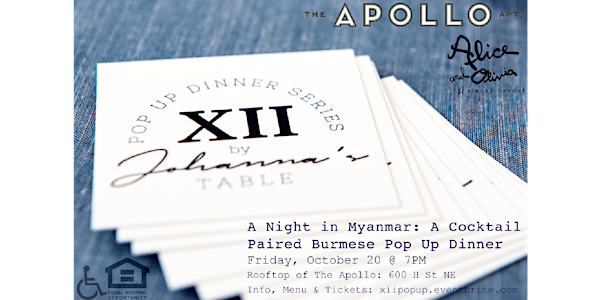 XII by Johanna's Table Pop Up Dinner Series: II
When and where
Location
The Apollo 600 H Street Northeast Washington, DC 20002
Description
The most memorable dining experiences are the ones in which we are immersed in exceptional food and conversation. XII is a monthly pop up dinner series celebrating local ingredients with spices and flavors from around the globe.
In the ever changing landscape of the restaurant industry, our goal is to showcase how different cuisines and individuals from all walks of life can come together to share a spectacular meal at one table.
Instead of conventional titles, we simply define our dinners as numbers. Numbers are neutral. There is no preconceived notion of what to expect. Our dinners are the unforeseen journey of what can come out of thoughtful collaboration by industry pioneers. Simply put, leave the day behind, place your evening in our hands and be open to the XII shared dining experience.
To learn more about XII, please watch our promotional video here. Want more answers? Please visit our FAQ page.
---
Myanmar. A country of immense diversity with 135 ethnicities and 132 languages represented. A complexity of many cultures and an exotic cuisine influenced by its surrounding neighbors- from Bangladesh and China to India, Laos & Thailand.
On October 20th, Johanna's Table will transport you 8,000 miles through a culinary journey of Myanmar. Drawing influence from the bustling markets of Yangon and a Chef's desire to elevate their bold, bright ingredients- we are presenting you with a cuisine you want to discover and an evening you don't want to miss!
Set on the beautiful rooftop space of the Apollo on H Street Northeast, this pop up will feature Burmese inspired cocktail-paired courses. Each cocktail of the evening is thoughtfully crafted by Torrence Swain, Head Bartender of Bourbon Steak at the Four Seasons Hotel. While in the kitchen, Chef Johanna Hellrigl brings her personal story and journey through Myanmar to the table. Hellrigl & Swain's collaboration will showcase what a tailored cocktail and curated dining experience is truly meant to be- a complementary emphasis on flavors. From a mingling cocktail hour and dessert bar to sit down courses and family style feasts- the environment will be elegant, but relaxed. Come with friends, or make new ones.
In addition to receiving a little gift at the end of the evening from Alice & Olivia in celebration of their Georgetown location's anniversary, guests are invited to the store the week before the pop up dinner to shop and 20% of the proceeds from your purchases will go towards the Women's League of Burma, an umbrella non-profit organization working to empower women in Myanmar from all different ethnicities.
Ca Lui Kaung Luik Ta! We look forward to seeing you there!
---