Description
Xibalba Festival, a world class Day of the Dead art and culture festival featuring: 2 stages, 20 international artists, monumental altars and offerings, art installations, hot air balloons, giant sculptures, performers, traditional Mexican food, and much more.
Performing artists include: Röyksoop DJ Set, Matthias Meyer, Crazy P, Blond:ish, PillowTalk, Soul Button, Stee Downes, Jonas Woehl, Chasing Kurt, Tara Brooks, Monolink, Just Her, Unders and more to be confirmed.
The festival will take place this October 29th, 2016 at Jardines de Mexico, which holds the Guiness World Record for the largest flower garden in the world. Located only an hour and half away from Mexito city, near Cuernavaca which was nicknamed the "City of Eternal Spring" by Alexander von Humboldt in the nineteenth century. The city is located in a tropical region, but its temperature is kept constant in the 70s (°F). This pleasant climate has attracted royalty and nobles since Aztec times. Foreign princes, archdukes, and other nobles have been attracted to this place because of its flowers, sun, fruits, fresh-water springs, and waterfalls. The Shah of Iran had a house here, as did the Emperor of Ethiopia, Haile Selassie, and late sculptor, John Spencer, a relative of Princess Diana.
Jardines de Mexico is composed of 8 breathtaking themed gardens. You must visit them to see each unique garden, there is a Japanese garden, an Italian garden, a labyrinth filled with beautiful sculptures, a tropical garden, a spring garden, a catacean garden, a flower garden, and a garden designed specially for children
An extraordinary fusion of the finest electronic music, art, performance, and ancient traditions that come together in the largest flower garden in the world.
You can't miss this unique opportunity to celebrate life, through the magic of transformation. Tickets are already on sale. Take advantage of early pricing!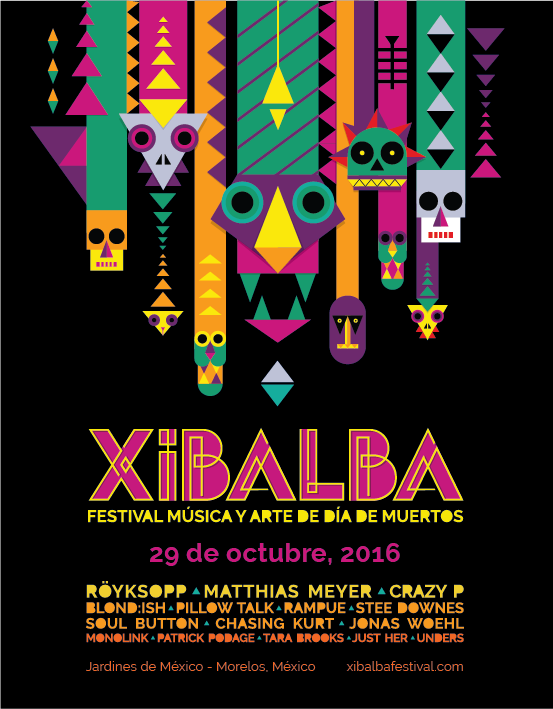 ---
FESTIVAL RULES
Line Up / Set times subject to change
Every person will be searched before entering the venue.
Must be over the age of 18+
Rain or shine
Festival pass must be worn at all times
Wristbands void if tampered with or removed
Everyone subject to search upon entry
There is NO parking
Cannot Bring
NO Aerosol products / Aerosol Cans
NO Air Horns
NO Cigarettes (you can purchase them at the venue)
NO Audio Recording Devices
NO Bikes / Hoverboards
NO Blankets / Towels / Chairs / Coolers
NO Chains / Chain Wallets
NO Detachable Lens Cameras
NO Drones, Remote Control Aircraft, Toys/Cars
NO Drugs & Drug Paraphernalia
NO Fireworks / Explosives / Road Flares
NO Flags
NO Flyers / Sampling / Give-a-ways
NO Glass / Metal Water Containers
NO Glow Sticks / LED Gloves / Massagers / Stuffed Animals
NO Guns / Ammunition / Tasers
NO Hula Hoops
NO Instruments
NO Kites / Sky Lanterns
NO Knives / Weapons / Sharp Objects
NO Laser Pointers
NO Mace / Pepper Spray
NO Outside Food & Beverages
NO Pets / Animals
NO Promotional Items
NO Scooter / Segway / Skateboard / Skate
NO Selfie sticks / Narcissists / Tripods
NO Sharpies / Markers / Paint Pens
NO Tents / Sleeping Bags (in venue)
NO Toy Guns / Water Guns / Sling Shots
NO Totems
NO Umbrellas
NO Video Cameras
Can Bring
YES Backpacks (medium)
YES Camelpacks (EMPTY)
YES Cell Phones / Cell Chargers
YES Chapstick / Lip Balm
YES Lighters
YES Dancing Shoes
YES Digital & Film Cameras (Non-Pro)
YES Ear Plugs
YES Fanny Packs / Hip Bags
YES Flip Cams
YES Gum
YES Hand Sanitizer / Baby Wipes
YES Hats
YES Ins & Outs
YES Make Up
YES Parasols
YES Purses / Handbags
YES Smiles
YES Sun Block (Non-Aerosol)
YES Sunglasses
---
TRANSPORTATION
Because we care for you safety, Xibalba is offering several transportation alternatives departing from Mexico City to the venue and back:
Traveling from Mexico City
If you are travelling from Mexico City to Xibalba, we offer the following transportation options:
Xibalba Bus
Schedules and pickup areas:
Parque España:
Meeting point: Av. Veracruz esquina con Av. Parque España
Departing: 10 to 16 hrs. (1 departure every hour).
Mundo E:
Meeting point: Cuauhtémoc a un costado del centro comercial
Departing: 10, 11, 13 and 15 hrs.
Plaza Lindavista
Meeting point: Av. Instituto Politécnico Nacional y Eje 5 Montevideo, Col. Lindavista.
Departing: 10, 11, 13 and 15 hrs.
Perisur
Meeting point: Av. Zacatepetl almost infront of the main entry to the shopping center.
Departing: 10, 11, 13 y 15 hrs.
*To identify the meeting points, there will be LiveTours signage at each location.
You can purchase your transport passes at

Superboletos http://web.superboletos.com:8001/SuperBoletos/DFYEDOMEX/CONCIERTO/XIBALBUS---TRANSPORTE-OFICIAL-XIBALBA/fNJp1HmzJR12OILpF03J3g

The cost is $450.00MN or US$25 dollars (depending on the going exchange rate).
Deadline to purchase transportation: Thursday October 27th, 2016
Shuttles back from the venue will start at 8:00pm, until the festival ends. Leaving every hour to each pickup destination.
XibalbaVans
If you're travelling in a group or would rather use a more private and exclusive service, our XibalVans will pick you and your friends up at a designated location of your choice.
Pricing:

Van for 12 passengers: $ 8,500.00 MN (or US$450.00 dlls, depending on the exchange rate at the time of purchase)
Van for 19 passengers: $ 9,500.00 MN (or US$500.00 dlls, depending on the exchange rate at the time of purchase)

We will pick you up and drop you off at the same location.
Smoking, drinking, or consuming mind altering substances are strictly prohibited. The driver is instructed to stop the vehicle and let the person out of the van if they do not comply with such regulations.
Other Packages
If you live outside of Mexico or far away from Mexico City, and want to create a special package to attend Xibalba, please contact LiveTours and they will design a custom made travel, accomodation, and transport package for you:
From Mexico City: (55) 5264-140
From Mexican states: 01-800- LIVETOURS o info@livetours.com.mx
From international destinations: +52 (55) 5264-140
---
FAQs
GENERAL FAQs
What's the best time to arrive?
Definitely depart early to be on the safe side. Please be prepared for significant delays if you choose to not obey all festival signage and staff. For the easiest and fastest arrival and departure, take a LiveTours shuttle.
Can I walk to the festival?
No, the venue is located in the middle of the toll highway from Mexico to Acapulco. You cannot walk there.
What time does it end?
The festivals ends at 10:00am on October 30th, 2016.
Will there be lockers?
Yes, there will be a limited number of lockers.
Where can I see a map and see the lineup and schedule?
You can find them in our web site, and in our social media and we will be handing out programs when you enter the festival. www.xibalbafestival.com (English version coming very soon).
Will there be security?
We're working in conjunction with state & city law enforcement and in coordination with multiple government agencies to work towards delivering the safest festival environment possible. We will also have private security inside the venue to ensure the safest festival experience.
Will there be restrooms?
Yes, there are built-in restrooms in stages 2 and 3, and portable restrooms in the rest of the venue.
Will there be camping?
No.
Will there be ATMs at the site?
No, we recommend bringing sufficient cash or debit/credit cards to top up your smart wristband.
What activities will I encounter?
Find out everything at our website: www.xibalbafestival.com
Will there be coat check?
No.
Will there be lost & found?
Yes, it will be in the information booth. We recommend adding a card with your contact information in your belongings just in case, so we can contact you.
How can I get my lost belongings after the festival?
Everything we find will be send to lost & found. Please send us an email to extravios@xibalbafestival.com starting on October 31st with a description of your belongings. If we have your belongings, you will be able to pick them up afterwards. We will keep everything until November 11th, after that, all belongings will be sent to the local authorities.
Will you announce the schedule and lienup prior to the festival?
Yes, the final lineup and schedule will be published one week prior to the festival. T¿You will be able to see them in our website, in our social media ( FB Y TW) and in the hand program we will be handing out at the festival.
Will there be first aid?
Yes, they will be marked with a red cross in the festival map.
Are there any restrictions to attend the festival?
Only people 18 years and older will be able to enter the festival. You will need to present a valid ID at the entrance (passport or driver's license).
Are there restrooms for people with disabilities?
Yes, only on stage 2.
What do I need to do if I want to present a complaint?
There will be forms at the ticketing office.
Can I leave the venue and return?
No. If you leave the venue, you will not be able to re-enter (expect for artists and production staff).
May I bring medications with me?
Yes, you will need to alert security at the ticketing office before entering the festival, they will accompany you to medical service, where the medical staff will keep your medication. If you need to take special medication, please bring a medical prescription with you. The prescription will have to bear your name and it must match you ID.
What size of backpack my I bring?
It must be a medium size backpack, it must meet airport size requirements. If it's larger, you will not be able to enter the site with it.
TICKET FAQs
Where can I buy tickets?
Through Eventbrite.
What happens if I buy my ticket through an un-official channel? Qué pasa si How can I make sure that its valid?
We cannot guarantee the validity of tickets purchased through other channels.
What happens if I loose my ticket?
If you purchase it through SuperBoletos, you will be able to re-print your ticket. Remember that only one person may enter per ticket.
May I purchase tickets if the official website says you are sold-out?
No.
Can I cancel my ticket after I have purchased it?
No, once you purchase your ticket, there are no refunds.
CASHLESS FAQs
What is Xibalba Cashless?
All payments within Xibalba Festival will be made through a smart wristband that has a special chip. The wristbands and cutting edge cashless system give Xibalba Festival fans a raft of experience-enhancing benefits, from faster transaction times at food and beverage vendors, to added security through the reduction of cash on site.
When you get to the venue, your Eventbrite ticket will be swapped for a smart wristband.
There will be several cashless top-up points located around the site during the event.
In cash or through credit/debit card.
You can reload funds as many times as you want.
Pay with the wristband
You will be able to pay for food and beverages, no need to carry around cash or credit cards.
The funds will be discounted from the funds loaded into your wristband.
Get refunds
At the festival, you will be able to get a refund for the balance in your wristband at any of the cashless top-up/refund points.
We will only refund funds on site at the festival, there will be no refunds after the festival.
If you leave the venue, you will not be able to get a refund.
Important information
You can check your wristband balance at any of the cashless points and at any sales point.
You must be wearing your wristband at all times. If removed, they will be void.
Xibalba Festival is not liable for the loss of your wristband.
You cannot transfer funds from one wristnad to another.
You cannot divide a payment between two wristbands.
Do you accept credit/debit cards?
You will not be able to pay for things using a credit or debit card directly. You will be able to top-up your smart wristband using your credit/debit card, or cash. There will be several cashless points around the venue to add funds to your wristband.
Can I get my wristband prior to the festival?
No, you will get it at the venue when checking in.
Where can I add funds to my wristband?
There will be several cashless points around the venue to add funds to your wristband.
Can I reload my wristband several times?
Yes.
What happens if I loose my wristband?
If you loose your wristband, you will loose the balance, but you will be able to ask for a replacement at any cashless top-up point. There will be an extra charge for the new wristband, and you will need to top it up with additional funds if you want to purchase food and beverages.
Can I check the balance in my wristband at any time?
Yes, you will be able to check your balance at any cashless top-up point, and at any sales station.
Can I get a refund for the funds not used on my wristband?
Yes, at any cashless top-up point, but only during the festival hours. Once the festival ends, you will not be able to get a refund.
PRESS / VOLUNTEERS / SALES FAQs
Are you hiring volunteers?
Not at the moment, thank you for your interest.
Can I distribute marketing materials or flyers?
No, we do not like to pollute, no flyers or other promotional materials will be allowed inside or outside the venue.
Can I sell food at the festival?
No.
Will there be merchandise sold at the festival?
Yes.
Can I use the Xibalba Festival logo, ticket, wristband to promote another event?
No. Xibalba is a registered trademark, no one can use the brand or intellectual property associated with the festival in any promotion, sweepstakes, or any marketing that is not official. The only exception if for our media partners and sponsors.