xAPI (Tin Can) Meetup

Monday, May 18, 2015 from 6:00 PM to 7:00 PM (EDT)
Event Details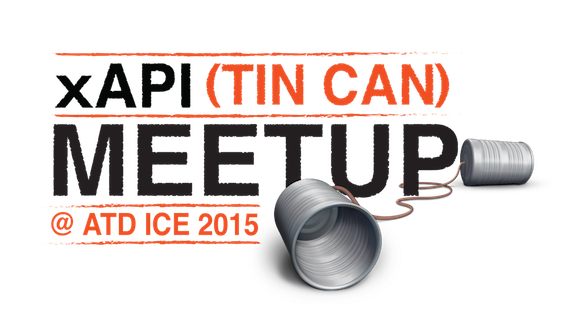 Everybody who's anybody in e-learning has heard of either 'Tin Can API' or 'Experience API' and most of you have questions: What's the impact on my learning design? What are some examples of real world projects? I'm sold; how do I get buy in from my boss? How do I practically get started and solve this particular problem?
Help is at hand!!!
At 6pm-7pm on May 18th during ATD ICE in Orlando Florida, five brave experts will band together in the Taverna Opa to chat, answer your questions and discuss solutions to your problems. You'll chat with each expert in an informal setting during this free event at a conference you're probably already in town for. How awesome is that?
Even more, you'll get a free drink, hummus and pita bread courtesy of the two event sponsors, Wax LRS and Watershed LRS. That's right: free hummus and pita bread.
Sign up!
There's 60 spots available at the time of writing. There's no cost for the event, but if you sign up and can't attend, please let us know so we can open up the spot for somebody else.
---
Experts
Which experts will you meet at this Greek-appetizer-furnished event? The list is below. Each expert has a specific area of expertise they'll be ready to talk to you about, so think about the questions you'd like to ask each one. Come prepared to share your experiences and challenges.
About Ali: John Delano (CEO, Saltbox) is a domain expert who has held executive leadership positions in enterprise L&D and sales & operations. He has written numerous industry articles on educational technology strategy and is a thought leader in how the Experience API will impact the industry.  
Ask Ali about: Getting buy-in from the boss.
Tim Martin, Watershed LRS (@timpmartin
)
About Tim: Tim Martin is co-founder of Rustici Software, the leading provider of products and services to assist with Tin Can API and SCORM conformance. Today, Tim's company is leading the world towards adoption of the Tin Can API. Tim defines product direction and manages operations for all branches of the organization. Under his leadership, Rustici Software received a Gold and Silver Brandon Hall Group Excellence Award for Best in Learning Technology Implementations in 2014.
Ask Tim about: Getting started, where to begin, and using Tin Can to fix your problems.
Russell Duhon, Saltbox (@fugu13
)
About Russell: CTO at Saltbox (Makers of Wax LRS) and major contributor to the Experience API specification. Russell's background is in the quantitative social sciences. He's an expert in machine learning and information visualization. He helps people tackle practical problems in principled ways.
Ask Russell about: xAPI spec, data science, learning & performance analytics, oh my!
Andy Whitaker, Watershed LRS (@tincandy
)
About Andy: @tincandy works with Watershed customers and prospects to define their problems and imagine solutions. He helps put together a plan with the right mix of off-the-shelf products and bespoke development tasks to make those solutions a reality. He helps with building a business case and illustrating the benefits of a Tin Can project over the costs.
Ask Andy about: Real world case studies.
Ian Huckabee, Weejee Learning (@weejeelearning
)
About Ian: Ian is a digital strategist and technologist focusing on innovations in e-learning and specializes in digital and social strategy for learning as well as product and business innovation. His focus is on company-wide strategy, innovation, and key initiatives. Ian shares his thoughts on learning trends through Weejee, various blogs and publications, and through his teaching and speaking engagements.
Ask Ian about: How the xAPI enables better elearning design.
DISCLAIMER: This event is not directly affiliated with ATD or ATD ICE.
When & Where

Taverna Opa Restaurant
9101 International Drive
#2240
Orlando, FL 32819


Monday, May 18, 2015 from 6:00 PM to 7:00 PM (EDT)
Add to my calendar
Organizer
About Wax LRS:
Wax LRS (Learning Record Store) by Saltbox is a premiere enterprise data analysis platform, to help organizations measure the impact of learning on performance. Wax is highly scalable and provides useful reporting designed for Learning & Development professionals and teams.
Our team is a major contributor to the Experience API standard. We have extensive production Experience API & LRS implementation experience, working with recognized brands like Sears, Netgear, Price Waterhouse Coopers UK, CGU Insurance, and Razorfish on large-scale projects. We've walked in your shoes as a Learning & Development leader and have a deep understanding of your business requirements. We've done this before.
Watershed LRS, from Rustici Software, is learning analytics platform that provides actionable insights from your training or performance data. With Watershed, real organizational concerns like sales closing rates, employee effectiveness, performance, and more can be correlated to learning experiences and training programs. Made possible by the Tin Can API (xAPI), you can now collect and study any learning experience and start connecting activities with outcomes.
Rustici Software is the leading provider of products and services to assist with Tin Can API (xAPI) and SCORM conformance. Hundreds of LMSs, authoring tools, LRSs and content libraries are powered by Rustici Software technology.