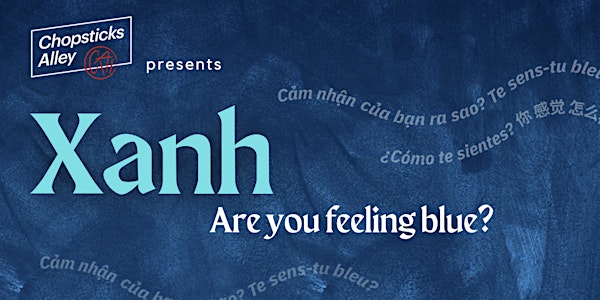 "Xanh: Are you feeling blue?" Exhibit Opening Reception
"Xanh: Are you feeling blue?" Exhibition Opening
When and where
Location
Chopsticks Alley Art Gallery at Open San Jose 38 S. 2nd Street San Jose, CA 95113
About this event
Since the opening of our first exhibit in Japantown in 2018, Chopsticks Alley has dreamed of having our art gallery someday. That day has finally come!
You are cordially invited to the opening of "Xanh: Are You Feeling Blue?" Art Exhibition. It is a community exhibit highlighting the diversity of artists in the Bay Area. The show celebrates a group of local artists selected by an art committee, and is a part of the City of San Jose Office of Racial Equity's Art in Solidarity Campaign.
Why the theme Xanh: Are you feeling blue?
In the US, we think of sadness when we think of blue. Blue evokes different feelings in different parts of the world and other cultures. For example, in Austria, it is a happy-go-lucky color. In Chinese culture, blue represents growth and optimism. In Korea, the color of mourning is "blue," yet the word blue does not exist in the Korean language. Calmness and hope are how the Vietnamese feel about the color blue or Xanh Dương. Xanh Dương (blue, like the ocean) is used to describe blue as there is not a single word in the Vietnamese language to represent blue. We wonder how blue feels for those who are sightless or color-blind.
Immersing ourselves in other cultures, perspectives, and stories beyond our own, we can learn about each other—where we came from, our traditions, and our struggles as a community. It also forces us to criticize assumptions about our daily lives, beliefs, and practices to encourage personal growth. What does blue mean to you?
Featured Artists:
Tovah Cheng
Coby Chuang
Steve Clark
Jemal Diamond
Cynthia Gonzalez
León Hernandez
Hang Huynh
Danny Kim & Soo Yeon Lyuhm
Andrew Kong Knight
Irene Berrones Kolb
Sabrina Kwong
Ánh Lê
Elizabeth Jiménez Montelongo
Andy Ngo
Andy Nguyen
Ngoc Nguyen
Vy Nguyen
Ouater Sand
Lani Viet
Fe Villanueva
Charlotte Zhang
Dr. Jerry Hiura Asian Art Fellows 2022:
Commissioned Music:
Film:
We Art San Jose
Performances:
7:00pm Viet Steps, Dancers
7:30pm Erin Pangilinan, Spoken Word Poet
7:35pm Saraswathy Lakshmivaraham, Mohiniyattom Dance
8:00pm Thi Cầm, Flutist
Chopsticks Alley Art Gallery is at Open San Jose:
38 S. 2nd Street, San Jose, CA 95113
Gallery Hours beginning November 20, 2022:
Saturdays and Sundays from Noon - 4 pm
First Fridays from 5:30 pm - 9 pm, part of the First Fridays ArtWalk SJ
Xanh Exhibition Dates: November 20, 2022 - January 28, 2023.
Snacks and drinks will be served.
Parking: Street parking or paid parking across the street from the location.
____________
This exhibit is partially funded by the San Jose Office of Racial Equity.