Xandernation: Xander Clause GIVES BACK

Sunday, December 29, 2013 at 10:00 PM

-

Monday, December 30, 2013 at 4:00 AM (EST)
Who's Going

Loading your connections...
3 of your friends are going.
Share it to get more people on board!
Share

Sara Haughty
San Francisco, California

Luke Picard
London, United Kingdom

Rick Vespucio
Florence, Italy
Event Details
If you don't know what Xandernation is watch these videos
http://www.youtube.com/thexanderexperience
*As seen on Howard Stern, Good Day NY, CBS, NBC, FOX, ABC, NY Post, Daily News*
****XANDERNATION PRESENTS… XANDER CLAUSE******
I couldn't resist. I said I wouldn't do another one till the Summer. But I have to. It's a need that's burning up inside of me. Every party I've gone to, the SAME. The people, the SAME. The location, the SAME. It is driving me, INSANE. One more Xandernation before the year is over, I think so.
Xandernation is all about giving back to the community. It's the holiday season and in the cruel world we live in today there are still kids without books, mothers without food for their children, and families without a roof. This is why we will be donating ALL PROFITS of this Xandernation: Xander Clause to the NYC Community. Here's how we're going to do it
The day after Xandernation we will post our profits. Profit means, the amount we receive after spending the bare minimum possible on expenses (venue, bar, celebs), while at the same time ensuring the Xandernation craziness exists. 

The community will vote and decide on where to spend the money. If we give money to a charity it is incredibly likely that that money could go to pay a salary. 100% of our donations will go DIRECTLY TO CAUSES. NO SALARIES - YES, WE WORK FOR FREE.

We will create bits to vote on. It can be as simple as walking around giving $100 to 10 homeless people, or even donating $5000 to a school that needs new text books. The community will decide the distribution of the donations.
The website will contain the charity balance AT ALL TIMES. You will be able to see exactly how much lies in our charity account, and exactly where it's being spent. FULL TRANSPARENCY.
View these details at FB.com/XanderGivesBack
There are 3 tiers of donations
$20 - Standard Admission Donation
Includes admission :)
$50 - Gold Admission Donation
Includes 1x free drink (21+)
Access to VIP area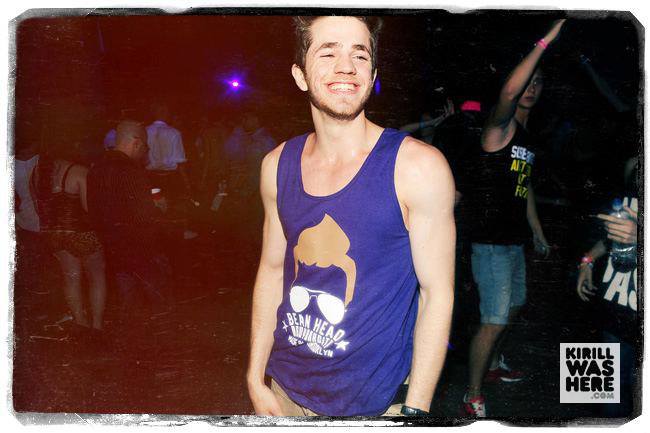 $100 - Platinum Admission Donation
Includes 1x Free Drink (21+)Access to VIP Area
Exclusive Xandernation Tank  --------------------------------->
Exclusive Xandernation Stunner Shades
Shout out on stage by Alex Xander
Name in Official after-video credits
The Story
It's on a Sunday. Everyone hates Sundays. It is the worst day in the history. The day when the world scumbags you and throws Monday in your face before you can say "noooo". Well here's what I've got to tell you, take your balls, go see your best friend, and ask them to untuck them from your little vagina. You have work the next day? You don't want to be up late on a Sunday? You're tired cause you worked 12 hours? Awwwww. You're so cute.
Let me give you a little life lesson you 20-something year old shit head. You're only going to be a 20-something year old shit head once and when that day comes when you lay there all wrinkly gray and ugly, waiting to die, and your grandkids surround you to say goodbye, the only things you'll regret are the things you DIDN'T DO.
Yea it's a Sunday, yea it's going to be cold and nasty outside, IT'S DECEMBER WHAT DO YOU EXPECT, yea it's much easier to just sit home, eat a jar of ice cream and watch Netflix. Do something that makes you uncomfortable. Take it one step further. Do something you don't want to do. 
A few weeks ago I started a personal journey called the 10 Year Turn Up Challenge. After turning 20 years old I realized I only had about another 10 years before I would be settled and unable to do 90% of the things I do today. Now is not the time I will turn down. Ask me to come somewhere, I will say yes. Ask me if I'm down, I will say yes. When I'm cold, tired, sick, I am ready to go because I prefer a more guaranteed 20's and 30s than  an unsure 70s and 80s. 
You've seen it, I've seen it. Our friends dying around us. Old, young, black, white. Death has no mercy, no sympathy. A friend of mine died in his sleep at 20 years old. I've been driving with my seatbelt the whole time and now it turns out I can't even fucking go to sleep? If this sick twisted entity we call life decides to play a last-second trick on me, I want to go knowing I never said no.. or as you hipsters may understand I TURN DOWN FOR NOTHING.  
That being said, go to Home Depot, buy 2 ball seeds, plant them, and a grow a pair of fucking balls. If you're saying no to experiences like this at 20, enjoy your life because I, nor anybody else really, wants a part of it. And all of this money is going to CHARITY. So you can tell your parents you're going to a charity event… Where else would you be going on a Sunday??
Here's what we did to make it better:
Coat check
Parking all around
Going all night and morning
What to expect:
You will switch genders 
Peace, love and Xandernation. Message us if you have any questions or email us at a@xandernation.com
When & Where

LOCATION IS REVEALED ONCE TICKET IS PURCHASED
BROOKLYN LOCATION WITH TRAIN 5 MIN AWAY
IN GREAT RICH NEIGHBORHOOD
BROOKLYN, NY 11201


Sunday, December 29, 2013 at 10:00 PM

-

Monday, December 30, 2013 at 4:00 AM (EST)
Add to my calendar
Organizer
Xandernation
Fastest growing event of its kind
fb.com/thexanderexperience
Xandernation: Xander Clause GIVES BACK