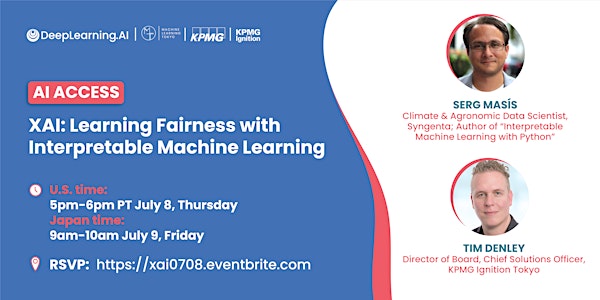 XAI: Learning Fairness with Interpretable Machine
An AI ethics event on bias and unfair representations and how to counteract the challenges that come along.
About this event
The deployment of large-scale machine learning systems trained on increasing amounts of data has shown to have a big impact on a range of industries and thus, on our everyday lives. With that comes the need and obligation for explainable AI, interpretability and fairness. In this event we'll have a closer look at bias and unfair representations and how to counteract the challenges that come along.
Agenda:
10-min: Trends in Artificial Intelligence and Data Fairness: Tim Denley, Director of Board, Chief Solutions Officer, KPMG Ignition Tokyo

A talk on KPMG's view on data reliability and results along with our effort at KPMG Ignition Tokyo.
30-min: Learning Fairness with Interpretable Machine Learning: Serg Masis, Author of "Interpretable Machine Learning with Python"; Climate & Agronomic Data Scientist, Syngenta

An overview of many methods employed to detect and mitigate bias and place guardrails to ensure fairness with Python examples
This event will be moderated by Haiyang Peng, a Senior Scientist at KPMG Ignition Tokyo.
Special thanks to KPMG Ignition Tokyo and Machine Learning Tokyo for co-hosting the event with us!
How to join the event:
If you register, you will receive the livestream link email 3 days before the event.
Can't attend the live YouTube event? Don't worry. Register now to get the recorded session.
About speakers:
Tim Denley is focused on digital and innovative transformation utilizing a broad range of strategic business, technology and communication skills. He has been leading various digital transformation teams for over ten years and is dedicated to building the best possible environment where team members with high skills, which are indispensable for realizing digital transformation, can fully exercise their potential abilities.
Serg Masis is a Data Scientist in agriculture with a background in entrepreneurship and web/app development, and the author of the book "Interpretable Machine Learning with Python". Passionate about ML interpretability, responsible AI, behavioral economics, and causal inference. To learn more about Serg, visit https://serg.ai

About KPMG Ignition Tokyo
KPMG Ignition Tokyo has gathered together not only experts in cutting-edge technologies of the Cloud, AI, Blockchain and IoT, but also experts in all digital fields including data science, data visualization, cloud architecture and system security, from Japan and overseas. Our team of experts work on the secure management of a huge amount of complex data, development and operation of platforms using Agile and DevOps approaches, analysis of such data for reflection in making management judgments, and visualization of the analyzed data for easy understanding.
We will integrate such cutting-edge digital technologies with the expertise KPMG Japan has accumulated to date and liaise with KPMG Global to build a common platform and solutions.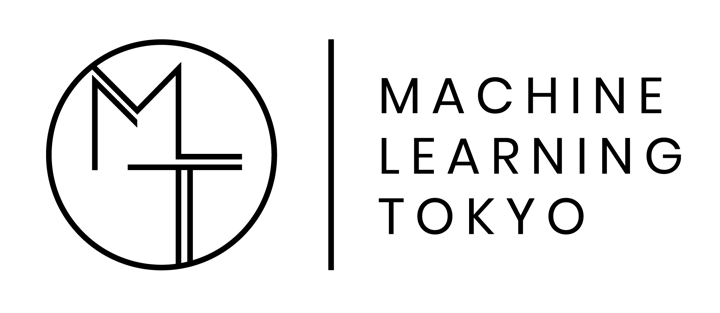 About Machine Learning Tokyo:
Machine Learning Tokyo (MLT) is an award-winning nonprofit organization 一般社団法人 based in Japan. MLT is dedicated to democratizing Machine Learning through open education, open source and open science. We support an international machine learning community of more than 40,000 engineers and researchers.
Our mission is to grow and sustain an inclusive, collaborative and engineering focused environment for students and professionals. We provide opportunities to study and work on Machine Learning and Deep Learning projects. Since its founding MLT held more than 250 technical Machine Learning, Deep Learning or Math workshops, talks, study sessions and hackathons. We provided hundreds of hours of study and implementation for thousands of participants for free.