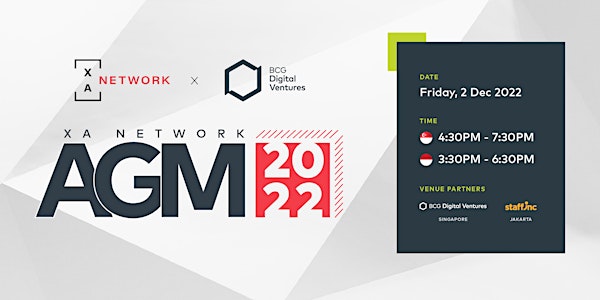 XA Network Annual General Meeting 2022
You are invited to XA's 2022 AGM. We will be holding it in-person in Singapore + Jakarta with friends from BCG Digital Venture and StaffInc
About this event
To round out the year, the XA Network will be holding our Annual General Meeting on 2 December 2022; this time in collaboration with our friends at BCG Digital Ventures and StaffInc. Therefore, we are pleased to invite select co-investors and ecosystem partners to join us in a thoroughly convivial evening to acknowledge how the Southeast Asian technology scene has further matured.
For the first time ever, we will be hosting the AGM in a hybrid simulcast manner, with physical locations in Singapore and Indonesia. Big thank you to our location partners, BCG Digital Ventures and StaffInc for graciously collaborating on this event with us.
During this session, we will be:
Celebrating the Network's growth and also sharing the impact we are creating in the Southeast Asian tech startup ecosystem.
Hearing from founders that we recently welcomed to our portfolio to share more details regarding their exciting plans to foster inclusive innovation in Southeast Asia with their offerings. Some of the founders speaking will include Grace Sai (Unravel Carbon), Damien Dugauquier (iPiD), Abhishek Gupta (Semaai), and Hansel (Materee). Other speakers to be announced.
Hosting a panel discussion on what is in store with the Southeast Asian technology ecosystem for 2023. The panel will be moderated by Hanno Stegmann, Managing Director and Partner, BCG Digital Ventures. The panelists will include Nina Teng, Managing Partner, CSVE Ventures; Wing Vasiksiri, General Partner, WV Capital; and Claire Chua, Assistant Vice President, Temasek, and one of the key contributors to the eConomy SEA 2022 report.
Doors open at 4:30PM Singapore / 3:30PM Jakarta.
This invitation is not transferable, but if you would like to nominate additional participants to join, please email us at contact@xanetwork.co. Due to the nature of the event, this session will not be recorded and no part of this event is for attribution.
We look forward to seeing you there.
Best Regards,
The XA Team