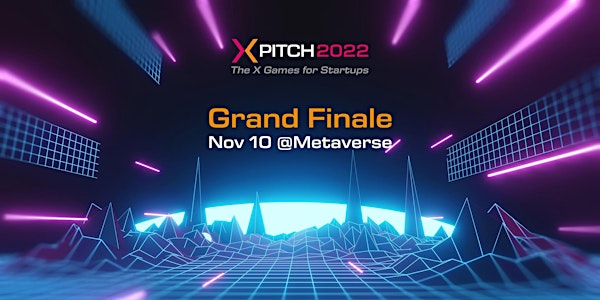 X-PITCH 2022 Grand Finale
The X Games for Startups
About this event
X-PITCH (www.xpitch.io) is the X Games for startups wherein participants go through a series of pitch challenges for a chance to win awards and investments, participating teams focus on applications and services that enable digital transformation around five major categories.
15 finalists are selected from 4,000+ startups in 51 countries, see how they made it to the finals with a 60-sec pitch. The Grand Finale will be held in the metaverse powered by Venu, the official platform of Y Combinator's virtual demo days. Top 3 teams will receive up to US$1 million investments in total.
Guests are also welcome to visit the exhibition booth of the finalists.
Agenda
Date: 10 November, 2022
Location: Metaverse by Venu
14:00 - 14:05: Opening remarks
14:05 - 15:45: TOP15 Finals (3-min pitch)
15:45 - 15:55: Comments by the Judges
15:55 - 16:00: Winners announcement (10 awards)
After 16:00: Networking in the exhibition hall
Awards
Startup of the Year - Gold Award
Startup of the Year - Silver Award
Startup of the Year - Bronze Award
Best Public Service / Healthcare Startup
Best Industrial / Supply Chain Startup
Best Consumer Lifestyle Startup
Best Mobility / Transportation Startup
Best Banking / Commerce Startup
Number Pitch - Champion
Number Pitch - People's Choice