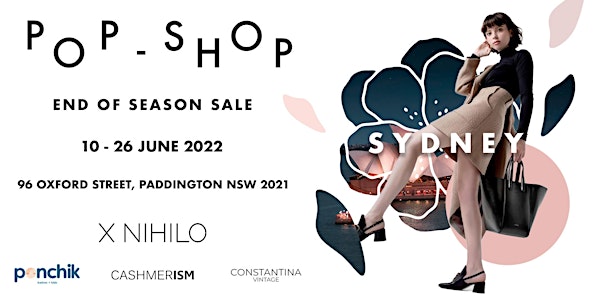 X NIHILO & Friends - Pop Up Store
Location
96 Oxford St
96 Oxford Street
Paddington, NSW 2021
Australia
One-stop shop for all Melbourne brands in Sydney. From 10-26 June 2022. Luxury leather bags, vintage jewellery, cashmere, and baby clothing.
About this event
Coming to Sydney from 10-26 June 2022, a curated group of Melbourne brands have partnered together to give you an in store person experience to their amazing products.
X NIHILO - The 2021 Australian Good Design Award winner for Best Product Design, X NIHILO focuses on creating luxury leather bags for the modern woman; fun and sophisticated designs for the everyday activity.
website: xnihilo.com.au
Instagram: xnihilo_official
Facebook: xnihilo.official
CASHMERISM - Exquisite cashmere wear with over 30 years of family history and experience, Cashmerism creates timeless designs with the finest cashmere and premium natural fibres for women.
website: cashmerism.com.au
Instagram: cashmerism
Facebook: Cashmerism
PONCHIK - Beautiful, stylish pieces that will last the love of many children, Ponchiks' focal point is eco-friendly baby clothes and gifts; brining natural, fun and practical clothing to kids.
website: ponchik.com.au
Instagram: ponchikbabieskids
Facebook: ponchikbabieskids
CONSTANTINA VINTAGE - A Melbourne based curation of unique vintage statement jewellery, Constantina Vintage selects each piece carefully, the collection of statement pieces span the 20th century.
website: constantinavintage.com
Instagram: constantinavintage
Facebook: constantinavintage