Sales Have Ended
Ticket sales have ended
Thank you for registering for the Westport Young Woman's League Galentine's Day BINGO event on Thursday, February 6, 2020! We're looking forward to a fun girls night out!
Sales Have Ended
Ticket sales have ended
Thank you for registering for the Westport Young Woman's League Galentine's Day BINGO event on Thursday, February 6, 2020! We're looking forward to a fun girls night out!
Beat the winter blues-gather your girlfriends & celebrate Galentine's Day playing BINGO with prizes, plus happy hour drinks & dessert bar!
About this event
The Westport Young Woman's League is hosting a girls night out, Galentine's Day BINGO event in downtown Westport on February 6th! We would like for you to join us, along with any friends, family and colleges for this fun girl's night out! Many friends and family are already attending!
What are the event details?
Date: Thursday, February 6th
Location: Christ & Holy Trinity Church, Branson Hall, 75 Church Lane, Westport, CT 06880
Time: 7 pm - 8:00 pm Happy Hour, 8:00 pm - 9:30 pm BINGO & Prizes
Ticket price: $35 per person
Capacity: 144 BINGO players
Raffle: 50/50 raffle tickets will be available for purchase on the evening, cash only. $5/1 ticket, $20/5 tickets. Winner receives 50% of the proceeds. Ticket to be drawn at 9 pm during the event.
What is included in my ticket?
Happy Hour, Dessert buffet, 10 Rounds of BINGO & prizes (1 winner per game), Coat Check
Will there be prizes for each BINGO game?
Yes! We are working on securing prize donations. Currently, we have a Welden purse, R+F gift card, Intuitive Interiors Home Organization gift card, Bigelow Tea basket & more to come! There will be only one winner per game.
Where will net proceeds be donated?
Net proceeds from this event will benefit our WYWL Grants program. In 2019, the WYWL distributed $80,000 to 18 charities in lower Fairfield County, CT. View the full list of recipients at wywl.com/grants
How can I make an additional general donation?
You can make a generic donation to the WYWL online: wywl.com/donate
How can I help promote this event?
Please share this event with your gal pals and encourage them to attend! The WYWL also created a Facebook event that you can share. And talk about it! Word of mouth is the best form of promotion.
How can I donate a prize & what is included in sponsorship?
If you are a small business owner and would like to donate a prize to promote your business at this community event, please email info@wywl.com.
For each prize donation, you will receive the following promotion: Each round of BINGO will offer a specific prize. For each prize, we'll display one slide on the large A/V screen and include your business logo, URL, social media links & contact info. Your logo will be included on the Sponsor thank you sheet displayed in a lucite frame on each BINGO table. You'll receive a shout out at the event and on our WYWL social media.
Is my ticket refundable?
We are unable to make refunds, but you can send a friend in your place. Please email info@wywl.com with the change and we will make the update to our attendee list. Or, if you are unable to attend the event, you may consider it a donation to the WYWL for their grants program. View the grants process and 2019 Grant recipients at wywl.com/grants
Register now & see you on Thursday, February 6th!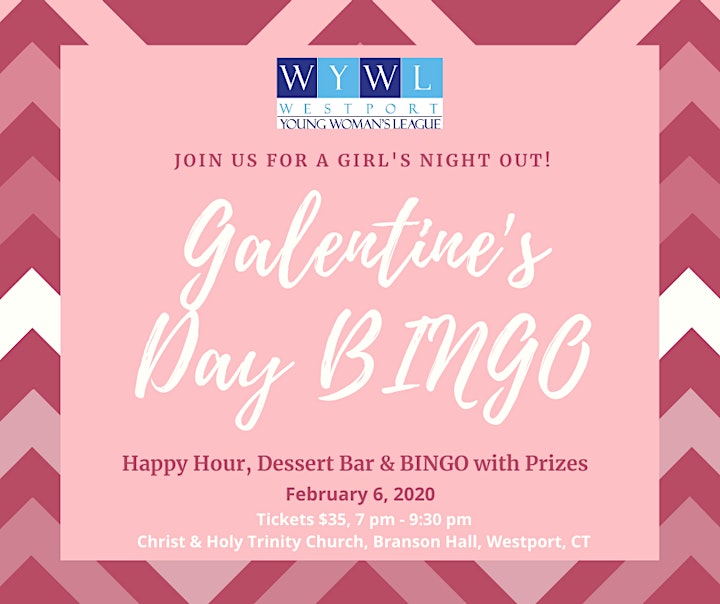 Organizer of WYWL Galentine's Day BINGO, Girl's Night Out
Our Mission: The Westport Young Woman's League is a non-profit philanthropic organization of women committed to building community through volunteerism, social activities and fundraising for local charities.
Since 1956, the Westport Young Woman's League (WYWL), has done a lot for its community and its members. Membership is open to all women who are over the age of 21 regardless of where you live. WYWL offers many opportunities for its members to be involved. Members organize and run our major fundraisers, the Minute Man Race and CraftWestport. Members volunteer in the community by doing things like cooking for the Community Kitchen and also enjoy socials like wine tastings and book group. WYWL also gives grants to charities based in lower Fairfield County and all members are encouraged to participate in that process. Since WYWL's inception, we have donated over $4.2 million to local charities with over half that amount donated in the past decade alone.
There really is something for everyone. We have found that attending meetings, involvement with fundraisers, grants, socials and community service builds community – the heart of our mission. The Westport Young Woman's League welcomes all of you as new members – and friends. We look forward to the contribution that your ideas and talents will make in the years to come. We accept applications for membership from August 1st to April 1st. To get started, visit: wywl.com/join
Any questions? Email: info@wywl.com