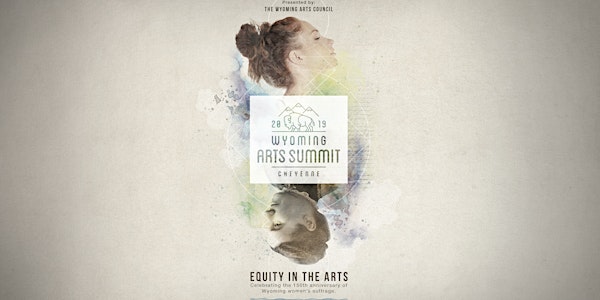 Wyoming Arts Summit: Equity in the Arts: Celebrating the 150th Anniversary...
Location
Cheyenne, WY
Little America Hotel
2800 W. Lincolnway
Cheyenne, WY 82009
Refund policy
Refunds up to 7 days before event
Sales Have Ended
Registrations are closed
You do not need to print this ticket, if you are registered a name tag will be waiting for you at the registration table. See you in November!
Description
The Arts Council's bi-annual summit is an opportunity for individuals to come together, learn from one another, and empower the state's creative sector. The summit offers professional development sessions for artists and arts advocates, administrators, and educators, and will highlight many of Wyoming's talented visual, performing, and literary artists.
Mary Anne Carter, chairman of the National Endowment for the Arts (NEA), Pam Breaux, president and CEO of the National Assembly of State Arts Agencies (NASAA) and Roxanne Anderson, 2018 Bush Fellow and City of Minneapolis City Making Artist will be keynote speakers. A variety of interdisciplinary and discipline-specific workshops, sessions, and presentations will be offered. Educators will be able to earn up to 1 PTSB credit. In addition to formal sessions, the summit will also feature music showcases, receptions, and networking opportunities.
Individuals and organizations may apply for a Professional Development/Career Advancement Grant from the Arts Council to attend the summit. If registration rates are prohibitive to you or your organization, please contact the Arts Council at 307-777-7742 or arts@wyo.gov to discuss your attendance. We have a room block setup at Little America Hotel and at The Plains Hotel. For the Plains Hotel please call 307-777-7742 to make reservations and mention you are with the Arts Summit.

We are happy to provide complimentary childcare services at this years Arts Summit. Our provider will be onsite in the Yellowstone Room of Little America Friday, 7:30 a.m. - 6:30 p.m. and Saturday 8:30 a.m. - 2:30 p.m. There will be multiple age-appropriate creative activities for kids throughout the day. All of the providers staff have CDAs and are first aide and CPR certified with 25 hours of annual continuing education. This is part of the Wyoming Arts Council's effort to increase access to arts resources and professional development opportunities for all artists and organizations!
As part of our effort to address barriers to access, we are collaborating with self-advocates, the Wyoming Institute for Disabilities, and the Governor's Council on Developmental Disabilities to identify meaningful accommodations for this event. If you require accommodations due to a disability or other health concern please provide details below
Our sponsors: