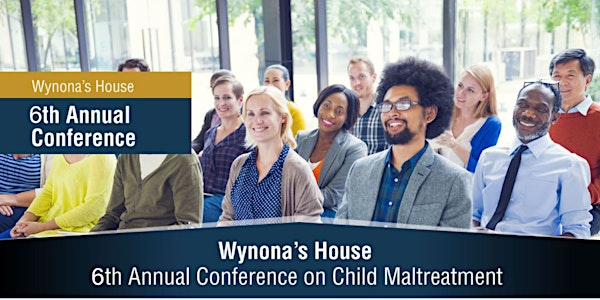 Wynona's House Presents the 6th Annual Conference on Child Maltreatment
Wynona's House Child Advocacy Center Presents the 6th Annual Conference on Child Maltreatment
About this event
**NOTE: This conference is is a HYBRID, virtual training with limited in-person seats**
Wynona's House 6th Annual Conference will include a full-day virtual training broadcast from Montclair State University with an in-person options for 75 and virtual options for 300 medical and mental health professionals, law enforcement professionals, social workers, educators, advocates and child protection workers. The training will help develop skills involving:
1. Proper identification and screening of victims of child sexual exploitation/child pornography (CSAM) and human trafficking;
2. Improving M.D.T. response to working with child sexual exploitation/child pornography cases and the provision of victim services;
3. Improving M.D.T. response to working with adolescent victims in cases of youth-produced sexual images and
4. Collaborating with local community organizations and groups on a coordinated response.
We are pleased to announce the keynote address by Sasha Joseph Neulinger, the Founder and President of Voice For The Kids, and Co-Founder and Head of Production at Step 1Films. Sasha is also a director of his autobiographical, feature length documentary, REWIND, recently nominated for 3 Emmy Awards.
Four sessions will be presented, specifically addressing various topics, to update and educate advocates and professionals to enhance their expertise in order to provide more effective victim services. As technology advances so do the techniques and trends utilized by offenders. MDT professionals must remain on the cutting edge of technology and crimes committed against children via the internet. Victims, both documented and undocumented, encounter significant challenges in navigating the criminal justice system due to stigma, language barriers and cultural issues. Advocates must remain culturally aware of these challenges and provide appropriate services to assist clients.
AGENDA
9:00-9:10
Welcoming Remarks
Dominic Prophete, J.D.
C.E.O., Wynona's House
9:10-9:15
Keynote Speaker Introduction
New Jersey Children's Alliance
9:15-11:15
Keynote Address
Sasha Joseph Neulinger
Film Director and founder of Voice For the Kids
11:15am - 11:25am Break
11:25am-12:30pm
Presentation: How Predators Manipulate, Groom Children Through Social Media Applications and Dark Web
Lt. John Pizzuro
NJ ICAC Commander (Ret)
12:30pm–1:30 pm Lunch Break
1:30pm-1:35pm
Introducing NJ Human Trafficking Coalition
Onyinye Nnenji, MSW, LSW
Family Advocate, Wynona's House
1:35pm-2:35pm
Introducing Human Trafficking 101
Wincey Terry-Bryant, Co-Chair of the Arts Committee
NJ Human Trafficking Coalition
2:35pm-3:35pm
Presentation: Internet Crimes Against Children (ICAC)
Assistant Prosecutor Deborah Freier/Captain Carlos Olmo
Essex County Prosecutor's Office: Special Victims Unit
3:35pm – 3:45pm Break
3:45pm-5:00pm
Presentation: Tailoring the Child Trafficking Multidisciplinary Response: Elevating Youth Voices and Responding to Risk
Elizabeth Bouchard, MPH
Children's Advocacy Center of Suffolk County (CAC), MA
5:00pm Closing remarks