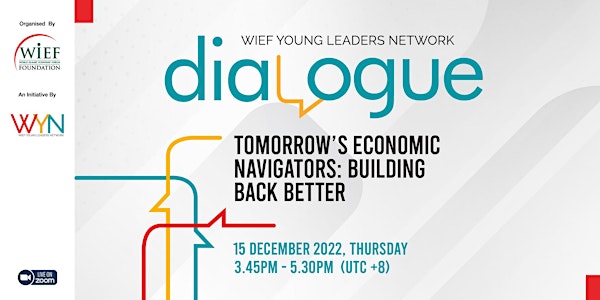 WYN Dialogue | Tomorrow's Economic Navigators: Building Back Better
Join us for a discussion on issues that specifically affect young people in terms of leadership and employment.
About this event
Introduction
Leadership roles are no longer decided by age but rather the experience and ability to adapt to a world of disruption in which we live. Operating in a twenty-first society essentially depends on being tech savvy and requires contemporary leadership for the wealth of energy, knowledge, fresh perspectives and out of the box ideas. Today, more than ever, many young people are leading global businesses and implementing policies relevant to the times while governing countries.
It is time to hear their challenges, success stories and how societies are benefitting from this leadership revolution. This dialogue is a platform for an in-depth exchange of stories, views and innovative solutions to issues that specifically affect the development of young people in terms of leadership, entrepreneurship and employment. Most of all, WYN Dialogue is a space where brilliant ideas from astute minds can influence and inspire through the simple approach of storytelling.
Programme
3.35pm - 4.00pm | Welcoming Remarks by Ebrahim Patel, Chairman WYN
4.00pm - 5.30pm | Dialogue - Tomorrow's Economic Navigators: Building Back Better
Youths are up for the challenge to help countries emerge stronger from the crisis the world is facing. They are at the centre of innovations and sustainable outcomes. Governments and societies should pinpoint and cultivate traits that will make future leaders who will steady an erratic economy, thrive in grey areas and make sense of ambiguity.
This session discusses:
The major challenges young leaders encounter, their management strategies to overcome them, and what they learn in process.
How should policy makers continue taping into young people's talents to build a more resilient economy and stimulate job creation.
Practical measures that should be taken to design inclusive actions that leave no one behind.
Innovative employment reforms that level the playing field for every young person out of work.
Speakers
Kebba-Omar Jagne | Founder, MOVAAR, The Gambia
Gracia Billy Mambrasar | Special Staff and Adviser, President of Indonesia
Farheen Sayed | Founder and CEO, Vanillakart, India
Regine Guevara | Producer, AsiaTV and Trustee, Guevara Foundation, Phillippines
Khairul Anwar Mohamed Zaki | Founder & CEO, Pandai, Malaysia
Dr Bilal Hassam | Founder, The Muslim Agency, UK ( Moderator)
For further information on the programme, kindly visit www.wief.org
For further enquiries, please email register@wief.org
Terms & Conditions
• By registering to this webinar, you agree to receive free InFocus newsletters and occasional sales and marketing offers for the World Islamic Economic Forum Foundation events. Existing subscribers newsletter preferences will not be affected.
• The information you provide to World Islamic Economic Forum Foundation in the event registration will be handled in accordance with our Privacy Policy. For more information about how we use your data, please read our Privacy & Cookie Policy: https://wief.org/privacy-policy/
• This webinar will be recorded.
Please submit any questions to: register@wief.org