About this Event
WYES invites you to celebrate the popular MASTERPIECE period drama "Victoria" at the WYES Gala presented by the Oscar J. Tolmas Charitable Trust
"The Town and Country World of Queen Victoria & Prince Albert"
Friday, April 3, 2020
6:30pm - Patron Party
Patron - $500 | *$225 – Jr. Patron (Ages 21-40)
8:00pm - General Admission Gala
Gala - $200 | *$100 – Jr. Gala (Ages 21-40)
*Junior tickets - ages 21-40
LIBATIONS BY
Sazerac Company/Goldring Family Foundation



Consider being an event sponsor! Show the community you support educational television. Gala sponsorship packages vary widely.
WINDSOR CASTLE SPONSOR - $15,000
BALMORAL CASTLE SPONSOR - $10,000
ENTERTAINMENT SPONSOR - $7,500
OSBORNE HOUSE SPONSOR - $5,000
AUCTION SPONSOR - $4,500
KENSINGTON PALACE SPONSOR - $2,500
For additional information, contact Kerri Blache at kblache@wyes.org or Jim Tapley at jtapley@wyes.org or call during regular business hours at 504.486.5511.

Thanks to our Gala Chairs:
Stephanie and Ludovico Feoli
Claudia and Cleland Powell
Erica and James Reiss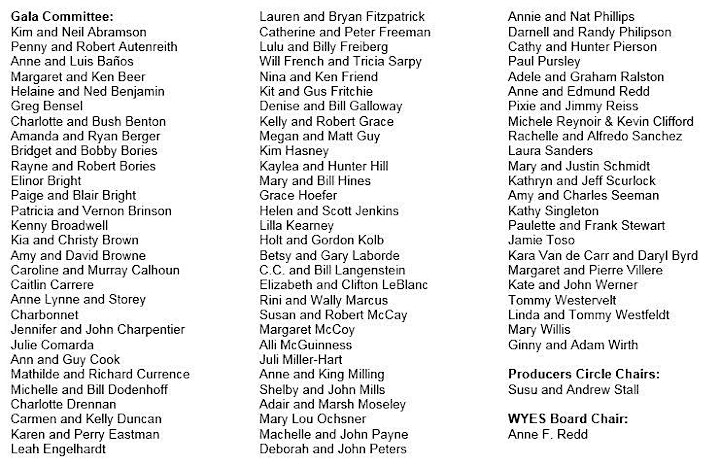 PROCEEDS BENEFIT WYES, YOUR LOCAL PBS STATION
Funds raised will directly support WYES productions: award-winning documentaries, local shows, national cooking series, and educational initiatives that go straight into classrooms and homes, like our Electronic Field Trips and unique multi-platform early childhood learning resources for children ages 2-8—programs that reach children, their parents, teachers, and caregivers, often the most underserved and at-risk in our region…and much, much more.
Thanks to our generous sponsors:
PRESENTING "BUCKINGHAM PALACE" SPONSOR:
WINDSOR CASTLE:
Zemurray Foundation
BALMORAL CASTLE:
Michele Reynoir & Kevin Clifford
OSBORNE HOUSE:
Susan and Jimmy Gundlach
Sherry and Alan Leventhal
Claudia and Cleland Powell
KENSINGTON PALACE:
Margaret and Ken Beer
Patricia and Vernon Brinson
Marie and James Cahn
Mary Clare and Danny Conwill
Flower/Redd Family
Will French and Tricia Sarpy
Kit and Gus Fritchie
Gayle and Tom Benson Charitable Foundation
Megan and Matthew Guy
Russ and Sandra Herman
Linda and Gordon Kolb & Holt and Gordon Kolb, Jr.
Dr. and Mrs. William St. John LaCorte
Britta and Everard Marks
Darnell and Randy Philipson
Erica and James Reiss
Mary and Justin Schmidt
Linda and Tommy Westfeldt
INVITATION SPONSOR:
MEDIA SPONSOR:
SPECIAL THANKS: