Description
Wycliffe Gordon is presenting a listening room in an intimate jazz club setting on April 22, 2017. The feature artist is Dion Parson and the 21st Century Band, and Wycliffe is their guest artist.

Enjoy a pop-up jazz club in historic downtown Augusta during Jazz Appreciation Month 2017. The space will feature live classic jazz music in a listening room environment very much like those only available in New York, San Francisco, London, Paris, etc.
---
21st Century Band, comprised of seven of the world's finest musicians, features a fresh innovative sound that boasts a superb mix of jazz and US Virgin Islands traditions such as Quelbe, and other Caribbean infusions like reggae, calypso, soca, mento, ska, zouk, steel pan, chutney, and funk with New Orleans and African overtones.
Together with leader and Grammy® award-winning drummer and composer Dion Parson, these supremely talented artists deliver their special brand of Caribbean Jazz with down-home sophistication and a high energy level that has audiences—young and old—soaring to their feet time and time again. Their sold-out performances at prestigious have garnered rave reviews from fans and critics alike.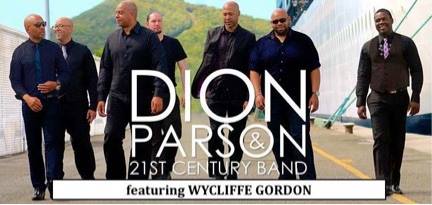 ---
Two shows: 7pm & 9:30p Tickets $35 advance, $45 day of show
Cash bar.
Jazz Appreciation Month - Augusta 2017
Dion Parson & the 21st Century Band
featuring Wycliffe Gordon
April 22, 2017

Blue Horse @ DTIMMS
302 Sixth Street
Augusta GA 30901

Questions: +1 (762) 233-5299, info [at] gardencityjazz.com