Wycinanki: the Art of Polish Paper Cutting Virtual Workshop
A colorful look at the history, tradition and process of creating Wycinanki which is the art of Polish Paper Cutting!
About this event
Join Eagle-Orzeł Educational and Cultural Exchange, Inc for a colorful afternoon dedicated to learning the art of Wycinanki!
Wycinanki (pronounced Veee-chee-non-key) is the art of cutting paper to look like a variety of things such as floral bouquets, scenes of everyday life in the country, to roosters who guard your home. Wycinanki were originally made by Polish peasants to decorate their cottages' freshly whitewashed walls. Today they can brighten up your home or make a colorful gift for family and friends. The virtual workshop will cover the history, tradition, and process of creating your own floral Wycinanki design and by the end of the workshop you will create your own piece of art!
The virtual workshop will be led by Cecilia Kocinski-Mulder. Cecilia enjoys dabbling in various crafts and is always working on some project or another. She taught herself how to create various types of Wycinanki during a Washington, D.C. snowstorm a little over 10 years ago and has been creating ever since. Cecilia creates both traditional and modern designs and is always always excited to try new designs and loves gifting them to family and friends who inspire her! Cecilia also proudly serves as the Board Secretary for Eagle-Orzel Educational and Cultural Exchange, Inc.
This workshop is designed for various skill levels and is recommended for crafters who are 10 years of age or older. The workshop will be delivered in English and run about 75 minutes and Cecilia will stay on afterwards for those who are interested or have questions.
You will need:
1 pack of Origami paper (variety of colors)
scissors (the finer/sharper the better)
Glue (either rubber cement or a glue stick)
1 sheet of black card stock (8.5 x11) for mounting
Pencil
Template, printed (will be provided by email)
Optional: tracing paper (Cecilia will demonstrate another technique using tracing paper)
All registrants will receive a recording of the class to watch again or if you can't join live to watch at your own pace! ALSO! We will do a drawing at the end of the class for a chance to win an original Wycinanki made by Cecilia!
All proceeds from the workshop go to support the initiatives of Eagle-Orzeł Educational and Cultural Exchange, Inc.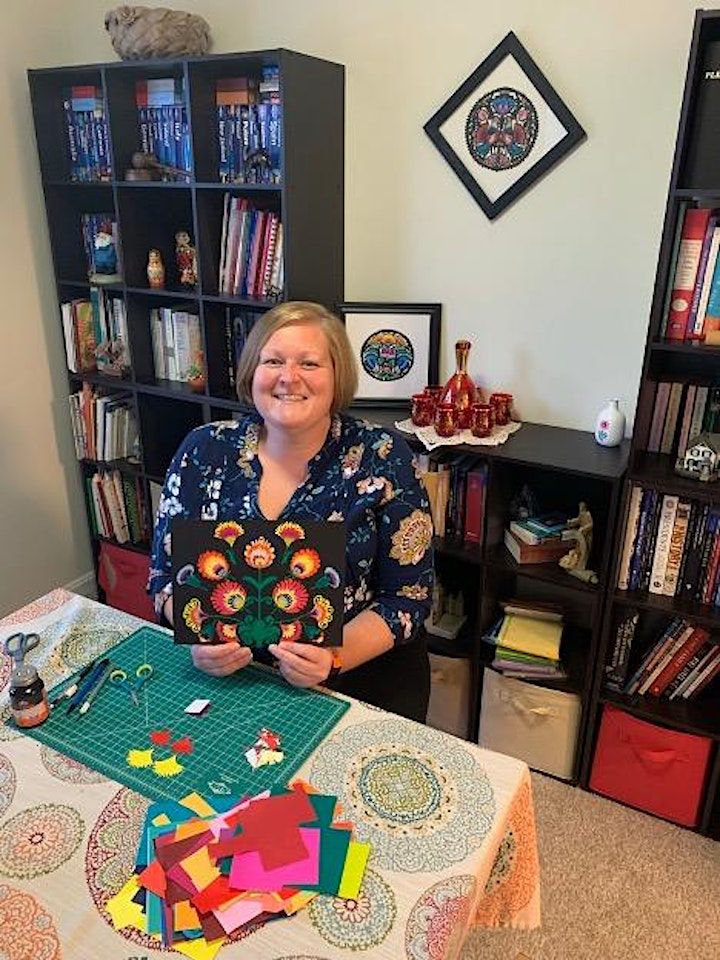 Date and time
Location
Refund policy
Organizer of Wycinanki: the Art of Polish Paper Cutting Virtual Workshop