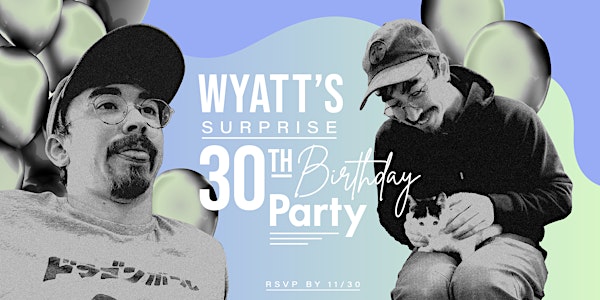 Wyatt's SURPRISE 30th Birthday Party!
Get pumped. It's the most extravagant party of the whole year! Wyatt's surprise 30th birthday party!
When and where
Location
2701 W Lawrence Ave 2701 West Lawrence Avenue Apt 3 Chicago, IL 60625
About this event
If you're reading this, you are officially invited to the most exclusive, top-secret surprise party event of the year. That's right! Our favorite video gaming rock-climbing short king is turning the big 3-0, and instead of a traditional wake to honor the death of his twenties, we are going to surprise the absolute hell out of his ass by letting ourselves into his house to party the night away. The theme for this evening will be "Thirty, Flirty, and Thriving" and the dress code is Black Tie Formal. We want to be looking our best for our very own Wyatt Zink— for who else is more lovable and encouraging towards us, treats us like a brother who both teases and torments, can rock a dad fit real bad while he's fixing the plumbing under the sink, helps us move our shit to and from apartments, gives us rides in his nice car, and hosts the best Halloween party this side of the Dan Ryan. For this, his 30th year of life, we've decided to gift Wyatt 30 small gifts for him to open as a part of the evening's planned festivities. If you'd like to participate in the gift giving, please add your name here so we can keep count. Scheduling for the evening will proceed as follows:
7pm – Wyatt has a dinner reservation at [TBD]
7:30pm – Guests are permitted to arrive upon premises. The Decor Team will be blowing up balloons, hanging streamers, throwing glitter into the toilet, etc. Pregaming is encouraged.
7:45-8:15pm - Ideal arrival time for guests not wishing to participate in pre-party decoration setup.
~8:30pm – **HIDING TIME** Be on full alert for a text from the Arrival Team📲🚨
If you'd like to join the Decor Team, by all means do! 🎊🎈Add your name to the spreadsheet here on the second tab. Also, if you can't make it to the Big Surprise but still want to stop by, feel free! Dress code is still formal, but please check with the Arrival Team so as not to arrive at the same time.
Signature cocktail for the evening will be Old Fashioneds 🥃 as well as champagne 🥂 and charcuterie for snacks 🫕 If you'd like to bring additional liquor to the event, Noëlle and the party-planning team would be entirely too grateful! Our job is to get this boy cruuUUNNKK AS A SKUNK🦨❤️‍🔥🎈‼️
Thank you all for your participation! And remember, this is OUR little secret 🤭🤫😘 Can't wait to see you all there !
PS. Text Noëlle with any and all questions regarding this event: 3173317995