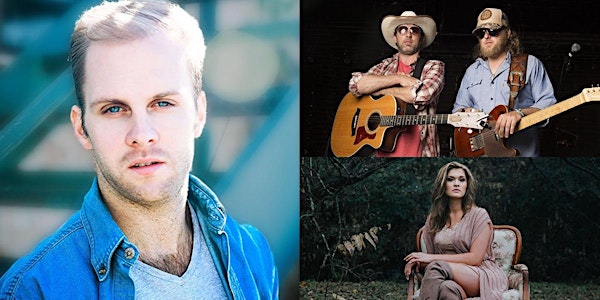 Wyatt Edmondson / The Wilson Brothers / Cameron DuBois
When and where
Location
Capri Theatre 1045 E Fairview Ave Montgomery, AL 36106
Description
Join us on Tuesday, February 25 to celebrate the release of If I Don't Try, the third EP by Montgomery native / Nashville-based singer-songwriter Wyatt Edmondson. Featured performances by The Wilson Brothers and Cameron DuBois.

Wyatt Edmondson:

Some artists need a fair amount of hit-and-miss time to develop their songwriting acuity, while others have a clear sense of self and know exactly how to put their best foot forward with the words they pen and the music they make, right out of the box. Nashville-based singer-songwriter Wyatt Edmondson is planted firmly in the latter category.

Read more -> https://www.wyattedmondson.com

The Wilson Brothers:

"The path don't matter, it's the way you take it, be what you want and don't ever fake it" is not just the lyrics to the singing/songwriting brothers' Wilson song, "All About The Ride," it is the way they make music and live their lives. That ride has taken Chad and Kyle Wilson from their small Alabama home town to stages big and small across the United States.

Read more -> http://wilsonofficial.com/bio.html

Cameron DuBois:

From the early 1960's on, the small Northwest Alabama town of Muscle Shoals been one of music's most iconic locales, producing a swampy R&B-infused vibe dubbed the "Muscle Shoals sound" for everyone from Aretha Franklin, Wilson Pickett, Otis Redding and Percy Sledge to Bob Dylan, Paul Simon and The Rolling Stones. Its world-famous studios are also just a few hours north of Montgomery, AL, hometown of fast rising country/soul singer/songwriter Cameron DuBois. After a time developing her craft in Nashville, the multi-talented indie artist and performer has found her groove and new musical home for herself just up the road in the place that gave birth to legends.

Read more -> https://www.camerondubois.com

Tickets are $15 in advance. VIP tickets are available in limited quantity. Includes premium seating and a signed event poster. Ticketing via Eventbrite.