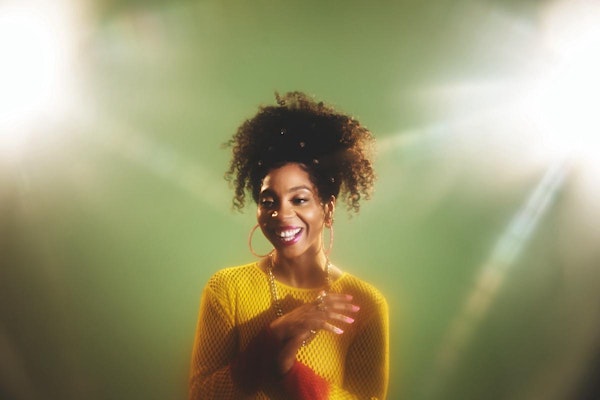 WXPN Welcomes Hollie Cook
Ages 21+
21+ // $18 ADV / $22 DOS
21+ // $18 ADV / $22 DOS
Date and time
Thursday, September 14 · 8 - 11pm EDT.
Location
Tellus360 - The Temple 24 East King St Lancaster, PA 17602
About this event
3 hours

Ages 21+

Mobile eTicket
With Happy Hour, her ravishing new LP, Hollie Cook matures into the queen of modern-day "lovers rock"—the lush girly harmony reggae style beloved in Britain since the 1970s. Evolution rings from the bittersweet opening title track; tender yet assertive, Hollie's voice caresses evocative lyrics through the arrangement's tumbling changes.
Hollie dares to invite listeners into her true personality through these alluring songs, which she co-produced with her General Roots band members Ben Mckone and Luke Allwood, and executive producer Youth.
"Particularly with the songwriting, I was trying to really push myself and be open, to not be restricted in any way. I have always been a fan of theatrical pop music and wanted to experiment more with the song form." Indeed, the dizzying arrangement of "Gold Girl" shows Hollie as boldly orchestrated, cinematic. "Now I don't shy away from it when I want to be dramatic," she declares.
The record itself is a product of great drama: the pandemic. After eight years of touring together, General Roots—keyboards man Luke Allwood, drummer Ben Mckone, guitarist Joe Price, and bassist James Mckone—have truly become Hollie's band. They all spent quarantine together, honing songs they had started writing pre-COVID. "I used to definitely lean on my producers (Prince Fatty and Youth), but my vision was always to write and produce with my band," she explains. "We are a circle of trust."
Full of emotion, leaning into healing and understanding, Hollie's lyrics on Happy Hour speak directly to our pain and confusion and steer us towards resolution on tracks like "Moving On," "Unkind Love," and "Love in the Dark." The album's closer, "Praying," is inspired by a trauma in her close friendship circle. "I was feeling raw and had to figure out how to find strength and express myself in a time of crisis, where to turn if you are not of a particular faith," she says.
Though spiritual, Hollie is no saint, inviting us to rave on "Move My Way," which she describes as "a party song inspired by the Notting Hill Carnival." Hollie is also a wise woman—literally the "Full Moon Baby" she summons so seductively. And like any good witch, Hollie understands the power of medicinal herbs on "Kush Kween," her collaboration with Jamaican singer Jah9. These are love incantations that would be wrong to resist. "It's about finding a space where you can reach for moments of light, love, and selfcare," she explains.
Touring as a teenager with punk legends The Slits encouraged the fierceness within her sweetness. Hollie's mentor was Ari Up, the band's lead singer and a lifelong friend of Cook's parents (Sex Pistols drummer Paul and her singer mother Jeni). "My father always said I would be a singer. But I discovered lovers rock on my own. I heard it on pirate radio and at friends', and I was bewildered, enchanted," she recalls. "The Slits are the reason I have pursued this career. I was surrounded by powerful women at a young age, and when my time came, I was never fazed by male dominance. They were my wall of courage."
From those feisty roots, Hollie has only grown. Her soulful directness on Happy Hour is relatable and authentic. "I can't get away from it," she says. "Making this music that I love, I do turn deep inside myself. It makes me explore a lot of human truths and feelings that we should not shy away from, and it feels like a release to turn them into songs."