Linda Okazaki will describe WWII exclusion and incarceration in the U.S., including Japanese, Germans, Italians, and Latin Americans.
About this event
WWII "Internment Camps" and Mass Incarceration in the U.S.
ONLINE
May 11 6-7:30 pm
Presented by 
Linda Okazaki
The event is presented online via Zoom
Shortly after Pearl Harbor was attacked, thousands of alien enemies were arrested, interrogated, and detained in "Internment Camps" under the authority of the Alien Enemies Act of 1798. These individuals were primarily citizens of Germany, Italy, and Japan.
Separate from that experience was the mass incarceration of approximately 120,000 individuals of Japanese ancestry, most of whom were American citizens. This confinement of civilians by race is often incorrectly referred to as "internment."
This lecture will review the differences between the internment of Alien Enemies and the mass incarceration of those of Japanese ancestry, as well as the little-known experience of Latin Americans. Terminology will be defined, and record availability will be explored. The documents pertaining to this time frame are rich and revealing, often giving a detailed glimpse into the life of an individual or family. Federal records from the Western Defense Command, the War Relocation Authority, the Department of Justice, the State Department, the FBI, the INS, and the Office of the Provost Marshall will be reviewed, as well as materials available in other repositories.
The event will take place via Zoom. If you join, please sign in early to make sure you are able to see the program.  We will send you instructions the night before, and a reminder shortly before the event, which will give you access. When registering, use an email address you will be checking. Please note all times are Pacific Daylight Time. 
You do not have to have a Zoom account to attend a Zoom meeting. You will be prompted to download the software, once you have clicked on the link that you have been provided. You may also wish to create an account, but that is not required to participate in a Zoom meeting.
This event is presented live. Some events may be recorded for internal use only.
See you online!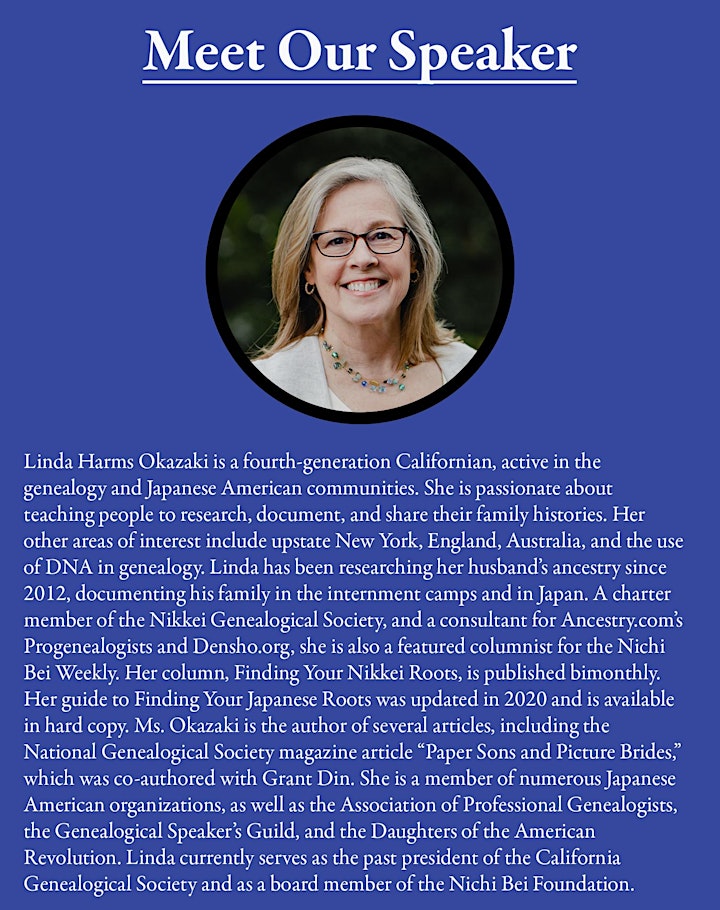 REGISTRATION INFORMATION:
CGS Members and Non-Members enjoy free access.
Pre-registration is required. Class size is limited so register early to confirm your spot.
You can purchase a $45 one-year CGS Basic membership when you check out. To sign up for other membership options go to our web page: CGS Membership application
PAYMENT OPTIONS:
Credit card payments will be processed by Eventbrite.
Date and time
Location
Refund policy